When we dropped the tailgates and broke out the various lunch containers one day recently, I took advantage of the situation and seized the opportunity to gather some insight from some of the most legitimate sources in the industry, guys on the job.
At the upcoming EEBA High Performance Home Summit, scheduled for October 16 through 18 in San Diego, I have the privilege of providing a breakfast presentation on the final day. I have been asked to talk about the future of the building industry, a topic I regularly give a fair amount of thought to. Not only is this an interesting subject, and an obvious source of concern, but one that does not suffer from any shortage of opinions.
I have been seeking input from a wide range of folks connected to the industry, from product manufacturers, suppliers and marketers, as well as folks in the media, to builders, specialty contractors and building officials. I have found a wide range of perceptions out there, but there is a common thread in the vast majority of the responses I've received. Namely, the industry is poised for significant and inescapable changes going forward.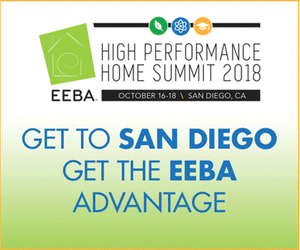 My jobsite lunch companions were all pretty seasoned workers. Their histories of experience range from a dozen or so all the way up to fifty-five years, but they were all generally in agreement. They agreed that "archaic" is the best way to describe the building industry as it is conducted today.
To a man, they also predict that the direction the industry should (and will) go, is toward more off-site production, modular and panelized processes, alternate materials that utilize composites and man-made components, with greater emphasis on life cycle analysis, environmental impacts, durability and waste stream implications.
They predict field operations will be less and less about fabrication and more and more about assembly. It was suggested that we'll see more utilization of machinery, like cranes, and even "fly-in" deliveries. Keep in mind that these are guys who only minutes before had dropped their tool belts to break for lunch, like tradesmen have been doing for generations.
Additionally, it was asserted that the industry will need more standardization and innovation, better use of modern communication tools and technologies, and "bigger systems thinking" if it has any chance of keeping up with other sectors. They cited the need for challenges and problems to be solved ahead of time rather than on the fly in real time, if the act of building is ever going to realize improved efficiency.
When I asked specifically about workforce issues facing builders, they were more circumspect, but the consensus was that if the industry wants to be competitive in the labor sector, compensation and benefits must be improved and that the work has to be interesting and challenging if it is going to attract and hold the attention of the modern workforce. They didn't express a desire for the work to be considered glamorous, but they would like to be respected, appreciated and valued.
It proved to be a most enlightening lunch conversation, one I would recommend to anyone who has a stake in the future of this industry. Over the years we have all been offered the "silver bullet" secret sauces served up by self-proclaimed "expert" consultants, each hawking their particular flavor of snake oil that's guaranteed to result in success in the building business. In my opinion, however, there is a great deal more that can be learned while resting on the tailgate, listening to the voices of folks who have actually "built" something.
---
Click here for more information about attending the EEBA Summit.
Don't miss Ron Jones, Green Builder Media President, at our upcoming Sustainability Symposium 2019: The Desert Shall Bloom on Monday, February 18, 2019 (the day before the show floor opens at Design & Construction Week) at the UNLV campus in Las Vegas.
And, don't miss the celebration of our annual Sustainability Award winners on February 17 at 6:00 p.m. at the exclusive Mr. Chow in Caesars Palace.
Click here to register for the Sustainability Symposium 2019: The Desert Shall Bloom and Sustainability Awards gala. Space is strictly limited and by reservation only, so reserve your seat today! Register for the Symposium before October 1, 2018 using the code EarlyBird and you'll receive a $100 discount.
A sincere thank you to our generous sponsors, Samsung, Ingersoll Rand, Emerson, Andersen, and Caesars Entertainment for helping to make the Symposium and gala dinner possible.