Sustainable Strategies Abound in this Case Study House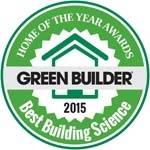 A house in Bellingham, Washington, demonstrates innovative water and energy systems that meet the standards of the Living Building Challenge.
THE BIRCH CASE STUDY HOUSE was developed using the Living Building Challenge as a guide. The primary goal of this project was to implement numerous sustainable strategies, highlighting the successes and failures when designing, permitting and constructing Living Buildings.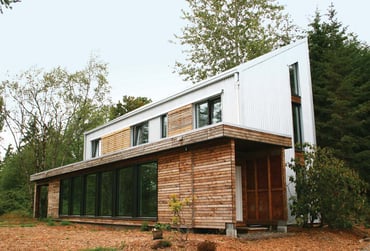 To help realize the project, [bundle] design studio partnered with non-profits and building product manufacturers. Throughout construction, [bundle] hosted a workshop series with Sustainable Connections to present green materials and strategies to the local building community. [bundle] also partnered with Northwest Energy Efficiency Alliance (NEEA) for the NextStep Homes program and with WSU to field test a CO2 heat pump that is used for domestic hot water and radiant floor heating.
The Birch Case Study house has proved successful at demonstrating a number of pathways towards Living Buildings. Among the highlights, it is the first within the Bellingham city limits to choose not to hook up city water and sewer. Instead, the project achieves net-zero water usage through the use of onsite rainwater catchment, composting toilets and graywater reuse.
The use of FSC-certified lumber proved to be prohibitively expensive and difficult to source. Alternatively, [bundle] salvaged joists from the demolition of the 1920s Birchwood Elementary School, less than one-eighth of a mile from the site. All exposed joists, rafters, cabinet faces, shelving, handrails, decking and stairs were built from the salvaged lumber. The house also includes FSC-certified countertops, no-VOC paints and sealers, metal siding and insulation with high recycled content and an overall reduction in finish materials.