A visit to a Napa winery reveals how true love helps produce great wine.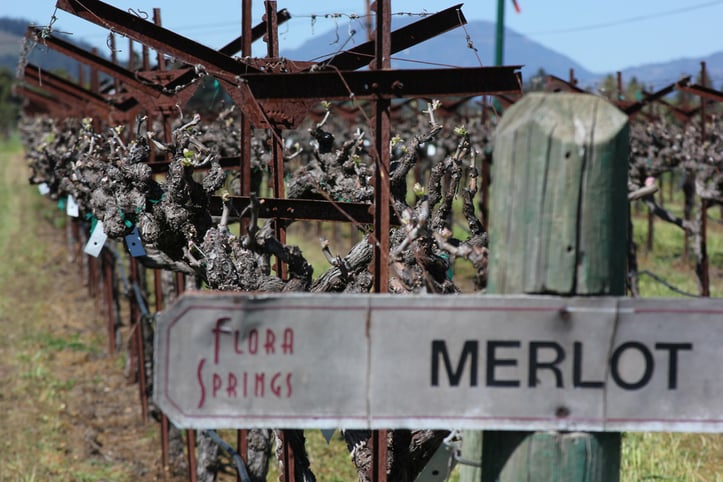 "If you love the land, it will love you back." – Flora Komes
Right off of Highway 29 in St. Helena, California, nestled into the base of the Mayacamas Mountains lies Flora Springs® Winery. What began as 300 acres purchased in 1977 by Jerry and Flora Komes, has expanded to over 650 acres in the Rutherford, Oakville, Carneros and St. Helena areas. However, it still maintains the charm of its third-generation, family-owned history.
Rooted in Love
In 1929 Flora Benevit-Cabral, an independent young woman for her time, left her family in Hawaii and moved to San Francisco to begin a nursing program at St. Mary's. She was introduced to Jerry Komes at a Halloween party and the rest, as they say, was history.
Jerry worked for Bechtel in San Francisco for many years and eventually became the first individual outside of the Bechtel family to become President of the company from 1973-1975. His background in construction later proved useful when 1,000 linear feet of caves were carved in to the hillside (an energy efficient environment for aging wines) at Flora Springs.
Sustainable Practices
Sustainable vineyard practices are nothing new. The owners and staff at Flora Springs believe it's simply a return to "much older, even ancient ways of growing things." And creating a great wine is so much more than simply choosing the right kind of barrel to ferment your grapes in. Good soil, using the natural eco-systems, sun orientation and vine placement all have a part to play in getting that perfect wine.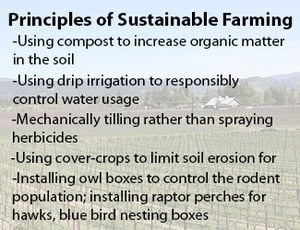 Flora Springs engages in sustainable practices and is CCOF (California Certified Organic Farmers) certified. Founded in 1973 with 54 grower members, CCOF was instrumental in advocating for federal organic legislation and in 2011 certified their millionth organic acre.
Bird houses are used in lieu of mylar strips to encourage blue birds to eat non-beneficial insects. Raptor perches can be found in the vineyards promoting falcons to eat pesky field mice. Flora Springs also uses cover crops such as purple vetch, clover, oats and radishes to help protect their soil from erosion. And in 2007 the winery added 6,500 square feet of solar panels that generate 100,000 kWh annually and covers all energy needed for their red wine production.
Water and Irrigation
The subject of irrigation is extremely complex when you're talking about multiple vineyards in different locations - all with varying microclimates. All 650 acres use drip irrigation but different soil types and drainage means irrigation is not necessarily done the same way at each vineyard.
"Our approach, as well as many others, entails what is called dry farming which means the absolute minimum amount of irrigation is used placing emphasis on producing a beneficial stress for the vines which ultimately bears rather concentrated fruit," explains Flora Springs Winery Ambassador, Scott Johnson.
When Jerry and Flora purchased the 300 acres of land in 1977 the property extended into the hillside where natural springs provided a water source. The springs are documented in the original construction of the winery in 1885 and Flora considered it one of the "life-forces of the property". The name "Flora Springs" is derived from this idea.
Jerry and Flora have both passed away but the legacy they built will continue through their children and grandchildren and the wine that is produced at Flora Springs. -GB
Special thanks to Scott Johnson for the colorful stories of the Komes Family, the delicious wine and wonderful tour of the Flora Springs property.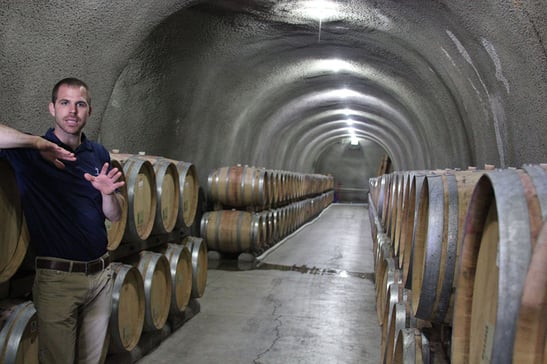 Winery Ambassador, Scott Johnson, explaining how the wine cave is an energy efficient environment for aging wines.