Among the most intriguing and extravagant approaches to emerge in recent years to address the challenge of urban sustainability has been so-called "smart-from-the-start" eco-cities, medium-sized cities built from the ground up to incorporate the latest and greatest thinking in sustainable technology and design. These built-from-scratch settlements have started to sprout in several countries – so far, there are projects in various stages of completion in South Korea, Abu Dhabi, Portugal, Kenya, and across China—and they are being touted by developers as showcases for the most advanced ideas in resource-efficient living. They are financed largely by governments and deep-pocketed information technology companies that see a huge business opportunity in urban systems—as the global imperative for sustainable living becomes ever-more evident and pressing.
Masdar City, in Abu Dhabi, embodies many of the aspirations of this new urban genre. By combining ancient design features, such as narrow, shaded streets angled to channel desert winds—with modern technology—including solar power, electric cars, and waste-to-energy systems—lead architect Norman Foster initially claimed that the city would be both carbon-neutral and zero-waste. Nearly seven years on, financial reality has set in; ambitions have been scaled back, and the completion date postponed. But the project is still moving forward. Looking ahead, planners intend for Masdar to serve as a test bed for home-grown innovations developed in an on-site research institute they hope will rival MIT.
Some of the other eco-cities, such as Songdo in South Korea or PlanIT Valley in Portugal, have been conceived of primarily as showcases for efficiencies made possible by advanced information technology. These cities will integrate embedded sensors in every building, vehicle, and stretch of road. A central operating system will continually optimize everything from interior light levels to traffic flow.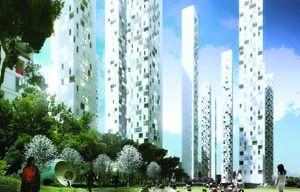 On the face of it, a city designed from scratch to incorporate all the best sustainability ideas is a tantalizing idea. But so far the reality of these cities has failed to live up to early hype. The problems started when the global financial crisis dried up investment capital, requiring many projects to be cut back. But a more enduring challenge may be the simple fact that these communities are not seen as particularly desirable places to live.
So far, not many people are clamoring to move into Songdo or Masdar. This may be due to their conspicuous lack of charm, a problem that has plagued planned cities throughout history (think Brasilia). Data privacy concerns pose another hurdle. Ubiquitous, internet-enabled sensors may be just the thing for optimizing energy efficiency, but who really wants a central operating system tracking their every movement throughout the day?
It seems unlikely that planned eco-cities will supplant traditional cities anytime soon. What's needed most urgently are practical and proven techniques for increasing the sustainability of existing cities, where most of the world's people actually live. Ultimately, the new eco-cities' most significant contribution to sustainability may not be as places to live themselves, but as models of ideas that can be adapted and transplanted elsewhere.