There is more to Orlando than theme parks and trade shows. Our upcoming Sustainability Symposium on January 9, 2017 provides an opportunity to be a part of the solution.
Hardly a week passes when I don't receive one or more promotional messages inviting me to sign up for some industry event or another that promises groundbreaking opportunities to join my peers and "learn from the experts".
Unfortunately, these folks are often the same presenters we've been hearing from since the nineties and, sadly, they generally offer some repackaged form of the same material they touted back then…things like ways to streamline your operations, tips for better communications within your organization, strategies that will make your products or services stand out, and, my personal favorite, how to reach millennials (yawn).
Green Builder Media would like to suggest a different kind of opportunity, one that is designed to take a fresh look at the built environment from the 30,000 feet perspective. On Monday, January 9th in Orlando, FL at the beautiful (and green) Dr. Phillips Center for Performing Arts, we will provide an important and unique event where we will interactively explore our options for a more sustainable, resilient, intelligent approach to the future of our industry and the roles of shelter and development in general.
The Sustainability Symposium 2017: Ready for Anything is not going to be another attempt to come up with strategies for how to perpetuate the stale, business-as-usual practices that have allowed the design, development and construction sector to lag behind as the rest of the world races headlong into the unprecedented challenges of the twenty-first century.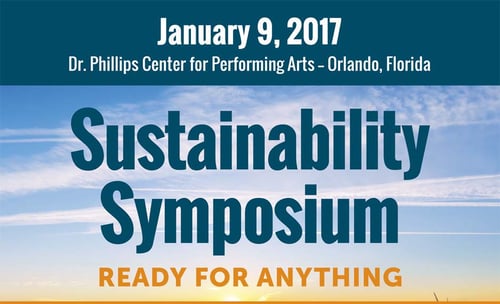 Rather, we will eagerly confront the issues facing our communities and engage in honest, meaningful discussions around climate and extreme weather, deteriorating and vulnerable infrastructures, complex environmental and social responsibilities, and the resiliency our buildings and cities so desperately need. We are excited to shake things up with dynamic ideas and real life experiences from trailblazing sustainability advocates, forward-thinking policy makers, and innovative professionals who are on the cutting edge of transforming the way we live, work and play.
Our goal is to contrast the existing, "race to the bottom" model of doing business with a new platform based on playing the long game, not one predicated on short term gains that depend on finite resources and outdated technologies.
Accordingly, we have assembled a lineup of public officials, business leaders, sustainability leaders and big thinkers who will help to open the door to the next generation of responsible living. But we're not about to create an event that simply puts together another group of talking heads so they can deliver one-way messaging to a room full of butts in the seats. We want to aggregate a diverse group of independent minded individuals who want to truly participate in the discussions and help to create a pathway to a more sustainable future.
So, don't miss this unprecedented opportunity to join sustainability pioneers like Governor Martin O'Malley (D-MD), Philippe Cousteau, carbon-neutral NASCAR driver Leilani Münter, Mayor Dyer (D-Orlando), Mayor Stoddard (D-South Miami), Mayor Brainard (R-Carmel, IN), and senior NASA scientist Carlton Hall in a meaningful and authentic dialogue focused on idea generation and problem solving.
Mark your calendar, and make plans to join us on January 9th for what we believe will be an important and rewarding experience. Space is limited and today (December 1) is the deadline for our $75 Early Bird discount, so REGISTER NOW!
The full Symposium registration is $250, but if you register before midnight today, enter the code EarlyBird, you'll receive a $75 savings, for a discounted rate of $175!
Questions about the Symposium? Email our CEO, Sara Gutterman, at sara.gutterman@greenbuildermedia.com.
We look forward to seeing you on January 9 in Orlando for the Sustainability Symposium 2017: Ready for Anything!