If you care about the environment, if you question the suitability of current development models, if you want to take an active part in the transition to a sustainable future—don't miss the opportunity to join with other thought leaders at the Sustainability Symposium 2017: Ready for Anything.
Every once in a while, an occasion arises that allows us to meaningfully shape the course of the future. A watershed moment that sets a new direction for an industry, a society, a nation.
Green Builder Media, in collaboration with Mayor Dyer and the City of Orlando, is offering such an opportunity at the Sustainability Symposium 2017: Ready for Anything, taking place on January 9, 2017 in Orlando at the Dr. Phillips Center for Performing Arts.
Bringing together a diverse group of stakeholders in the building, business, policy, and media sectors to explore intelligent solutions for a resilient future, the Sustainability Symposium holds the promise of influencing the actions and policies needed to transition to sustainable economy.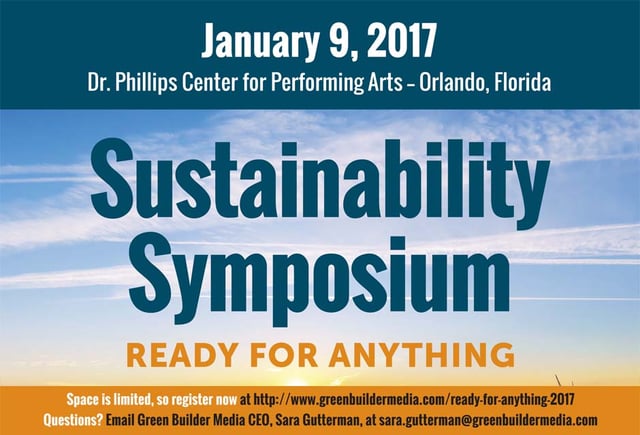 The Sustainability Symposium 2017: Ready for Anything is no ordinary event. It's not another mind-numbing conference full of talking heads in a windowless ballroom. The Symposium has been designed to engage participants in provocative discussions, to solicit innovative ideas and reinforce commitment to action that will lead to meaningful change.
To optimize the potential for paradigm shattering, we've invited some of today's most forward-thinking, intelligent, and passionate sustainability advocates, including Governor Martin O'Malley, who took the initial lead on the climate change conversation in the presidential elections; Philippe Cousteau, a fervent sustainability advocate dedicated to empowering people to recognize their ability to change the world; Leilani Münter, the only carbon-neutral NASCAR driver who is successfully teaching a tough crowd about sustainability; Mayors Dyer (Orlando) and Stoddard (South Miami), who are on the front lines of climate change and implementing smart, resilient solutions accordingly; and Carlton Hall, a Senior NASA Scientist who is exploring breakthrough technologies to enhance the resiliency and sustainability of our built environment.
In a recent conversation, a potential attendee expressed concern that the Symposium wasn't the type of residential housing industry event that he normally attends. He didn't recognize the names of the presenters as the usual "status quo"—people that have all but become household names for those of us in the industry. My response was, "Yes, that's exactly the point." Enough said—he got it.
If you're comfortable sitting sit back and letting others make decisions about how and where we should build, what kind of energy we should use, what we drive, and what kind of connected technology should be incorporated into our homes, this event probably isn't for you.
But if you want to jump into the world of creative transformation as a man whose hair is on fire seeks a pond, then we invite you to join us for a day of exploration, imagination, and optimism.
If this invitation calls to the parts of you that are hungry for change, then I encourage you to show up with an open mind and a boundless imagination.
Space is limited, so click here to register and save your spot. Early Bird registration fees are $175, available until December 1, 2016 (enter code EarlyBird). Full registration fees after December 1, 2016 are $250.
Do you have questions about the Sustainability Symposium 2017: Ready for Anything? Write to me at sara.gutterman@greenbuildermedia.com.
Want to read more? Follow me on Twitter and Facebook. For more information about green building and sustainable living, visit Green Builder Media at www.greenbuildermedia.com, like us on Facebook, and follow us on Twitter for regular updates and breaking news.