Sustainability Symposium 2017: Optimism Wins the Day
Green Builder Media's Sustainability Symposium 2017: Ready for Anything exceeded all expectations, offering an abundance of inspiration, assurance, and intelligent solutions for the transition to a sustainable future.
When we first conceived of the Sustainability Symposium 2017: Ready for Anything, we understood that it was time to elevate the national dialogue about intelligent solutions for a resilient future. What we didn't realize was how timely and relevant this event would become, and how important of a role it would play in galvanizing influencers and inspiring action at a local, municipal, and citywide scale.
I was fortunate to have the opportunity to kick off the day with opening remarks, during which I recognized that it is a pivotal moment in time—some sustainability professionals fear that the hard-earned progress that we have achieved in the areas of climate action, resource efficiency, renewable energy, and green building is under threat.
But we at Green Builder Media have a different perspective—we uphold that sustainability has transcended politics and is now in the impartial hands of the market, and that significant advances in sustainability will continue to be made by passionate individuals, committed businesses, and dedicated communities at a grassroots level.
Fortunately, this optimism was echoed by all of the presenters throughout the rest of the day. There was no doom and gloom in the house—attendees were ready to dive into action, and the Symposium was therefore a day of discovery as we gathered some of today's brightest sustainability advocates to delve into the risks posed by a changing climate, challenge conventional development models, and explore intelligent solutions for a resilient future.
Onwards to a Sustainable Future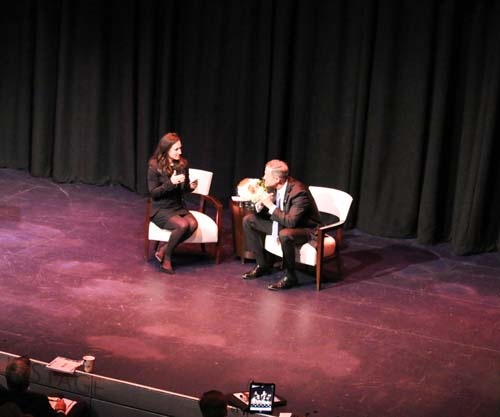 Sara Gutterman and Governor Martin O'Malley at the Sustainability Symposium 2017: Ready for Anything Photo Credit: Heather Wallace
Governor Martin O'Malley gave an impassioned, inspiring presentation about transitioning to a sustainable, clean-energy economy. As Mayor of Baltimore and Governor of Maryland, O'Malley has been a clear and articulate voice for climate action.
"As Governor of Maryland, we went to work," he said. "Our islands are already at risk from sea level rise. We passed climate change rules, passed net metering and adopted the international green building code. That took three tries. And we became the fastest creator of green jobs in the country."
O'Malley has called for a nationwide 100% renewable energy mandate by 2050. He is a firm believer that the energy transition is already underway, and that no federal action can stop it. "This is not a matter of hoping or wishing," espoused O'Malley. "We need to act. And if Federal efforts are sidelined for the next four years, then states like California, Maryland, and cities and others must lead just like we have for the last eight years."
His work with younger generations gives him hope for our future. With over 70% of millennials recognizing that climate change is a problem, he is confident that we will soon have the momentum we need to affect a major system overhaul.
A Call for Resiliency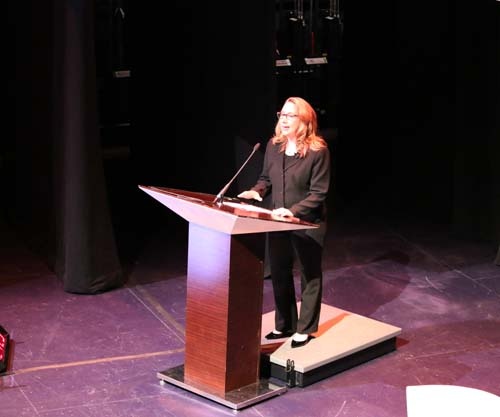 Samantha Medlock at the Sustainability Symposium 2017: Ready for Anything Photo Credit: Heather Wallace
O'Malley was followed by former White House Resiliency Advisor, Samantha Medlock, who offered a wealth of insight and information about adequately preparing our nation for the threats posed by a changing climate. As climate-based disasters occur with increasing intensity and frequency, Medlock affirmed that there is an urgent need for enhanced resiliency policies and codes. She advocated for the adoption of statewide resiliency building codes, which will save lives and reduce risks, as well as the reexamination of land-use policies in high-risk areas.
She rallied the audience behind resiliency action with the following advice: "Keep an eye on the federal register and speak out for policies that make sense and against those that don't. Use your voice—comments matter. Help policy makers get it right. Engage in critical thinking. Make resilience part of American pride and preparedness sexy."
Medlock blew our minds when she shared a surprisingly disturbing statistic: small businesses closed for more than 4 days have a 50% chance of never reopening.
The Car Racing Bumble Bee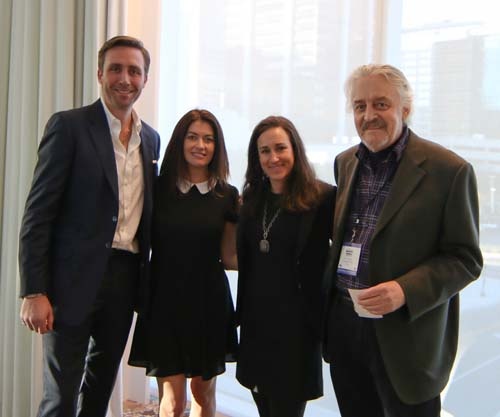 Philippe Cousteau, Leilani Münter, Sara Gutterman, and Ron Jones at the Sustainability Symposium 2017: Ready for Anything Photo Credit: Heather Wallace
If you've never heard of Leilani Münter, the beautiful and talented environmentalist race car driver, you're missing out. Münter, the only carbon neutral NASCAR driver, uses her sport in the most unlikely way to promote climate action. She likens herself to a bumble bee, which for all practical (and physics-based) purposes, should never be able to fly. Like the bumble bee, a young, female, biologist is an improbable race car driver, but, again like the bumble bee, Münter excels in her sport and in her advocacy through sheer persistence. "No" is simply not in her lexicon.
"The more that I learned about our environmental challenges, the more that my racing website ended up covered in facts about alternative energy, electric cars and alternative fuels, green buildings, plant based diets, and environmental legislation."
Münter supports plant-based diets (she is a vegan), electric vehicles (she is a proud Tesla owner and says that she will never go back to owning a fossil-fuel powered vehicle), and total solar proliferation. She is aggressively pushing the racing industry to develop clean, electric solutions that provide speed without burning fossil fuels, and she adopts an acre of rainforest for each race that she participates in.
Like O'Malley, Leilani is hopeful about the future, encouraged by the fact that it only takes 10% of the population to back an idea to reach a tipping point that makes that idea inevitable.
The Future Powered by Technology
The Symposium continued with a dynamic, engaging Smart Cities panel moderated by Dion Haynes from the Washington Post with subject matter experts including Matthew Pine from Carrier, Bill Gray from Uponor, James Jackson from Emerson, and Kari Hewitt from the smart cities consulting firm VHB.
Jackson began by affirming that energy efficiency and responsible energy use needs to proceed the implementation of smart technology (you can put all of the advanced technology you want on a drafty home, and it will still be drafty…)
Gray addressed the goal of enabling technologies and smart cities, which, in his opinion, should be designed to make density more livable. "Cities are smart when they enable people to live their daily lives, commuting and moving around in an efficient way. Our opportunity is to create convenient connectedness, answering the question: how do we live together in density and do it successfully without getting on each other's nerves?"
Hewitt claimed that when planning smart cities, "You have to understand mobility and health data to have healthy community design. Sustainable planning means getting people to talk to each other. We need to be better at that. Smart cities will find creative ways to finance solutions, such as public-private partnerships, leveraging resources, thinking in terms of systems."
Pine advocated for data collection, thermal modeling, and virtual audits, which make homes more efficient. He believes that the comparison of energy use in homes in communities is an effective tool to inspire homeowners to take action if their homes are subpar.
The panelists agreed that security and privacy issues still need to be addressed to protect home and building owners.
Democrats and Republicans Unite!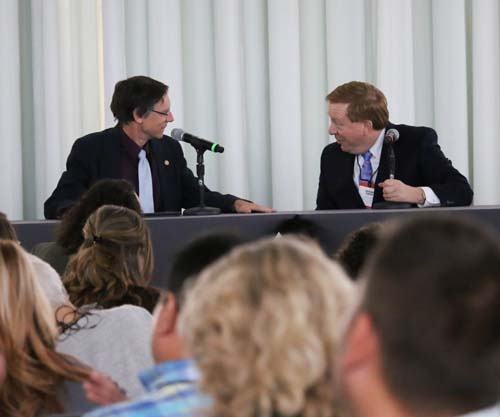 Mayor Philip Stoddard from South Miami, Florida and Republican Mayor Jim Brainard from Carmel, Indiana. Photo credit: Heather Wallace
After the Smart Cities panel, we witnessed a delightful discussion between Democratic Mayor Philip Stoddard from South Miami, Florida and Republican Mayor Jim Brainard from Carmel, Indiana, moderated by Scott Tew from Ingersoll Rand's Center for Energy Efficiency and Sustainability.
You'd have thought that the Mayors were childhood friends by the way they got along—agreeing on most points and even finishing each other's sentences. More than anything else, the discussion showed that, on a local scale, politics are less important than solutions. The Mayors discussed environmentally beneficial solutions for everything from clean energy to green buildings to resiliency to well-planned communities that reduce fossil fuels by encouraging walkability and bike-riding.
South Miami is on the front lines of climate change, as rising sea levels and tidal surges regularly deluge the city's streets. Stoddard is therefore working with a constituency who is in favor of climate action, and he is trying to determine the best way to protect his community. He says that the change in administration will not affect his decisions: "We really are on our own when it comes to fiscal policy. Federal policy barely trickles down."
Brainard ended the panel with an astute comment that, "Everyone deserves a place to live that they're proud of. Cities need to work for the average person who doesn't have the means to go to the most beautiful places on earth. Their homes and cities, must be beautiful for them."
Facilitating Change
Philippe Cousteau took the stage after the Mayor's panel. He described the interconnection between our changing climate and geo-political unrest in areas like Darfur, Syria, and other places that are experiencing extreme drought or are deeply affected by climate-based disasters.
He supports economically-viable solutions that address not only our changing climate, but also job creation, financial opportunity, and the mass migration of people that is occurring across the globe. "People want dignity, purpose, and security for themselves and their families. And if they don't have that, all the talk of climate change and pictures of polar bears and blue whales and elephants don't matter."
Cousteau believes that we can do a better job of selling sustainability. He advocated for a transition in our current storytelling, moving away from negative messaging towards a funny, inspiring, and hopeful vernacular in order to reach the non-converted.
Bold Action
The Symposium ended with witty and rousing closing comments by Green Builder Media President, Ron Jones, who reminded us in his classic folksy manner that bold, immediate action is imperative.
Jones refuted the notion that sustainability is dead, asserted that the things that are most worthwhile aren't easy, and he reminded us that what we really need to do is change our underlying values if we're going to achieve our climate goals. "Especially during the times when people feel despair, we can't give in," he said.
Jones accomplished his goal of leaving attendees with something to think about while reminding them not to take things—and themselves—too seriously. "There ain't a bull that can't be rode, there ain't a cowboy can't be throwed, but we're never going to quit."
After such a successful and inspiring event, we look forward to continuing the dialogue about how we can work together to determine our collective and ongoing role in the immutable force that is the sustainability movement. Now is the time for us to step up and fulfil our duty as an ensemble of tireless change-makers that do not shy away from any kind of challenge. For, in the famous words of Margaret Mead, we must "never doubt that a small group of thoughtful, committed citizens can change the world; indeed, it's the only thing that ever has."
Keep an eye open for ongoing editorial that delves into our key Symposium topic areas (smart cities, IoT/enabling technologies, renewable energy, green buildings, intelligent water, sustainable economy, and clean transportation), follow-up action items from our roundtable discussions, and information about future events (yes, we're already starting to plan for the Sustainability Symposium 2018!) in the Vantage e-newsletter.
And a heartfelt thanks to our partner, City of Orlando, and our generous sponsors Uponor, Emerson, Ingersoll Rand, Carrier, VHB, DuPont, OUC, and Siemens.
Want to take part in the conversation about how we can affect positive change in the transition to a sustainable economy? Write to me at sara.gutterman@greenbuildermedia.com.
Want to read more? Follow me on Twitter and Facebook. For more information about green building and sustainable living, visit Green Builder Media at www.greenbuildermedia.com, like us on Facebook, and follow us on Twitter for regular updates and breaking news.