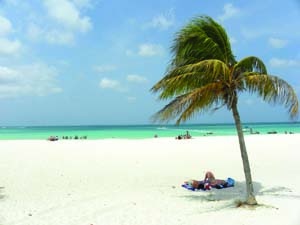 SUSTAINABILITY HAS NOT exactly been a historical priority for Aruba. The tiny Caribbean nation, just 20 miles long with a population barely over 100,000 people, relies heavily on imported fossil fuel for almost all its energy needs. Most electricity is generated using heavy fuel oil, and since there are no major freshwater sources on the island, most of it comes from desalinating seawater—a very energy-intensive process.

Not surprisingly, rising global oil prices have created a serious drag on the Aruban economy. Arubans currently pay about 28 cents per kilowatt hour for electricity, more than double what the average American pays. All told, Aruba spends about 12 percent of its GDP on imported fuel for electricity and transportation.

Realizing that they needed to make a change, Aruba's leaders made a conscious choice to embrace sustainability. In 2012, Prime Minister Mike Eman unveiled the "Smart Island Strategy" at Rio+20 Earth Summit, an international climate conference in Rio, outlining a new path for his small island nation.

The cornerstone of the Smart Island Strategy is a commitment to transition to 100 percent renewable energy by 2020. A wind farm already supplies the island with approximately 20 percent of its electricity; a second one will increase that to 40 percent. An additional 5 percent of the island's power will come from a solar array at the airport. Other technologies being pursued include waste-to-energy, energy-efficiency retrofits and even deep sea water cooling, to offset electrical demand for air conditioning. A hydrogen-powered streetcar is planned, with the hydrogen to be produced by electrolyzing seawater with renewable electricity.

But the Smart Island Strategy doesn't stop with energy. As described by Prime Minister Eman, the strategy also aims to "increase housing choices and neighborhood quality, strengthen social cohesion, reduce traffic congestion and improve mobility, reduce obesity and improve public health, improve water conservation and diversify an expanding island economy."

In other words, Aruba is pursuing a whole-systems vision of sustainability, one that prioritizes the health and well-being not only of the environment, but also of individuals, the community and the economy. It's an approach built on the realization that all of these elements are interconnected. Renewable energy is an integral part of the vision, but only a part.

Consider the land-use plan, which encourages a denser approach to the built environment. As buildings are built more compactly, people can walk more and drive less. But reducing fuel consumption is just one of the benefits. More compact development also reduces pollution, congestion and noise, promotes greater social cohesion and stronger neighborhoods, improves public health and reduces obesity. This is just one example of how a well-conceived "energy" initiative can have follow-on benefits that ripple outward into many areas.

Prime Minister Eman hopes that Aruba will become a model for sustainability that can be copied by other island nations. However, with 900,000 visitors from around the world seeing the model in action each year, Aruba may find its influence extending to the mainland as well.
---