I received a pitch this morning from a company that specializes in washing solar panels. That's a business I didn't know existed, but I'm glad there's a growing number of customers for them. Photos of people scrubbing away at solar installations on green buildings made me wonder. How much does dirt on panels affect solar PV performance?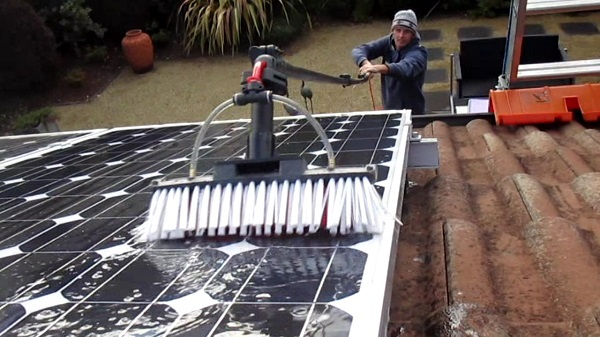 It turns out that researchers at UC San Diego studied this question. They looked at how solar panel performance in drought conditions (when rain did not wash the panels naturally) affected performance. They found that:
"For a typical residential solar system of 5 kilowatts, washing panels halfway through the summer would translate into a mere $20 gain in electricity production until the summer drought ends -- in about 2 ½ months."
The study notes that panels lost on average .05 percent overall per day due to dust on their surfaces.
Another interesting fact from this building science research: "Researchers also found that solar panels mounted at an angle of less than five degrees caused bigger losses in efficiency. That's because dirt slips off panels that are installed at a steeper angle."
As a footnote, a lot of research is looking at self-cleaning nanotechnology. We've written about paint-on solar materials, but researchers at BU are already working on self-cleaning technology for solar panels.
Full Report on the Research HERE