New medical report cites major indoor air quality issues, courtesy of gas stoves.
People kept indoors by COVID-19 stay-at-home orders may have a higher risk of another airborne problem. According to a report by the Rocky Mountain Institute, Physicians for Social Responsibility (PSR), Mothers Out Front, and the Sierra Club, gas stoves are likely exposing tens of millions of people to levels of indoor air pollution that would be illegal under outdoor air quality standards.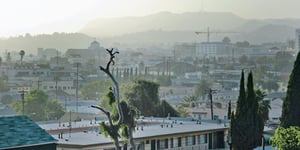 The report, Health Effects From Gas Stove Pollution, notes that indoor air can be two to five times more polluted than the air outside. Homes with gas stoves have nitrogen dioxide concentrations 50 percent to 400 percent higher than homes with electric stoves.
The findings mirror those in a report from the UCLA Fielding School of Public Health. The report found that 90 percent of all California homes experienced levels of nitrogen dioxide (NO2) pollution that exceeded state and national air quality standards within an hour of cooking on gas stoves.
"As health professionals, we are worried by this risk," states Barbara Gottlieb, environment and health director for PSR. "With so many of us seeking shelter in our homes from the COVID-19 crisis, it's urgent that we understand the threat and learn about protective measures we can take."