Stalled Bills Encourage Solar, Self-Sufficiency
Despite the coronavirus, Illinois lawmakers still have work to do.
Due to COVID-19, a large number of legislative initiatives were understandably sidelined to prioritize the needed public health response. Unfortunately, that meant that many good ideas were shelved until an unknown time period. Some could be resurrected later in the year, while others might have to wait for a future legislative session.
This building code update focuses on one state's postponed ideas. Perhaps they will be brought back (sooner rather than later) or perhaps, by publicizing them, they will inspire other states or municipalities to draft something similar.
During the latest session, the state legislature had multiple bills focused on renewable energy and resilience. Here's where a number of proposals currently sit: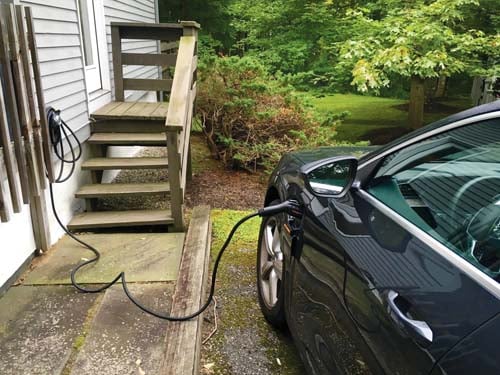 In-home electric charging stations will be more accessible to certain Illinois homeowners if lawmakers resume action on anti-restriction legislation.
HB4148 is attempting to eliminate restrictions or prohibitions from Common Interest Community Association and Homeowners' Associations (HOAs) on electric vehicle charging stations. The bill would render such onerous restrictions or prohibitions void and unenforceable for "the installation or use of an electric vehicle charging station within an owner's unit or in a designated parking space or an electric vehicle dedicated time-of-use (TOU) meter."
Furthermore, if the association "willfully violates the provisions," it is then "liable to the unit owner for actual damages and shall pay a civil penalty to the unit owner in an amount not to exceed $1,000." In late February, HB4148 was referred to a House subcommittee, where it is still parked.
The same fate has befallen HB5105, which looks to limit home rule powers over the installation or use of solar energy systems. It's still sitting in the House Rules Committee, though it would go into effect immediately upon passage.
HB4069 is a very curious bill. The intent is to provide property tax support for properties with a solar energy system. How would it do that? By stipulating "the alternate valuation shall be the lesser of the value of the property without the solar energy system or the value of the property with the solar energy system."
That's all well and good, but it also provides a potentially conflicting signal to the market. One of the selling points for solar systems has been the increased property values associated with that upgrade. Studies have been conducted to provide evidence of the higher resale values, and the PV Value Tool was created as a nationwide resource.
Hopefully, the reduced alternate valuation won't confuse data aggregation systems or analysis used by real estate agents and/or appraisers. If passed, this new process would begin in assessment year 2020. Since early February, it has been stuck in a House subcommittee.

SB3500 was introduced in mid-February, and aims to "protect the rights of residents to produce, consume, and store their own energy without discriminatory repercussions from a utility company." The bill is also trying to prevent residents from falling victim to "discriminatory rate design, treatment, or excessive compliance requirements." It was referred to a Senate committee in mid-April. If it eventually passes, it would go into effect immediately.
HB4704 would prevent the preclusion of gardens "whether it be for produce, flowers, herbs, fungi, or grains, and when done so for one's own consumption and enjoyment" by the State or a unit of local government, including home rule powers.
One caveat of this bill is that it only applies to one's primary residence. It's sad that there is a need for such legislation. But hopefully with so many people staying home and an associated increase in gardening, the motivation will exist to get this out of the House Cities and Villages Committee, passed through both chambers, and signed by the Governor for immediate effect.
The goal of HB4098 is to create a farther setback for landfills. The current setback is 500 feet; the new distance would be 1,000 feet. This bill is proposing a modification to a state regulation, and would go into effect immediately. It was last seen in mid-March with the House Energy & Environment Committee.
---
Mike Collignon is the executive director and co-founder of the Green Builder Coalition, which is a not-for-profit association dedicated to amplifying the voice of green builders and professionals, driving advocacy and education for more sustainable home building practices. For more information, visit greenbuildercoalition.org
In-home electric charging stations will be more accessible to certain Illinois homeowners if lawmakers resume action on anti-restriction legislation.