Speck A91-II VSP – 1.1 THP Self-Priming Pool Pump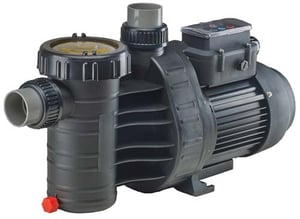 Swimming pools waste a shocking amount of electricity in the U.S.—as much as $23 a week— for the simple reason that older pool pumps are far less efficient than modern ones such as this offering from Speck Pumps.
The A91-II variable speed pump (VSP) operates at an efficiency of up to 95 percent above that required to qualify as an ENERGY STAR® product. It accomplishes this feat through flexibility. The 1.1 THP variable speed motor has a built-in controller, LED screen and keypad that can be locked for safety. Most importantly, in terms of power use, it operates at three adjustable power levels. These levels can be set to range from 50 watts/1,000 RPM to 1,000 watts/3,500 RPM (in increments of 10 watts).
Power is provided by a maintenance-free permanent magnet brushless 48 frame motor.The typical pool pump motor is an induction motor with efficiencies of 35 percent to 70 percent. VSP motors such as this one operate at lower speeds, producing efficiencies in the 90 percent range. This innovation can cut daily energy consumption from 12 kWh to 2 kWh for the average pool pump.
For more information: usa.speck-pumps.com/model-a91-vsp