In this special COGNITION Smart Data report, Green Builder Media highlights the impacts that we anticipate the Coronavirus will have on the homebuilding sector.
I sincerely hope that you and your family are staying safe and healthy.
There are many unknowns swirling around the Coronavirus right now, but there is one thing of which I am absolutely certain: now is the time to step forward, be active, and provide people with ideas, inspiration, and authentic leadership.
As most of us are working from home and devouring unprecedented amounts of content, Green Builder Media has made a commitment to closely track the Coronavirus and the resulting economic impacts on the building industry, and also to create and distribute real-time data, high-quality content, and meaningful information to provide our readers with tangible solutions at this critical time.
We anticipate that, as people spend more time in their homes, they'll start thinking differently about connected living technologies, health and wellness, indoor air quality, home healthcare, home fitness, resiliency, and self-sufficiency.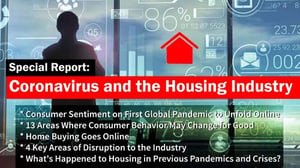 As you know, these are topics that we've been focusing on for years, so we are confident that we'll be able to provide all of our partners—manufacturers, building professionals, and consumers alike—with meaningful information they'll need to come out on the other side of this pandemic better, stronger, and more sustainable.
We just released a special report, Coronavirus and the Homebuilding Industry, that offers information about the impact that we anticipate the Coronavirus will have on the economy and housing sector, corresponding consumer trends and behavioral modification, and additional resources.
This report is an example of how we're blending our award-winning content, COGNITION Smart Data insights, and domain expertise to deliver information that, we hope, will set you up for success in the short and long term.
If you'd like to join us in this endeavor to provide pivotal content that will help the housing industry innovate as events develop, write to me at sara.gutterman@greenbuildermedia.com. I look forward to hearing from you!
Yours truly,

Sara Gutterman
CEO, Green Builder Media
Want to read more? Follow me on Twitter and Facebook. For more information about green building and sustainable living, visit Green Builder Media at www.greenbuildermedia.com, like us on Facebook, and follow us on Twitter for regular updates and breaking news.