Solar power has been a marginal player in the electric power industry for a long time, but that is finally starting to change. 2013 was a record year for solar, with more than 37 gigawatts (GW) of photovoltaics (PV) installed worldwide, bringing cumulative installed capacity to nearly 137 GW. While solar still provides less than one percent of the world's electricity, the blistering growth rate is causing many people to sit up and take note. Solar power is steadily, but inexorably, changing the global power sector.
What's most interesting about solar today is that it is increasingly viable, even without government subsidies. Last summer, in a research note, the global bank UBS stated that "an unsubsidized solar revolution" had begun, and opined that "purely based on economics, we believe almost every family home and every commercial rooftop in Germany, Italy and Spain should be equipped with a solar system by the end of this decade."
Seeing the Light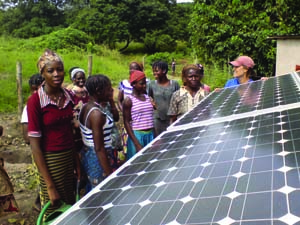 Non-profits like the Solar Electric Light Fund are helping many non-electrified African communities leapfrog straight to solar with small "micro-grids."
This is a revolution that extends well beyond Europe. China and Japan led the world in PV installations in 2013. Many African countries see an opportunity to "leapfrog" over traditional fuels and electrify their societies with solar instead. And in March of this year, Citigroup proclaimed, "the Age of Renewables is beginning" in the United States. Last autumn, no less an energy authority (and fossil fuel enthusiast) than Shell Oil outlined a plausible future scenario, under which solar could become far and away the world's dominant energy source, supplying almost 38 percent of total energy in 2100.
In a recent article on solar's growth potential, renewable experts at the global consulting firm McKinsey & Company pointed out that some of the world's largest corporations are embracing solar. They cited examples such as Wal-Mart, which is installing solar on its store rooftops. The company has stated that it will switch to 100 percent renewable power by 2020. Other examples include Starwood Hotels and Resorts, which has begun to install solar at its hotels, and Verizon, which is spending $100 million on solar panels and fuel cells to power its cell-network infrastructure.
What is motivating companies, investors, governments and homeowners around the world to go solar? Sustainability is a factor, but the main reason is plummeting prices: hardware, installation, maintenance and financing costs are all falling, even as power output per panel steadily increases. As solar becomes ever cheaper, it is achieving cost parity with traditional grid power in more and more places. With each passing year, solar presents an increasingly attractive value proposition. As Jason Channell, director of investment research at Citigroup, puts it, "We're at a point…where demand starts to be driven by cold, hard economics rather than by subsidies, and that is a game changer."
As institutions large and small awaken to solar's potential, they are unleashing one of the biggest energy stories of our time, one that will reshape markets around the world. After 60 years in relative obscurity, solar power is finally set to enjoy its moment in the sun.
---