Big deals and serious growth in the solar industry are changing the axis of power in the energy sector.
You know that an industry has hit its stride when the ten-figure acquisitions begin. It seems that the solar sector is getting down to some serious business, as evidenced by renewable energy behemoth SunEdison's purchase of Vivint Solar, one of the largest residential PV installers in the nation, for $2.2 billion earlier this week.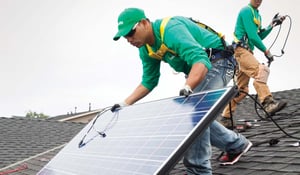 The acquisition—part cash, part stock, and part convertible notes—will give SunEdison a stronghold in the increasingly competitive residential solar PV market, along with 4,000 new employees, 523-megawatts of rooftop solar projects, and $81 million in unlevered cash flow for investors.
SunEdison isn't stopping at solar. Some of the company's other acquisitions include First Wind and Invenergy, which together have contributed nearly 1,500 megawatts of wind, cogeneration, and other renewable projects to its energy production portfolio.
SunEdison's strategy is clear: world domination. The company is not just attempting to dominate the solar space, it aspires to redefine antiquated business models and become one of the world's largest energy powers. With a solid financial position, projections to add over 1 gigawatt of renewable projects to its portfolio every quarter, and expectations for $630 million in cash distributions, investors are elated.
The company's projects, currently totaling 53 gigawatts of capacity, are almost equal to the generation fleet of Duke Energy, the largest electric utility in the U.S.
And it's not just SunEdison and other companies the solar rooftop sector that are soaring these days—community solar, considered to be solar's fourth vertical (along with rooftop, distributed, and utility), is gaining momentum. Companies like SunShare and Community Energy Solar are acting as developers of large-scale community solar farms, selling the energy to utilities, commercial customers, universities and other high use, 'credit quality' power purchasers, enabling them to hedge against rising energy prices.
In states like Colorado and Minnesota, homeowners can purchase solar credits through utilities like Xcel Energy, offering a win-win proposition: homeowners receive the benefits of solar without having to install a rooftop systems and utilities receive grid infrastructure fees and other revenues for transmitting power from the community solar farm to homes.
"Rooftop solar systems don't work for a majority of homes across the country because they have the wrong type roof, they face east, or they have existing trees that block solar access," says J.W. Postal, Senior Vice President at SunShare. "Community solar helps homeowners access solar without having to deal with the issues of rooftop install. 22 states and growing have community solar farms—it's the next big wave in the solar industry."
Certainly, solar's lengthening arm has reached into newfound territory far beyond traditional PVs, from solar windows that can harness sunlight to roads that can power electric vehicles en route. With innovations surfacing on what seems like a weekly basis, the solar industry is enjoying increased efficiencies, decreasing hard costs, and exponential growth. Gone are the speculative times of Solyndra—the heady days of solar are here.
What do you think are the most exciting and promising advancements in the solar industry? Write to me at sara.gutterman@greenbuildermedia.com or follow me on Twitter or Facebook.
For more information about green building and sustainable living, visit Green Builder Media at www.greenbuildermedia.com, like us on Facebook, and follow us on Twitter for regular updates and breaking news.