The Flex House Modular Solar Home Defies Power Outage at Giant Tech Show
CES blackout highlights the vulnerabilities of grid-powered technology.
The power and possibility of solar power got a boost today when thousands of CES visitors waited for more than an hour as a blackout struck most of the Las Vegas convention center.
Thousands of visitors standing in the vast high-ceiling convention Halls stood stunned as the lights went down. Hundreds of TVs shut off, smart devices became instantly dumb, and in the darkness, the pale blue light of their cellphones lit up like sickly fireflies.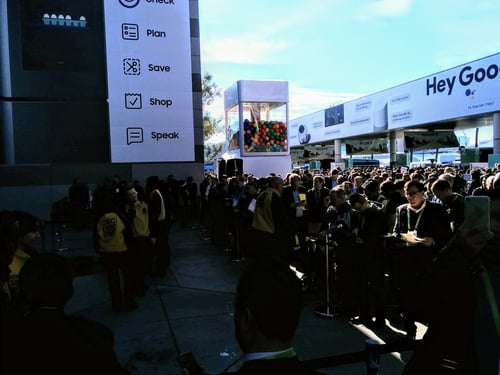 Massive power outage at CES frustrates visitors as Flex House stays open with Jinko and Tabuchi solar panel backups and smart systems.
"I'm just glad that pacemakers are not are not hardwired," quips Matt Power, Editor-in-Chief of Green Builder. "But it does highlight one of the most glaring weaknesses in the tech arena. No power equals no digital toys, and no "Hey Google."
"Seriously though," Power adds, "in the age of affordable solar, it's ridiculous not to have a renewable energy source backup. We can't afford to have systems that matter go down--things like heating, lighting and safety equipment can't be exposed to blackout risk this way. Where's the Resilience?"
The irony of a high-tech show suddenly cast into the abyss did not go unnoticed, particularly among the staff at Green Builder Media's Flex house, which was located in the parking lot across from the convention hall.
The house, equipped with Jinko solar panels and an emergency solar backup battery from Tabuchi Electric never lost power. In fact, the Flex House staff did not even know about the power outage until a throng of unhappy CES attendees showed up from the halls.
Important memo to CES organizers. How about a gigantic solar powered battery backup for next year?