December 7th & 8th Program Highlights
Canada is focusing more on renewable energy in an effort to lower greenhouse gases and utilize more renewable sources of energy. Next Monday, December 7 & Tuesday, December 8, thousands of attendees and hundreds of exhibitors from around the world will come together at Solar Canada 2015, Canada's largest solar energy trade show and conference at the Metropolitan Toronto Convention Center.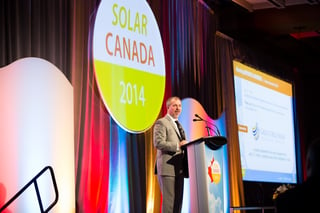 Keynote speaker, Lisa Frantzis, Senior Vice President, Strategy and Corporate Development at Advanced Energy Economy (AEE), a national business association whose mission is to transform policy to ensure a more secure, clean, and affordable energy system throughout the United States, will discuss the role of utility reform in the transformation of the electricity sector to the 21st century.
Additional keynote speakers Parliamentary Assistant to the Minister of Energy, Bob Delaney MPP and Michael Lyle, Vice President Planning, Law and Aboriginal Relations, Independent Electricity System Operator (IESO) will discuss implications of climate change for the future of Ontario's electricity supply and demand. Mayor Trevor Birtch, the City of Woodstock & Oxford County Councillor, who put forward the motion to be the first municipal government in Ontario to commit to 100 percent renewable energy by 2050 will discuss how other communities across Canada can follow suit.
Solar Canada also will spotlight the Canadian energy conversation, highlighted by closer looks at what will be required to make the utility and industry technical transformation, as well as what market transformation will look like, and the various challenges and opportunities in provincial, national and international markets. The implications of solar as a mainstream resource also will be examined in a project-focused track.
---
Kathy Zoeller is the public relations manager for Hannover Fairs.