In an amazingly bipartisan move, Congress just ensured the steady growth of wind and solar through 2021.
It's astounding what Congress members can accomplish when they find that it's in their best interest to cooperate. In order to ensure smooth sailing (at least on the budget front) until the 2016 election, Congress just passed a spending bill with none of the drama or tumult that has become its status quo. And, better yet, that spending bill promises to unleash the potential of solar and wind in our country as viable, cost-effective clean energy sources.
In the budget deal struck last Wednesday, Democrats agreed to lift the 40-year ban on crude oil exports in exchange for an extension of tax credits for renewables. The 30% Investment Tax Credit (ITC) for solar, previously set to expire at the end of 2016, has been extended through 2021, though it will begin to phasedown in 2017 and will ultimately be reduced to 10% by 2020.
Experts believe that by the time of the phasedown, the solar industry will be established enough (offering either price parity or costs savings when compared to fossil fuel sources) to handle the tax credit phasedown. Solar prices have already dropped 80% in the last decade, and gaining another 6 years of tax credits—even with a staged reduction in that credit—will undoubtedly spur the continued growth of the solar industry.
The Production Tax Credit (PTC) for wind (which had already expired in 2014) has been extended through the end of 2019, also with a phasedown beginning at the end of 2016. Other clean energy sources, such as geothermal, landfill gas, marine energy, and incremental hydro received a 1-year PTC extension, and the bill also expands grants for energy and water efficiency, clean energy R&D, and land and water conservation.
The tax credit extensions are expected to provide substantial incentive to ramp up the installation of wind and solar by 2020 across the U.S. (which would result in tens of billions of dollars in new investment and hundreds of thousands of new jobs), and it is precisely the type of policy that leaders at the COP21 Paris talks were hoping for in order to reach stated commitments.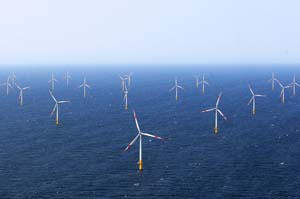 It has been a banner year for renewables, between the commitments made at the COP21 climate talks to expedite the adoption of clean energy sources, the creation of the Clean Power Plan, the preservation of net metering retail rates in California, and announcements by cities like Berkley, Boulder, and (astonishingly) Las Vegas to power 100% of city operations with renewables.
Nonetheless, the fossil fuel industry's stranglehold on our economy remains relentless, and despite the exponential growth in wind and solar, those clean energy sources still remain a small portion of our total energy mix—wind currently provides only about 5% of our nation's total electricity, and solar less than 1%. With the extended tax credits, it's expected that solar and wind combined will only provide up to 10-15% of total U.S. power generation by 2020. Whereas, coal is expected to provide approximately 27% of our energy through 2030 and natural gas approximately 33%.
Although the spending bill lifted the ban on oil exports, which will increase the global use of fossil fuels, the budget deal is expected to be a net win for the planet, with the growth in renewables eliminating about 10 times more carbon emissions than the exports of oil will add.
While every drop of water shapes the stone, the silver bullet question remains—will the growth in renewables spurred by these tax credit extensions enable us to meet our climate action commitments and limit the planet's warming to 2 degrees? Only time will tell.
What do you think about the recent budget deal and the renewable energy tax credit extensions? Write to me at sara.gutterman@greenbuildermedia.com or follow me on Twitter or Facebook.
For more information about green building and sustainable living, visit Green Builder Media at www.greenbuildermedia.com, like us on Facebook, and follow us on Twitter for regular updates and breaking news.