Smart water products: The next wave of smart home technology
While smart home technology is still in its infancy, devices like smart thermostats and lighting are already changing the way homeowners monitor and conserve energy use in their homes. According to Statistica, smart home devices can already be found in 32 percent of U.S. homes and the level is expected to rise to 53 percent by 2022.
Keeping with this demand, developers have focused on creating new smart home technology that is not only eco-conscious, but user-friendly and easy to install. Smart water products—devices that allow homeowners to regulate and stay in sync with their water use—are the newest addition to this technology.
Tracking water in real time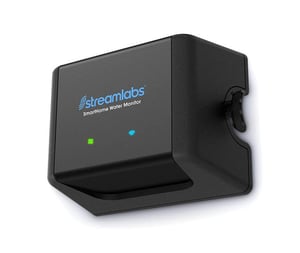 The Streamlabs® Smart Home Water Monitor by Reliance Worldwide Corporation (RWC) is one example of a smart water product to hit the do-it-yourself consumer market within the past year. The monitor installs over existing plumbing pipe and uses ultrasonic technology to monitor flow (i.e. using sound waves to measure the rate of water flow) throughout the entire plumbing system. The device records water usage data and reports it in-real to the consumer through the Streamlabs® App (iOS and Android). Users have access to real-time flow data, historical usage statistics and will receive leak alerts for slow or major water leak events.
Through the Streamlabs® App, homeowners have easy access to water usage information allowing them to be more conscious of how much water they are using throughout the day, week, month and year, giving them insight into their consumption habits. If you live in a drought area or region where water rationing is in effect and impacts billing, the device can offer more insight than the traditional paper billing cycle you receive once per month. Or if you just want to reduce your environmental footprint, the Streamlabs monitor also helps identify the water hogs in your household or those troublesome appliances that are wasting water such as that pesky toilet flapper or leaking shower drain.
With smart water products, homeowners can be the most water-efficient house on the block. There are a range of options, which include less expensive devices that signal an alarm when standing water has reached a sensor (similar to a smoke alarm) and more expensive devices that can shut off a water valve remotely. Most smart water products range in price from about $150 to $700, depending on the features.
The Environmental Protection Agency says household leaks waste more than 1 trillion gallons of water in the United States annually. Those 1 trillion gallons are enough to match the yearly water usage of 11 million homes. Intelligent water systems help eliminate this waste. If water consumption spikes dramatically, such as when a pipe bursts, the homeowner is alerted. Without this technology, homeowners risk both wasting water and incurring costly damage.
Checks and balances
Water leaks occur more often than one would think. One instance of this was during the DeKalb County, Georgia Water Crisis of 2016. According to Cross Roads News, normal billing for more than 37,000 water and sewer customers was suspended following months of widespread complaints about inaccurate and exaggerated bills. Some residents have fought back using intelligent water systems to their advantage. The technology allowed them to verify the accuracy of their water consumption in comparison to what county meters read. It turns out that the county's aging water meters were leaking and staff members monitoring the issue were not aware until complaints rolled in. Smart water products gave homeowners the information needed to independently verify their water use and dispute their abnormal bills.
Water damage is costly
The cost associated with water damage is nothing to sneeze at. The Insurance Institute for Business and Home Safety (IBHS) emphasizes how expensive it can be, even after the deductible has been paid. Toilet failure comes out to be the most expensive risk category at $5,584.00 after the deductible, according to the IBHS. Plumbing drain system failure comes out to be approximately $4,400.00 per incident after the deductible. This level of unexpected repair is costly enough to put a serious dent in a family's finances. A smart water product can help homeowners take a proactive stance to water damage, as opposed to a reactive stance.
Thanks to smart water products, homeowners no longer have to choose between convenience and water conservation. Getting leak detection alerts in real time is another way homeowners can save money, save energy and act to protect their homes.
###
Steve Kleber serves as president of the National Remodeling Foundation, immediate past president of the National Kitchen & Bath Association's Center for Kitchen and Bath Education and Research and is a board member on the Home Projects Council. A marketing and communications professional, Steve has worked in the area of building materials and products promotion for more than 30 years. Steve can be reached at sk@kleberandassociates.com or 770-518-1000.