With their ability to monitor and adjust temperature, humidity and the presence of electricity they may be the last best hope for evacuated homeowners.
FOUR BRANDS of so-called smart thermostats now dominate the U.S.: Ecobee, Honeywell, Emerson Sensi, and Nest. The degree of market penetration varies by region, but more importantly—as our Cognition database research has shown, the level of adoption is strongly affected by price and utility-driven rebates (if any). In states without rebates or energy efficiency incentives, adoption tends to lag.
To the point: These devices, which can be controlled via smartphone or laptop remotely, have the ability to monitor and restart critical systems in a flood-compromised home.
My first-hand experience (corroborated by FEMA), writing about and visiting the damaged areas left by Hurricanes Katrina, then Charley—suggests that getting the air conditioning up and running immediately following a flood event is critical to reducing the severity damage the home.
While there's little a homeowner can do if the power remains down for an extended period (as is happening in Puerto Rico), if it returns within a day or two--as it did in many parts of U.S.—getting the HVAC up and running for dehumidification could mean the difference between completely gutting the home and simply replacing wet components.
Utilities in Florida especially are taking steps to "harden" their flood resistance by burying lines, replacing wooden poles with concrete ones, and so on. As the Miami Herald reported this month, "Following Irma, 40 percent of outages were fixed after one full day of restoration work last Tuesday, according to FPL. After Wilma, only 4 percent of outages were fixed over the first day."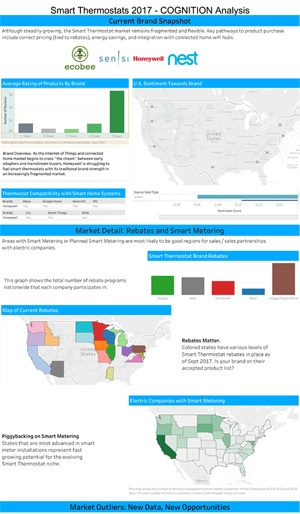 After a storm event, many people cannot return immediately to their homes. The area may be blocked off by authorities, impassable, or the family may not have the resources to trek back across the country, if they're staying with friends or family—or poor. Being able to access their home remotely, even with the thin lifeline of a wifi thermostat can provide key information: Is the power up and running again? Is my house overheating? Is humidity indoors excessively high, and likely to fast-start mold and mildew growth? Does the HVAC respond?
If you or your clients don't yet own a smart thermostat, consider the relatively low cost of entry as part of your resilience plan for future storms. Each brand has its relative strengths. Nest recently reduced the price of its base model wifi thermostat, leads in sales of smart thermostats, but all of the brands are seeing rapid growth. And if this year's devastating season of evacuation-level storms becomes the norm, smart thermostats should be high on the list of "flood resistant" products to add to every home in the potential path of destruction.
One caveat. These thermostats communicate through the home's wireless network. That means that in order for them to resume operation, the wifi hub has to be operational. Fortunately, most new modems come with a wifi feature of their own that allows users to check and reset the units after a power outage. Make sure to have this feature available, and (typically) the right app installed next to the thermostat controller on your smartphone.
ABOVE, RIGHT: Our Cognition "deep data" analysis of Smart Thermostats makes sense of a fractured marketplace.While Nest leads in brand sales, consumers have a very poor understanding of the technology. Where's the white space? Many states lack any rebate program, and in some areas energy costs are about to spike rapidly. The smart money will be on the brands that capitalize on these trends. For more information about Cognition, contact Sara Gutterman.