Smart, Solar, and Tiny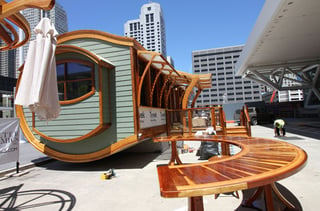 Our latest Vision House demonstration project, The Arc House, proves that tiny living is more than a passing trend.
Photos: courtesy of Juliet Grable and Jessica Heron
Last month, Green Builder Media announced our partnership with Shelter Dynamics to take the specialty modular builder's iconic Arc House, a prototype factory-built 432 square foot residence, on tour.
We're happy to report that we had a terrific showing at PCBC in San Francisco. With loads of attention and nonstop traffic, the Arc House was a featured attraction at the show.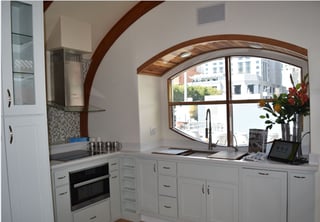 As guests toured the home, designed to flow like a wave, they witnessed the economy and simplicity of tiny house living married with cutting edge building science, thoughtful resilient design, and cutting edge smart home technologies.
When we asked visitors what they thought of the Arc House, the most common responses were along the lines of "It's so well designed", "It has a great feel," and "I could definitely live here." Needless to say, we felt quite satisfied by the reaction to the home, as our goal was to showcase how small, well-designed spaces can be desirable, affordable, and comfortable.
A special thanks to Shelter Dynamics for bringing this gem of a home to life, as well as to:
DuPont for providing Housewrap, a fundamental of good building science
Jinko Solar for the super-efficient solar panels, which are the foundation for the home's integrated smart home + solar system that offers the ultimate control over the production, storage, usage, and monitoring of energy
Covestro for R-40 spray foam insulation that helps make the home net-zero
National Fire Protection Association for providing essential information about mitigating the risk of home fires and wildfires (this is particularly relevant for the Arc House since Shelter Dynamics projects that the majority of its sales will be in Western States)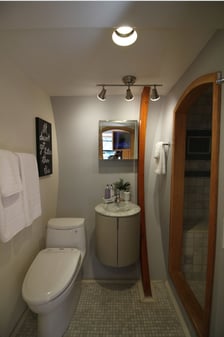 The next stops on the Arc House tour include Solar Power International (September at the Las Vegas Convention Center in Vegas) and Greenbuild (October at the Los Angeles Convention Center in LA), where you'll also be able to see the latest in solar inverter technology from SMA America and a fuel cell vehicle from Honda.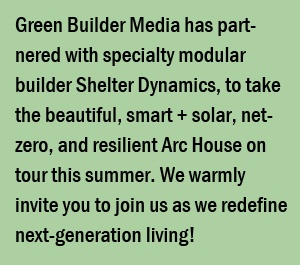 We invite you to join us at the Arc House to experience firsthand the overwhelmingly positive response to the unique home. We're finding that baby boomers and millennials are particularly drawn to the Arc House, which makes sense given that those groups are increasingly choosing to live in small, efficient homes in vibrant, walkable communities. They seem to like the Arc House's small footprint, integration of smart and solar technologies, independence from the grid, sustainable design, and adaptability.
To learn more about the Arc House, please visit the project's microsite. Heading to SPI or Greenbuild and want to meet in person? Write to me at sara.gutterman@greenbuildermedia.com or follow me on Twitter or Facebook.
For more information about green building and sustainable living, visit Green Builder Media at www.greenbuildermedia.com, like us on Facebook, and follow us on Twitter for regular updates and breaking news.