When it comes to aiming for smart home technology, security and energy efficiency call the shots.
Cognition Smart Data, Green Builder® Media's suite of market intelligence and data services, leverages Artificial-Intelligence (AI)-based technology to uncover insights into purchasing patterns and buyer preferences. This issue, we highlight trends
in the exploding sector of smart home technologies.
Smart home technology is becoming ubiquitous. The ecosystem of connected devices now spans far beyond speakers and thermostats, and Smart Home 1.0—which consists mainly of command and control features—is rapidly evolving into a sophisticated interplay of intelligent devices that self-optimize to decrease resource use, enhance living spaces and anticipate homeowner preferences.
Given the swift pace of innovation, it's no wonder that homeowners and builders alike are struggling to keep up with the exploding smart home tech sector. Fortunately, Green Builder® Media's cutting-edge AI-based platform, Cognition Smart Data, offers proprietary intelligence and pioneering insight into the smart home sector, tracking macro-market trends as well as user-specific behavior to make sense of key indicators like purchasing patterns, behavioral preferences and brand preferences.
The Cognition data indicates that energy and security rule when it comes to driving purchases of smart home technology. Homeowners identify that energy efficiency is the top reason that they purchase connected devices, followed by enhanced safety and security. They also like the ability to check on their home, kids and pets when they're away.
Correspondingly, thermostats and security devices, such as cameras, sensors and locks, are the hottest smart home gadgets.
When it comes to smart home system features, homeowners insist that security—all kinds—is the ultimate "must have." They want their smart home systems to ensure the security of their data by protecting against hackers and cyber-threats, and they want their homes to be proactive, sensing fires and other dangers, and respond accordingly—by doing things like turning on sprinklers and irrigation systems—and sending alerts when an intruder is approaching.
Living Easier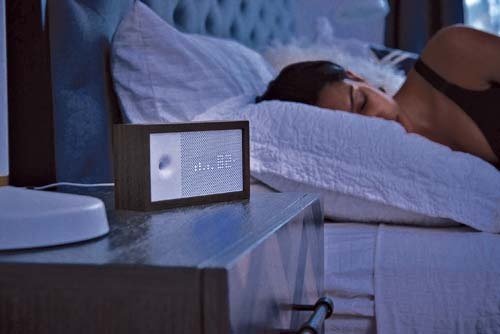 In response to rising demand by consumers, increasingly innovative smart products such as Awair's self-named, clock-like air quality monitor, are hitting the market.
Indoor air quality is trending as consumer emphasis on health and wellness continues to grow. Cognition data shows a snowballing demand for smart systems that track indoor air quality by measuring toxins, CO2, dust, temperature and humidity. But measurement alone isn't enough—homeowners are calling for seamless intelligence behind the scenes. They want their homes to intelligently respond if the quality of their air has been compromised by turning on ventilation systems, enabling fresh air exchange, opening windows and the like.
It's also clear that smart home technology remains in a fairly nascent phase with plenty of room for improvement. Trending homeowner frustrations include the inability for all of their devices to connect with one central hub, and unforeseen glitches in the setup process and ongoing usage.
Generally speaking, homeowners feel good about smart home technology. Many express confidence that connected devices are making their lives easier and their homes safer, but an equal amount of others indicate that the verdict is still out, and they're reserving judgement one way or another.
At this time, the majority of homeowners own one to five smart devices. Another, growing group owns six to 10 devices.
Smart Home Tech Titans
Not surprisingly, Amazon is king of the smart home tech domain—it is the most recognized brand on all fronts, with Google Home following a ways behind, and Samsung SmartThings just barely beating Apple HomeKit for third.
Samsung is the leading brand in the smart switches and plugs category, and Nest leads the pack in smart thermostats.
Home protection and wellness are the leading keywords with the most positive sentiment in web and social media discussions about smart home technology. Security and health are the most active purchase drivers, and smart video cameras, sensors, security cameras and thermostats receive the most regular call-outs with regard to smart home devices.
When we analyze the Cognition smart home tech data by user groups, we see that production homebuilders resonate positively with the keywords comfort, design and resale value, and we steer clear of the terms security and wellness—whereas progressive green builders resonate much more strongly with energy and sensors, and they have a very negative sentiment towards water leaks.
Consumers identify most positively with smart appliances, and they currently have a negative sentiment towards the categories of security and indoor air quality.
We'll be reporting on other Cognition analyses over the coming months. Let us know if there's a topic or product category you'd like us to investigate with a "deep dive." If you're a manufacturer looking for some customized real-time data, drop us a line.