Smart move # 1: Combining KBIS and IBS shows to create "Design and Construction Week" in Las Vegas. It was a huge hit, generating not only tremendous crowds, but a fresh, positive attitude about what lies ahead in the industry.
Smart move # 2 - Wearing comfortable shoes. Navigating all three halls of the convention center took every bit of the three day show. So much to see, so much innovation, and just plain pretty stuff. I'm torn between two worlds: that of the designer in me, who wants to keep up with the latest trends in gorgeous kitchen and bath products, and the builder/renovator chic who loves a good looking roof shingle. A house has to be well built and beautiful both inside and out, right?
So I split my time between those two worlds, and saw some pretty awesome stuff. Last year from KBIS in New Orleans I reported a new trend towards texture and mixed finishes, and the emergence of the color grey as 'the new natural'. These trends continued to expand at this year's show, and were even more refined. Simple, clean and uncomplicated design, now with a hidden secret: Convenience. Yes, it's all about that. Saving time, saving money, space, and of course, looking great!
Here are some interesting finds from my hunt. Some smart, space saving conveniences and technology that won't break the bank.
Kohler's "Tailored Collection" vanities
The Tailored Vanity Collection follows a basic four-step process:
1. Choose your exterior: multiple vanity styles, sizes, configurations, installations, and wood finishes
2. Choose your interior: user-centric organization accessories: integrated electric outlets, bamboo storage trays and dividers, adjustable shelves, and rollout drawers
3. Choose your top: variety of vanity top materials, sizes, shapes, and colors
4. Choose coordinating components: finish-matched mirrored solutions, sconces, hardware, bridges, and lap drawers
I love the interior accessories: Integrating electrical outlets inside the cabinet allows for plugging in hair dryers, electric toothbrushes, shavers, etc., and keeps the countertop uncluttered. Genius!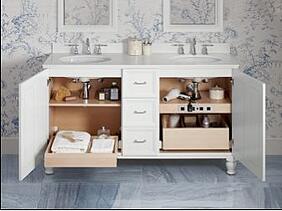 Leviton USB Charger devices
Plug your phones or tables in the USB port outlet and save space, conveniently locating them in one small area.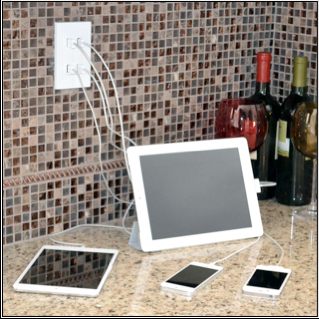 or you can combine the outlet and ports together if you need to plug something in:

Sometimes the simplest ideas make the most sense.
Brink's Home Security "Push Pull Rotate" door lockset
Push Pull Rotate door locks make opening doors easier whether your hands are full or free. A quick bump with an elbow or hip, or a tug with a single finger can open interior or exterior doors more easily, and without setting down groceries, babies, or mobile phones. Although the Push Pull Rotate locks are easier to use, they still stay closed and locked when the user wants them to be, exactly as a "traditional" lock does. Push Pull Rotate handles provide a new door-opening solution and are ADA-compliant.

Kichler LED tape
LED light tapes have revolutionized the way we use accent and even task lighting in kitchens, or for that matter, any room in the house. So small and compact, they can virtually fit anywhere. Now, Kichler's LED tape is available to use outside in wet areas to use as accent lighting, or light a path. Convenient, beautiful AND energy efficient!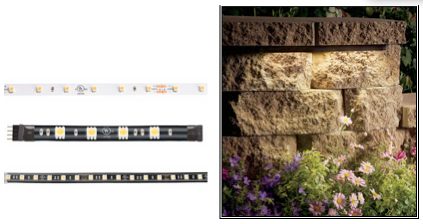 SimpliciKey Remote Control Electronic Deadbolt
Isn't it great that you can now open and close doors, turn on lights and appliances with your smart phone? But most of these systems require some sort of an organized whole house wiring system, which is not only costly but also kind of confusing. I love this front door lock system. You can use it three ways: with a remote key fob, a numeric entry code, or the old fashioned way: with a KEY. The door can also be accessed remotely with a phone app through their new 'KEYCLOUD' system.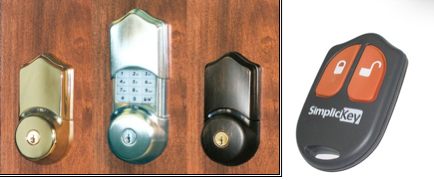 So many great products, so little time. Suffice it to say, I could have used another day!