Smart Home Evolution: Trends to Watch
Smart technology is revolutionizing the way that we interact with our homes. But today's Smart Home 1.0 environment—which is essentially command and control—is going to feel as sophisticated as Atari when compared with the super-intelligent, autonomous, learning systems that are going to hit the market in the next 12-24 months.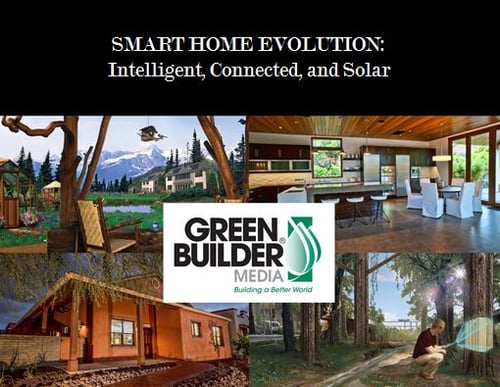 I recently presented a webinar on the evolution of smart homes and the convergence of intelligent, connected, and solar technologies. It's one of my favorite topics, as the rapid advancement of these enabling technologies are offering homeowners an unprecedented level of control, independence, and peace of mind (yes, along with some challenges and headaches).
Americans Love Smart
According to a Coldwell Banker survey, nearly 55% of homeowners either currently own a smart home device or plan to purchase one this year. The survey lists home security, energy conservation, and lighting control as the top three reasons why homeowners' purchase smart home technology, and it reveals that homeowners prioritize on comfort, energy efficiency, security, and healthy air quality.
Homeowners like smart home systems because they learn our behaviors, upgrade themselves seamlessly, and take the human error out of the performance of our homes, making our lives more efficient, convenient, and sustainable.
With smart technologies, we're offered a greater level of control over our homes—we're transformed from passive consumers into active resource managers. We can proactively monitor and optimize the production, storage, and use of energy in our homes, we can conserve water and improve our air quality, and we can keep our homes and families protected, all while saving money.
Trends to Watch
The devices and technologies available today represent Smart Home 1.0, which is essentially a command and control scenario, in which we instruct our devices what to do and they respond accordingly.
Smart Home 2.0 will be very different—they will learn, interact, optimize, and evolve. As smart homes become more sophisticated, you can expect to see the following advances:
Machine learning: otherwise known as artificial intelligence (AI), machine learning technologies are intelligent systems that learn, adapt and potentially act autonomously rather than simply execute predefined instructions. AI technologies are beginning to proliferate, with a range of introductory solutions recently released into the market by tech behemoths like Amazon, Google, and Apple.
Voice-enabled technology: today, we can ask Alexa or Ok, Google to tell us the weather or find a recipe. But voice enabled technology is quickly advancing, with integrations into a wide range of products from refrigerators to TVs to water heaters. Soon, we'll be able to control most of the devices, appliances, and mechanical systems in our homes with voice controls.
Intelligent apps: interactive learning technologies, like virtual personal assistants (VPAs) with advanced analytics, promise to make our lives easier by streamlining everyday tasks.
Intelligent things: robots, drones, and autonomous vehicles that work collaboratively with each other to accomplish specific tasks. With intelligent things, we can expect to see a blurring of the digital world, where the digital world becomes a detailed reflection of the physical world, and the physical world begins to incorporate more digital elements (think Tom Cruise's Minority Report.)
Virtual Reality: sometimes called augmented reality, virtual reality will facilitate more immersive environments in our home. For example, the mirrors in our closets will not only be able to suggest an outfit based on the weather, but they will also be able to show us what said outfit will look like on us before we try it on.
Location: there are already some basic geo-fencing solutions in the market today that, for example, can turn on lights, open garage doors, and turn off security systems when a smart home system senses that a homeowner is close to home (communicating with a smart vehicle or phone), but soon we'll see a much more advanced version of this geo-fencing capability. We're also going to see in-home location services, where a smart home system can sense where a homeowner is inside a home so that the smart system can turn off the HVAC system and lights or close shades in rooms that are unoccupied.
Enhanced integration: expect to see greater integration between smart home devices. Today, there are a growing number of integrations. Some excellent examples include the ability for a Nest thermostat to talk with a Whirlpool dryer if it notices that a homeowner is away, triggering a longer but more efficient drying cycle. Soon, we're going to see applications like HVAC systems integrating with window shades or even electrochromic glass that changes transparency to reduce solar gain and control energy use; whole home ventilation systems that monitor the quality of your air to make sure that you have a healthy environment (for example, if the system senses carbon monoxide build up, it will turn on the ventilation system or open a window); and intelligent water systems that monitor whole-home water pressure and proactively detect leaks or other water system problems.
Enhanced energy and water savings opportunities: look for more energy and water measurement and monitoring technologies, along with standby settings to reduce power and water use.
Demand response: devices communicating with utilities to shift energy usage loads, thereby reducing reduce peak demand and lowering energy bills for homeowners. Companies like Emerson, Carrier, and Nest already offer thermostats that interact with utilities to monitor peak demand times and pricing. These thermostats will, for example, pre-cool or pre-heat your home prior to peak demand when energy is most expensive to shift your home's energy needs while saving you money.
Smart + Solar: the integration of smart + solar systems enables homeowners to control the production, storage, monitoring and usage of energy in their homes. With the convergence of smart + solar technologies, we can create the ultimate demand-side energy management strategy.
While we're incredibly excited about the evolution of the smart home, we are also aware that some pretty substantial challenges exist for the sector.
Price is the main prohibitor to smart home technology adoption today. Fortunately, as these technologies reach price parity with conventional (unintelligent, unconnected) devices and as they help homeowners cut energy costs, the return on investment is getting easier to justify.
Also, while homeowners want personalization features, they are gravely concerned about metadata collection, security, and privacy. With recent examples of relatively dumb devices getting taken over by hackers, it's clear that security at the device level isn't enough. In future product cycles, we're going to see more security protocols built into devices, and well as "enterprise" security solutions or overlying protective layers in the form of software or firewalls.
The current lack of innovation in the home network arena is also causing substantial bandwidth problems. Originally designed for 1-2 computers, home networks now host multiple computers, smart phones, tablets, and smart home devices, resulting in slow connectivity and unsatisfying user experiences.
Finally, buyers of existing homes are struggling with resetting smart systems. Ultimately, for as smart as today's technology systems are, they're not smart enough to know that a home has been sold. If a buyer doesn't know how to log in or reset a system, it can become problematic.
Even with these challenges, I'm convinced that smart homes will continue to deliver unprecedented opportunity. Consumers will have a new level of control over their homes, with the ability to optimize resource use and cost savings. Building professionals can offer a widening bundle of integrated services as smart home technologies converge with other products and systems in the home, including solar. And manufacturers have an unparalleled opportunity to claim market share in what remains a fairly fragmented and swiftly growing sector, with high valuations and substantial investment capital.
Want to learn more about smart homes? Check out my webinar and the Jan/Feb 2017 issue of Green Builder magazine. Write to me at sara.gutterman@greenbuildermedia.com.
Want to read more? Follow me on Twitter and Facebook. For more information about green building and sustainable living, visit Green Builder Media at www.greenbuildermedia.com, like us on Facebook, and follow us on Twitter for regular updates and breaking news.