Smart Home Evolution: Elephant in the Room
Smart technology is certainly revolutionizing the way that we interact with our homes. But it's not all smooth sailing when it comes to the adoption, integration, and operation of our smart home systems. Security, the sector's elephant in the room, remains elusive at best.
Last month, I presented a webinar on the evolution of smart homes and the convergence of intelligent, connected, and solar technologies. It's one of my favorite topics, as the rapid advancement of these enabling technologies are offering homeowners an unprecedented level of control, independence, and peace of mind.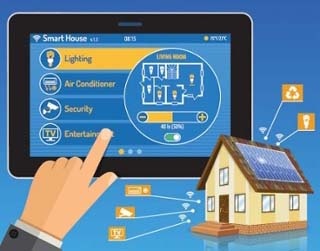 Smart Rules
Americans have fallen in love with smart home technology—a Coldwell Banker survey shows that nearly 55% of homeowners either currently own a smart home device or plan to purchase one this year, and Green Builder Media's research indicates that once a homeowner purchases a smart home device, there is a 90% chance that they'll invest in another one.
Consumers are embracing the enhanced level of control that smart home devices provide. They like being active resource managers, with the ability to monitor and optimize energy use, water conservation, and indoor air quality. They welcome the ability to keep their homes and families protected, all while saving money.
Security Concerns
While I'm eager to watch the unfolding evolution of smart home technologies, with mind-blowing features like voice-enabled technology, machine learning, virtual reality, location services, and demand response, I offer fair warning: the sector needs to address the elephant in the room—security—before it can truly scale and mature.
According to a survey conducted by Parks Associates of 10,000 broadband households, almost 50% rank data security and privacy as their top concerns when it comes to connecting devices to the Internet. 40% of the respondents indicated that they experienced a privacy or security problem with a connected device in the past year (most commonly viruses and malware.)
What Makes You Smart?
In our effort to constantly improve our editorial and educational offerings, Green Builder Media wants to know more about your interest in smart home technology. Please take this short survey and enter to win your choice of an Amazon Alexa or Ecobee thermostat (you can enter your preference in the survey). 5 minutes of your time will help make us a better purveyor of information!
A recent Gartner survey of 10,000 households found that about 65% of respondents are concerned about devices listening in on their conversations, since everything from voice-enabled thermostats to teddy bears are now equipped with microphones that, while seemingly benign, can collect personal data that can either be hacked or sold (as was the case when the Federal Trade Commission (FTC) fined Visio $2.2 million in February for selling personal data collected from viewers' televisions and DVDs to advertisers and media companies.)
And while security concerns are certainly not stunting the growth of smart home technologies within the early adopter and first mover market segments, industry experts suggest that these concerns may stunt wider mass market acceptance.
Security by Design
Smart home device manufacturers haven't yet solved the major issue of data security (which means that all of the metadata that is collected by our smart home devices is currently vulnerable to hacker attacks), but they are starting to follow "Security by Design" practices, incorporating enhanced security protocols into both software and hardware.
No doubt, future product cycles will feature improved security protocols, but there is a lot of ground to cover, and with the rapid evolution of the digital environment, security will have to be increasingly fluid and adaptive.
Interestingly, security protocols and standards are lagging behind product innovation. However, that may change quickly—in March, Consumer Reports announced its intention to collaborate with cyber experts to create an open-sourced industry standard that it says will "safeguard consumers' security and privacy."
In the meantime, let's walk gingerly down the road of smart home technology, enjoying the enhanced comfort, efficiency, and ease of use that connected devices offer, while keeping a keen eye on our systems' security and the privacy of our personal data.
Want to learn more about smart homes? Check out my recent blog on smart home Trends to Watch and the Jan/Feb 2017 issue of Green Builder magazine. Write to me at sara.gutterman@greenbuildermedia.com.
Want to read more? Follow me on Twitter and Facebook. For more information about green building and sustainable living, visit Green Builder Media at www.greenbuildermedia.com, like us on Facebook, and follow us on Twitter for regular updates and breaking news.