Both the solar and smart home technology categories are growing at meteoric rates. To date, the sectors have remained relatively independent, but their convergence will soon offer a game-changing level of control, independence, and peace of mind to homeowners.
Solar and smart home technology are consistently, month after month, two of the hottest topic areas of interest to Green Builder Media's readers. And it's no wonder—with the extensive and rapid innovation occurring in both sectors, there is a lot to be excited about.
It's clear why these enabling technologies are appealing to homeowners. Smart home technologies that learn our behaviors, upgrade themselves seamlessly, and take the human error out of home performance make our lives more efficient, convenient, and sustainable. Advanced solar power systems enable us not just to generate, store, and monitor our own power (and in some states, profit from that generation by selling power back to the grid via net metering), they also allow us to become more independent and self-sufficient.
While the individual development of both of these sectors is impressive, their convergence is expected to completely transform the homeowner experience.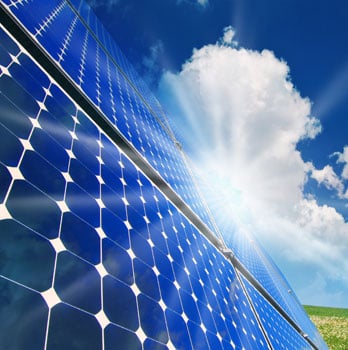 Smart home technology and solar share the same ultimate goal: to provide homeowners with a greater level of control over their homes. The integration of solar and smart home technologies transforms homeowners from passive consumers into active energy managers.
As technologies in both categories are becoming mainstream and affordable, it's clear that solar and smart home technologies will not remain stand-alone islands, but rather, they will sync together as a part of an integrated ecosystem that empowers homeowners to optimize the performance of their homes, resulting in enhanced security, cost savings, and peace of mind.
When it comes to purchasing enabling technologies (smart home products or solar), homeowners take the leap for a variety of reasons. Solar now provides a cost-effective way for homeowners to reduce their dependency on utilities and play a role in helping to meet our global sustainability goals. As far as purchase drivers for smart home technologies, studies show that most homeowners are initially interested in security (locks and cameras) and energy management (thermostats and monitoring technology).
Regardless of the hook, once a homeowner becomes familiar with the benefits of enabling technologies, they generally want more. They want to learn more about the larger ecosystem, and they immediately begin searching all of the various options.
The momentum is undeniable—according to a recent Coldwell Banker survey, almost half of all Americans either own smart home technology or plan to invest in 2016, and once a homeowner purchases one smart home product, they're 93% more likely to purchase additional ones.
From a business perspective, solar and smart home technology companies have a watershed opportunity to leverage the each other's successes, creating partnerships that expand their marketing and branding power. We're already seeing technological and marketing integration within the smart home tech space. 'Works with Nest' is a prime example of a hub technology that integrates with a wide range of products and systems, such as Whirlpool appliances (if Nest detects that you're away from your home, it will tell the appliances to run on longer, more efficient cycles) and Rachio smart irrigation controllers (if Nest smoke detectors sense a fire, it will trigger your sprinklers to wet the exterior of your home).
Smart doesn't just mean connected anymore. Smart technologies represent a much broader ecosystem of enabling technologies that bring a new level of control, security and cost savings. I look forward to watching as the solar and smart home sectors converge to empower homeowners to live more independently, resiliently, sustainably.
What do you think is the most exciting opportunity as the solar and smart home sectors converge? Write to me at sara.gutterman@greenbuildermedia.com or follow me on Twitter or Facebook.
For more information about green building and sustainable living, visit Green Builder Media at www.greenbuildermedia.com, like us on Facebook, and follow us on Twitter for regular updates and breaking news.