Smart Cities Hold the Key
Intelligent, connected, adaptable cities offer solutions for a growing and shifting population.
While there are always a litany of disquieting world events happening at any given time, I find myself particularly troubled by two recent headlines: the uncontrolled wildfires raging throughout California and the refugee crisis in Europe. While both of these tragic situations are devastating in and of themselves, I'm deeply distraught by the striking reality that furious fires and mass refugee migrations are going to become common occurrences in our future.
With growing drought conditions spreading quickly across the planet, no country will be spared from longer and more intense fire seasons. A recent study published in Nature Communications indicates that there is "a significant lengthening of fire weather seasons across 25% of the planet's vegetated lands, leading to the elevation of mean fire season duration by up to 18.7% percent, and the number of locations prone to burning has increased by 108%."
On the refugee front, while today's crisis has its roots in a war-torn Syria, the present migration has been described by Lord "Paddy" Ashdown, former leader of Britain's Liberal Democrats, as "simply a dress rehearsal for an immense climate-fueled disaster, which I think will begin to be felt within the next decade, perhaps within five or six years from now."
Ashdown is aligned with climate scientists across the globe who foresee the mass movement of communities forced to flee their homes due to rising sea levels, increasing drought conditions, flooding, super storms, "dustbowl" conditions, extreme temperatures, and other disruptive environmental events.
Poor, low-lying countries will feel the consequences of climate change most acutely—as one example, 50,000 people are currently migrating every day from coastal towns in Bangladesh to Dhaka, the capital city, because rising sea levels are making their villages uninhabitable and their arable land impossible to cultivate.
With a future that is so unpredictable, the question boils down to whether world leaders will make room for climate refugees in their countries, or whether they will, like Hungary, defensively—even hostilely—close their borders. "The idea of Open Europe is now under threat," says Lord Ashdown. "We have to discuss how we can manage the future."
World leaders will be forced to make difficult decisions that will be part humanitarian and part economic in nature. Solutions will hinge on each country's unique financial, environmental, and socio-cultural situation. And without doubt, the nations that have established smart, resilient, adaptable cities will certainly have an advantage in dealing with climate events as well as a growing—and migrating—population.
Accounting for 70% of global greenhouse gasses and housing nearly 60% of the global population (while covering only 2% of the world's land area,) cities will undoubtedly play an essential role not just in defining how nations can successfully respond to climate challenges, but also in in determining our ability to meet emissions reductions, energy efficiency, renewable energy, and resiliency goals.
Fortunately, there are massive public and private sector initiatives taking place across the globe to make cities more intelligent, efficient, and resilient, from the development of clean public transportation in Johannesburg, to bicycle super-highways in Copenhagen, to super-efficient "Green Mark" buildings in Singapore.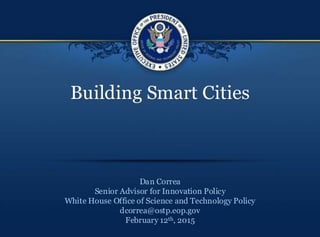 In the U.S., the White House recently launched a Smart Cities initiative in conjunction with major corporations such as Bank of America, General Electric, Duke Energy, Autodesk, Microsoft and Cisco Systems. The program, called Envision America, will work with cities to "develop innovative technologies and solutions that tackle energy, water, waste, and air challenges," investing in federal research, creating test beds for Internet of Things (IoT) applications, developing intelligent infrastructure and transportation systems, improving city services, reducing traffic congestion, and managing the effects of a changing climate. The initiative will also enable cities to adopt data-driven modeling tools that will help calculate the environmental and economic impacts of buildings, transportation systems, and energy technologies.
Companies like Bosch are focusing their attention on creating efficient, electric, connected vehicles, which are positively impacting the automotive and home building markets (to learn more about this topic, join us for a free webinar on presented by Bosch automotive experts on September 24 at 2 ET—click here to register.)
Prevention is so much easier and less expensive than recovery. It's therefore critical that cities and nations work quickly and efficiently to create intelligent lighting, parking, transportation, public safety and building management systems that will deliver us into a safe, secure, and sustainable future.
How do you think cities can best mitigate risk from natural disasters and environmental refugee crises? Write to me at sara.gutterman@greenbuildermedia.com or follow me on Twitter or Facebook.
For more information about green building and sustainable living, visit Green Builder Media at www.greenbuildermedia.com, like us on Facebook, and follow us on Twitter for regular updates and breaking news.