At Green Builder Media's recent Sustainability Symposium, industry experts offered insights into on one of today's hottest topics—Smart Cities, exploring how enabling technologies are improving quality of life and reducing environmental footprint.
Designed to explore intelligent solutions for a resilient future, Green Builder Media's Sustainability Symposium: Ready for Anything, held on January 9 in Orlando, was a medley of ideas and inspiration.
An afternoon panel delved into the topical subject of smart cities, and the interplay between sustainability, resiliency, and technology in urban settings.
Moderator Dion Haynes from the Washington Post was joined by business leaders James Jackson, Business Development Manager at Emerson; Kari Hewitt, Sustainability Lead from smart city consulting firm VHB; Matthew Pine, VP Marketing from Carrier; and Bill Gray, President of Uponor for a lively dialogue about how smart cities can improve the health and wellbeing of citizens and reduce environmental impact.
The panel kicked off with an astute observation from Pine. He pointed out that, while we're evolving to smart cities, but we're not quite there yet. Currently, our cities are connected—meaning that we have Internet-connected devices that provide data and information to help cities, governments, companies, and consumers make better decisions. However, only when our disparate systems are integrated together, synergizing and optimizing each other, will our cities become truly smart.
"Smart technologies have four basic functions," said Pine. "They monitor, control, optimize, and automate. Today, our technology monitors and controls. In the future, they'll also optimize and automate for efficiency and sustainability, self-diagnosing behind the scenes."
Jackson agreed, adding that smart cities will not only be able to collect data to optimize the performance of systems and enable us to make better decisions, they will also have intelligent infrastructure from top to bottom, so that everything from street lights to consumer appliances will be able to seamlessly download system improvements in real time (for example, street lights will sense traffic patterns and adjust accordingly, and appliances will proactively download feature upgrades and alert homeowners to potential service issues.)
Gray continued the line of thought, asserting that the biggest benefit of our new level of connectedness is the democratization of data, or the ability to spread data among all stakeholders. "Now that we have devices that provide affordable, accessible intelligence to cities, municipal governments, planners, companies, and private citizens alike, we can all, together, make more informed decisions. This puts the power in everyone's hands, not just the elite few at corporations and governments who previously had to pay a lot of money for access to data."
Gray also posed some important questions for those involved in smart city planning and development: "If the trend is toward urbanization, how do we create livable vertical subdivisions instead of sprawl? How do we help people commute and live their daily lives more easily, making mass transit more efficient? How do we live together in tighter density and do it successfully without getting on each other's nerves?" He believes that smart technology can help us find viable solutions to these and other pressing urban issues.
The conversation continued as Hewitt suggested that the vision of a smart city should first be sustainability and resiliency, and that smart technology should be adopted as a pathway to get us there. "Innovations like autonomous vehicles, smart sensors, and other enabling technologies should be a means to an end, deployed with the end goal of creating cleaner, more walkable, and healthier communities that solve problems for their citizens."
She also believes that as we amass mobility, lifestyle, and health data from smart cities, we'll be able to use that data to drive enhanced policy and regulation, which is currently lagging far behind technology.
Gray agreed, "Data that we acquire through distributed sensing can give policy makers and municipal governments real-time information about how resources are being used. So if you're thinking about making an incentive for resource savings, you can associate costs and other considerations. That's a powerful tool for policy makers because you can't argue over politics when you have the numbers right in front of you."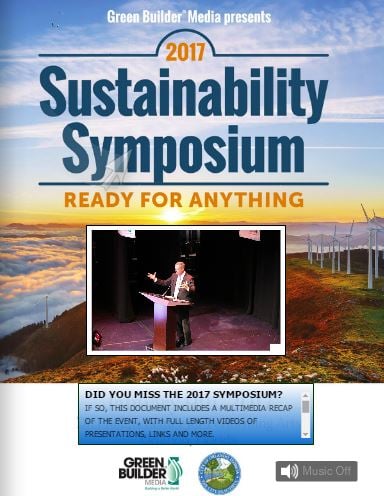 Hewitt advocated for elevating the level of dialogue between smart city stakeholders. "Typically, when we start working with a city, everyone is working in their own silos. The key is to get everyone working together. In sustainability planning, a big part of the job is breaking down divisions and getting people to talk with one another (across agencies, jurisdictions, etc.) This is especially important with smart cities if we are going to find ways to creatively finance projects and develop public/private partnerships to leverage resources and implement technologies. Just as we think about sustainability in systems, we have to think about smart cities as systems."
The panel closed by addressing the elephant in the room: privacy and security. Pine pointed out that consumers can protect themselves by choosing to opt in or out of data collection programs. He also commented that security issues occur when systems don't have a robust design, firewall or custom passwords. "The industry is trying to come up with standard for data privacy and educate consumers about protection," he said. He advocates for a tiered labeling system that indicates a device or systems' security (level 1 to 5, where level 5 costs more but has more protection.)
"Nonetheless," Hewitt said "As much as people are wary about security, they also see the tremendous benefits of smart technology, and they're adopting it as quickly as it is being produced. Policy will need to catch up--quickly."
When asked why they thought builders were slow to adopt smart technologies, the panelists agreed that builders are hesitant to adopt anything that will increase costs or the possibility of callbacks. With that said, Pine pointed out that 32% of today's homebuyers are millennials and they want more technology in their homes, so builders will need to adapt.
For more information about the smart cities panel and other riveting sessions from the Sustainability Symposium, check out our interactive Flipbook, with links to videos and summaries from the event. Thanks to our generous sponsors Uponor, Carrier, Emerson, Ingersoll Rand, DuPont, Siemens, VHB, and OUC for enabling us to host an incredible day of exploration and inspiration.
Interested in receiving information about our next Sustainability Symposium? Write to me at sara.gutterman@greenbuildermedia.com.
Want to read more? Follow me on Twitter and Facebook. For more information about green building and sustainable living, visit Green Builder Media at www.greenbuildermedia.com, like us on Facebook, and follow us on Twitter for regular updates and breaking news.