The biggest uses of energy, looked at through the lens of efficiency, is the power we waste through inferior technology, unoccupied rooms and lack of smart programming of heating and cooling.
EVERYWHERE WE LOOK, we're using energy - whether it's burning gasoline to power our cars, lighting our homes and workplaces, or powering the systems underlying the modern internet, our mastery of energy is the bedrock of society.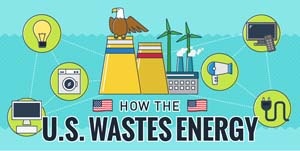 Unfortunately, we're not as good at using energy as we like to think - but there are some simple things we can do to reduce energy waste (and our energy bills).
Identifying Areas of Energy Loss
Most energy loss is incidental - for example, the emission of heat from many light bulbs is a major cause of energy loss throughout the country. Figuring out whether or not something is causing energy loss is easy to do, and you just have to ask one question: Is it doing anything besides what you actually want it to do?
For example, some modern appliances are connected to the internet so you can run and control them from anywhere in the world… but let's be honest, most people don't need to remotely configure their washing machine, especially if they're not home to switch loads. Appliances like these are energy-losers because they're constantly waiting for instructions that you'll never actually send.
Saving Energy the Smart Way
Once you've identified areas of loss, it's time to start fixing the problems. Energy-wasting lightbulbs can be replaced with efficient new variants, while electronic devices can simply be unplugged instead of constantly left on.
If reaching the plug would be too much trouble, consider investing in a few power strips - when they're turned off, any items connected to them will actually be off, not waiting for instruction in a passive sleep mode. By taking control of these - and other wastes of energy - you could save over 10% on every single electric bill.
Reducing energy waste isn't just good for the environment and our society as a whole - it's good for your wallet, too. By working together and reducing energy waste, we can make a big difference in the world.