A manufacturer of efficient faucets, fixtures and appliances says we all need to take action to reduce fresh water waste.
The World Economic Forum noted the water crisis is the number one global risk, as 663 million people lack access to safe water.1 In recognition of World Water Day, Delta Faucet Company, a 2015 WaterSense® Sustained Excellence Award winner, is working to educate consumers about how to increase water efficiency at home.

Water is precious and critical to conserve. While a global issue, water scarcity can hit close to home. In recent years, low rainfall and record-high temperatures resulted in a historically devastating drought in California. Some studies suggest the drought, which most believe started in 2011, is the worst the state has seen in more than 1,000 years. California is not alone as America is in the midst of one of the most sustained periods of increasing drought on record, according to the Palmer Index.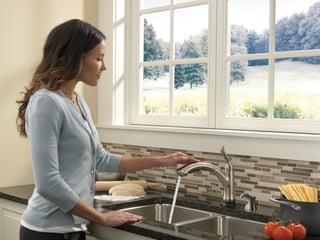 At Delta, we strive to provide smart solutions to help consumers address water efficiency in their homes. The U.S. Environmental Protection Agency (EPA), as part of their WaterSense program, has revealed that ten percent of homes leak 90 gallons of water or more per day.2 While leaks can go unnoticed, there are ways to address water-waste at home. For example, replacing older, inefficient toilets with WaterSense-labeled models can reduce toilet water use by 20 to 60 percent – nearly 13,000 gallons of water per year.2

One of the easiest water-efficiency upgrades to make at home is in the shower. With more water-efficient options available than ever before, consumers can rest assured they will not sacrifice their shower experience. The Delta In2ition two-in-one, multi-setting showerhead with H2Okinetic Technology provides a warmer, more drenching shower experience that blankets the body while using 20 percent less water than standard showerheads.

In the kitchen, the Linden pull-out faucet with the Multi-Flow feature delivers a stream and spray setting flow rate of 1.5 gallons per minute for efficiency and a 2.0 gallon per minute stream setting for high performance – both more efficient than the industry standard of 2.2 gallons per minute. The kitchen faucet also offers Touch2O Technology, allowing users to turn the water on and off with a simple tap anywhere on the spout or handle.

Simple kitchen and bathroom upgrades can save water and potentially lower monthly bills. For additional information about water-efficient products and smart solutions, visit deltafaucet.com.

Resources
http://water.org/water-crisis/water-sanitation-facts/
https://www3.epa.gov/watersense/