At Green Builder Media's recent Sustainability Symposium 2019, pioneering venture capitalist Andrew Beebe explored innovative, enabling technologies that are transforming the built environment, transportation, and cities.
Andrew Beebe is an uncommon venture capitalist. With a deep background in the solar industry, Beebe has played a pivotal role over the past two decades in the advancement and adoption of renewable energy across the globe. Now a Partner at Silicon Valley-based Obvious Ventures, Beebe spends his time investigating disruptive technologies that will propel us towards a sustainable future.
At Green Builder Media's third annual Sustainability Symposium, Beebe shared his insights into the breakthrough trends and exciting innovations that he is tracking.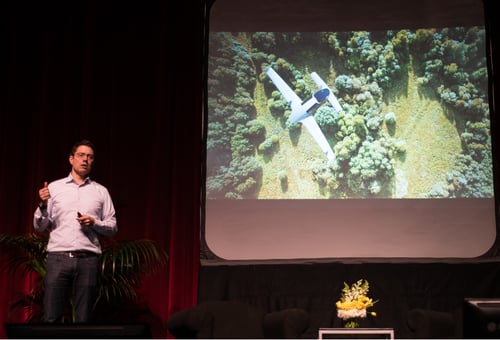 Beebe and his colleagues at Obvious Ventures are focused on three main areas: sustainable systems, healthy living, and people power. The firm is paying particular attention to cities—and for good reason: "We're seeing massive urbanization on a global scale," asserts Beebe. "The numbers are staggering. 2018 was the first year in which over 50% of the global population now lives in cities. That's part of a long and consistent trend line. In fact, 2.5 billion people are expected to be added to the urban environment in the next 20 years, and, by 2050, 75% of the human population will live in cities or urban rings."
This mammoth population movement presents both an opportunity and a challenge, and Beebe predicts that every sector in our economy will be transformed. "No industry will be immune," he avows. "Finance, healthcare, media, food, mobility, and the built environment—they'll all be affected by this journey towards increased urban living. We have to figure out how to accommodate 2.5 billion new city dwellers, which means that we can't use the same technologies that we used in the past or the ones that are in place today."
He emphasizes that we're at a critical fork in the road, and he outlines two possible future scenarios for cities. The first scenario maintains the status quo, in which there is a sluggishness and lack of inertia that prevents innovation and transformation, resulting in decreased efficiency, rising costs, aging workforces, negative productivity, crippling traffic, overloaded public transportation systems, and intensifying social justice issues. "This pathway leads towards cities that may serve economic engines and certain political interests, but they don't really work for the people living there."
The second scenario embraces disruptive technology, industry transformation, and climate action. In this vision of the future, cities are vibrant and regenerative, renewable energy is abundant, and communities are reimagined to be more connected ecologically and biologically with their surroundings.
Beebe and his colleagues at Obvious Ventures are placing big bets on this second scenario. "When we look at robotics, artificial intelligence, and other types of enabling technologies, we put human and environmental considerations first," he asserts. "It's a practical approach. Resilient, human-centered technology will scale and last in the long-term. We look for 'anti-fragile' systems that are going to persist, with the ability to withstand both climate change as well as the test of time. We invest in technologies that work for people today and for future generations."
When it comes to the building industry, robotics and prefabrication technologies are on the top of Beebe's priority list. "We want to replace dirty, dull, and dangerous construction jobs with machinery, and then 'up-skill' labor so that people can work hand-in-hand with technology. This is not a replacement of jobs, but an augmentation to increase efficiency and jobsite safety. This strategy will help people become more productive, while offering higher skill jobs and increased wage opportunities. We call it the super-humanizing of construction workers."
Obvious Ventures is also facilitating the transportation revolution, as evidenced by an investment in Lilium, a company that produces all-electric, zero-emissions air taxis that can travel 200-300 miles per hour (while in flight). "This new class of vehicles, which can take off and land vertically, will transform the way that people get around," Beebe envisages. To back up his predictions, Beebe cites a Morgan Stanley study that projects somewhere between 200,000-400,000 of these electric air taxis in service within the next decade.
Beebe believes that we're at a tipping point for electric vehicles. Referencing another Obvious Ventures portfolio company, Proterra, an all-electric bus manufacturer, Beebe says, "These vehicles are now more cost-effective than diesel, diesel hybrid, or natural gas busses. Electric vehicle technology took a long time to develop, but it's exploding now. We're seeing massive and rapid adoption of electric busses now. It will happen soon with passenger vehicles, and then air travel after that."
"Advances in robotics, automation, digitization, and clean mobility solutions are combining to create a future urban environment that is very different from what exists today," Beebe insists. "But we need to continue to steer and enable this transformation. In the building sector, we've made a lot of progress over the past few decades with respect to safety and building codes, but we're still using certain techniques and technologies that are outdated."
Beebe upholds that, if the trend of negative productivity in the building industry continues, the sector will be radically disrupted—and not in a good way. "We see radical disruption all the time in Silicon Valley, and it's brutal. When a sector is inefficient enough and unwilling to change enough, it is completely taken over." He points to companies with household names that have turned industries on their head, including Amazon (retail/e-commerce), Uber (ride-sharing), Netflix (streaming video), and Spotify (music). "Because of a lack of ability and willingness to embrace new technology, these industries have been changed forever. This is a one-way street, they're not going back to what they once were."
To illustrate the opportunity within the building sector, Beebe references a Mackenzie report, revealing that construction is the second least digitized industry in the entire economy. "There is a long way to go in the building industry with respect to innovation," he avows. "We can move from a bespoke mentality to something that is productized, where we still embrace craftsmanship, art and design, but those things are incorporated with deeply enabled technology that allows for greater productivity and access to choices at lower costs for more people."
Want to learn more about Obvious Ventures' investments and how Beebe thinks we can manifest the Mindful Metropolis? Check out his presentation on the Sustainability Symposium 2019: The Desert Shall Bloom microsite.
Want to read more? Follow me on Twitter and Facebook. For more information about green building and sustainable living, visit Green Builder Media at www.greenbuildermedia.com, like us on Facebook, and follow us on Twitter for regular updates and breaking news.