Shrinking Water Usage, Expanding Possibilities
Graywater reuse and smart irrigation can help projects earn permits and stretch tight water budgets further.
One of the biggest benefits of graywater reuse, according to Josh Fuller, Sales and Marketing, Nexus eWater, is that it enables more possibilities when it comes to outdoor water use, especially in places with tough water ordinances.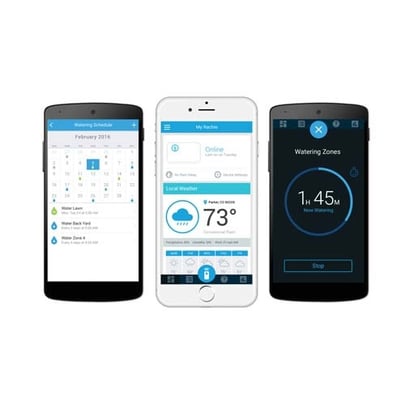 The Rachio Wi-Fi Smart Sprinkler Controller can be controlled by a smartphone or PC, and it will track water use over time.
"Using the system allows most people to expand their proposed landscaping, or add a pool or spa," says Fuller. "It helps ease the project through permitting, because you can prove that you're not using any extra potable water."
This is certainly true in California. As per Governor Jerry Brown's 2015 Executive Order, part of emergency measures targeting the drought, California updated its Model Water Efficient Landscaping Ordinance, or MWELO. This ordinance applies to all new construction and sets standards for plantings, irrigation equipment and allowable percentage of turf, among other things. Cities may adopt their own ordinances, so long as they are at least as strict as the state-wide MWELO. The updated MWELO incentivizes graywater reuse, along with rainwater collection and stormwater management. Landscapes under 2,500 square feet that are irrigated exclusively with graywater or captured rainwater are not subject to the full ordinance, but instead must comply with a simple irrigation checklist.
The Nexus eWater team has been cultivating a network of California architects, builders and developers over the years, in preparation for their first full production run this summer. One of these partners is Gary McDonald Homes, which is installing either a full system or the Recycle Ready Assembly in every new home in Copper Hills Estates, a development in Fresno.
Features such as graywater systems can help builders distinguish their homes, especially in areas where sustainable housing is in demand. Still, despite its benefits, the Nexus eWater graywater system still costs around $10,000, and builders must show the value of this added cost. During the last code cycle, NSF 350 was expanded to include commercial and multi-family projects, opening up new opportunities for graywater reuse. Nexus eWater is starting to explore those opportunities.
"In this new world of MWELO, we are seeing that even for regular home buyers the price tag is worth it if it allows them to have larger pools or greener landscaping," says Fuller. "But there's a real opportunity to split use and costs between two or three units in multi-family developments, which is really exciting for us."
Stretching the Water Budget
Designed to accommodate evolving lifestyles, with moveable walls, modules that can be added for additional square footage, and a sophisticated smart home system that monitors energy, water, and indoor air quality, the Flex House enables homeowners to use exactly the amount of resources they need—no more, no less. The home features intelligent water products, namely the advanced greywater system by Nexus e-Water that enables reuse of greywater for landscaping and toilet flushing.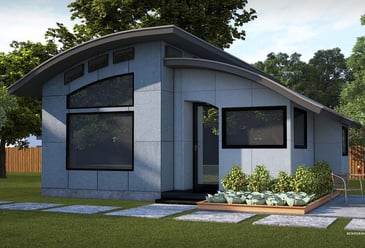 Ordinances such as MWELO also mandate the use of "weather-based" irrigation controllers such as the WaterSense smart controllers offered by Rachio. These controllers can significantly reduce irrigation water use and can help ensure landscaping projects are approved. But they may also offer a revolutionary way to manage development in areas with limited water infrastructure.
Much like the energy grid, the capacity of water infrastructure must be built around peak demand. Last year, Rachio participated in a study in collaboration with the Alliance for Water Efficiency, New Jersey American Water and WaterDM to learn how suspending irrigation on the hottest, driest days could "shave" the peak of this demand.
"This has profound implications on required water supply for a given municipality, and reduces the cost of infrastructure," explains Rachio Vice President Ric Miles.
Rachio is unique among smart controller manufacturers in that access to the controllers can be shared, and Rachio can access its customers' accounts and watering schedules. The ability to control many schedules at once holds the potential for reducing peak water demand.
For this study, 15 homeowners were provided with Rachio smart controllers, and the homeowners agreed to have their irrigation schedules remotely interrupted for two days in August of 2016. Based on water use history for these properties, the interruption saved 84 kilogallons (84,000 gallons) during each of the two days. Scaling this strategy up to include hundreds of homeowners could cut millions of gallons from peak demand.
For now, the Rachio real-time reporting provides a valuable source of data on outdoor water use. The app allows landscaping contractors to control many customers' controllers at once, but it offers another benefit, too. Landscaping contractors are typically held liable for new landscaping for up to a year after it is installed, even if homeowners skimp on watering and the plants suffer.
"With this shared intelligence, you get a notification that something has changed—it creates a virtual 'paper trail,'" says Miles.