Recently, environmental journalist Amy Westervelt shared a thought provoking look at our current recycling practices. Her question? Is the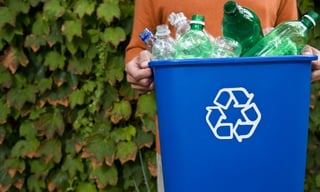 way we recycle working for the economy or the environment, and if it isn't what are the recommendations.
"[R]ecent research into the environmental costs and benefits and some tough-to-ignore market realities have even the most ardent of recycling fans questioning the current system.
"No one is saying that using old things to make new things is intrinsically a bad idea, but consensus is building around the idea that the system used today in the United States on balance benefits neither the economy nor the environment.
In general, local governments take responsibility for recycling. The practice can deliver profits to city and county budgets when commodity prices are high for recycled goods, but it turns recycling into an unwanted cost when commodity markets dip. And recycling is not cheap. According to Bucknell University economist Thomas Kinnaman, the energy, labor and machinery necessary to recycle materials is roughly double the amount needed to simply landfill those materials."
Worse, she suggests that in some cases, recycling may not be the best choice. She has several suggestions for changing how the US recycles. One is that manufacturers should take back the packaging their products arrive in, which has reduced the use of plastics in Germany as a packaging material. Another is that we should rethink garbage incerators, which are used to produce heat for 810,000 homes in Sweden.