Shine On: Solar PV Systems
Solar energy has finally come of age. The options for solar modules, inverter styles and leasing packages have expanded—and the competition is fierce.
TWO MAJOR TRENDS define the residential photovoltaic (PV) solar market: dramatic price declines and rampant growth. Since 1998, the installed cost of solar photovoltaic (PV) systems has fallen each year by an average of 6 to 8 percent, according to the National Renewable Energy Laboratory. A staggering 6.2 GW of solar capacity was added in 2014, a number which includes commercial and utility installations.
Numerous market factors have converged to make solar electricity more attractive to homeowners. Solar panel prices declined by $2.70/watt from 2008 to 2013, while the average cost per kilowatt-hour of retail electricity in the U.S. rose by $.03 from 2004 to 2014, according to the U.S. Energy Information Administration, or EIA.
Third party-owned systems (solar leases and power purchase agreements) have become extremely popular in the last few years by making solar systems more affordable and appealing for homeowners unable to pay the upfront cost of solar or unable to utilize the 30 percent federal tax credit. The popularity of such arrangements is starting to decline as capital markets embrace solar energy, offering more competitive rates and loan terms, thus boosting ownership.
The following companies are leaders in the field, offering innovative products and services that will help shape the future of the industry as it matures.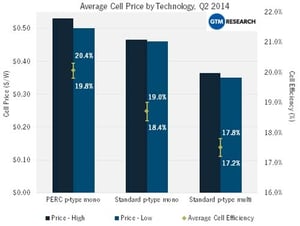 Solar cells utilizing newer PERC technology are more expensive, but they're also more efficient than both mono- and polycrystalline cells. (Source: GTM Research, click image to enlarge)
SOLAR PANELS
Solar cells and modules, or panels, have come a long way in the past ten years. Most modules utilize silicone-based mono- or polycrystalline cells. Monocrystalline cells utilize a purer form of silicon; they're more efficient and more expensive than polycrystalline cells. Newer PERC (Passivated Emitter Rear Cell) technology is enabling panels with efficiencies over 20 percent. These cells maximize the electrical gradient across the p-n junction (the boundary between the two types of silicon where electrical activity takes place), which allows for a steadier flow of electrons, reduction in electron recombination and higher efficiency levels. Panels with PERC technology are significantly more expensive.
In general, greater efficiencies have allowed panels to shrink in size, and the price of panels has dropped significantly. The market landscape for solar panels has shifted with the U.S. Commerce Department imposing an anti-dumping tariff last year on Chinese and Taiwanese solar panel imports, with only a few months' notice. This action is creating uncertainty while encouraging greater geographic diversity in the supply chain.
THE LATEST TECHNOLOGY
Founded in 1952, Hanwha is one of the largest business conglomerates in South Korea, with manufacturing, finance and leisure holdings. Its fourth generation solar module uses German Q.ANTUM technology by Hanwha Q CELLS (this company and Hanwha SolarOne merged earlier this year) and is designed to produce greater yields under high temperatures and low irradiation conditions. A power reflector with nano-particles helps generate more power by reflecting light back through the solar cells that would otherwise be wasted, enhancing low-light performance during dawn, dusk and cloudy weather.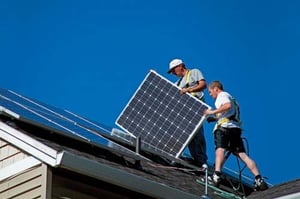 Solar Rebates and Tax Incentives Established by the Energy Policy Act of 2005, a taxpayer can claim a federal tax credit of 30 percent of the qualified expenditures for residential PV or solar hot water systems for homes in the U.S. Qualified expenses include labor, site preparation and solar components. Homeowners cannot claim a tax credit for a leased solar system. For installations on new homes, the "placed in service" date refers to when the home is occupied by the homeowner.
A tax credit differs from a tax write-off and is more valuable to the taxpayer. It is a dollar-for-dollar reduction in income taxes owed. As of the publishing of this article, the tax credit is set to expire at end of 2016, thus solar systems installed in 2017 and beyond will not qualify if the credit is not extended by Congress.
"Industry groups are fighting for an extension of the federal tax credit," says Brad Dore, marketing director for SMA America. "There are markets already where solar is competitive, with or without the tax credit. When you compare solar to other forms of energy, there are incentives in the forms of tax credits even for oil and gas."
Currently, some states also offer incentives for installing solar systems, although some are inconsistently funded or the incentives are tapering off. Cash incentive programs through the state or utility companies have fallen 85 to 95 percent in the last decade. Because the cost of solar systems has dropped significantly in recent years, the industry is less dependent on incentives, but regulatory uncertainty makes planning difficult. If the tax credit was suddenly not available, it would impact the industry.
"A dramatic decrease [in the federal tax credit] is going to deliver a shock to the market, for an industry that is creating an incredible amount of jobs," says Jonathan Bass, vice president of communications for SolarCity. "One out of every 78 jobs created in 2014 was by the solar industry. It would be better if there was a more gradual reduction [in the federal tax credit]."
These attributes make this panel a good choice for numerous project locations and conditions, with greater power generation per surface area balancing system costs. The lightweight aluminum alloy frame is certified for wind loads of 4,000 Pa and snow loads of 5,400 Pa.
Q.ANTUM cells have many of the advantages of monocrystalline and polycrystalline cells, combined in a single product. Q.PLUS G4 panels are cost effective and allow high power yield. Their quasi-black color blends with most roofs, combining both aesthetics and value.
While the company's other solar modules, including the Q.PRO series, do not feature Q.ANTUM technology, they still claim competitive efficiencies (up to 16.2 percent) and include a 12-year product warranty and 25-year linear performance guarantee.
MADE IN THE USA
SolarWorld, the largest U.S. manufacturer of solar panels, recently introduced a 60-cell, 290-watt solar panel utilizing mono-PERC solar cell technology, which provides excellent energy yields compared with standard polysilicon and monocrystalline solar cells. SolarWorld takes pride in producing panels with long-lasting high energy yields which are greater than or equal to the nameplate rated power. Manufactured domestically in SolarWorld's factory in Oregon, they are designed to avoid shading from soil, debris and mounting hardware, and solar cell spacing allows for maximum energy yield and long-term reliable output.
The increased module performance enables greater energy density from available roof space and/or allows fewer modules to achieve the same energy production, reducing the installation cost. The 290-watt panels contain SolarWorld's standard features, including anti-reflective glass, an anodized aluminum frame, a fully sealed electrical junction box and high load ratings for large accumulations of snow and ice.
INVERTERS AND MICROINVERTERS
A solar inverter is an essential part of a solar PV system. Inverters convert the direct current (DC) produced by solar panels into the alternating current (AC) used by utilities and home appliances. Grid-tie inverters are designed to shut down when utility power isn't available; hence, they do not provide back-up power during power outages, though at least one newer model provides limited storage.
Microinverters allow each solar panel to operate independently, eliminating the "Christmas tree light effect," where one underperforming panel disproportionately impacts the output overall. Microinverters boost overall production, especially when the array is partially shaded or affected by soiled panels. Microinverters increase the reliability of the system but typically have a slightly higher equipment cost.
SMARTER INVERTERS FOR TODAY'S ARRAYS
The inverters of yesteryear are surprisingly different from the Sunny Boy TL-US series with Secure Power Supply from SMA America. "The inverter of today acts as the brain of any PV system and provides far more than just power conversion [from DC voltage produced by the solar panels to standard AC voltage]," says Brad Dore, marketing director for SMA America. "It also has layered-in communications, system fault troubleshooting and grid management. It's now really the intelligence of any PV system."
The end result is greater efficiency, agility and flexibility. Two maximum power point (MPP) trackers increase the design options of the systems, especially when mounting them on roofs with different pitches or orientations. If modules are mounted both on south- and west-facing roofs, for example, a different channel can be used for each.
The OptiTrac Global Peak MPP tracking feature helps mitigate the impacts of shade. "When there is shading, we now have shade-tolerant maximum power point tracking, so the drop in power [production] is really minimized," says Dore. "The inverter is able to utilize system intelligence to bypass a false power point and track on the global power point."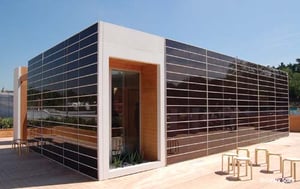 Building Integrated Photovoltaics enable multi-functional solar solutions that combine architectural elements with energy production, replacing conventional exterior building materials. Onyx Solar specializes in these tailor-made products, which are manufactured in Spain.
Ventilated solar facades and roofs, curtain walls, transparent skylights and pergolas allow light to penetrate while filtering out ultraviolet and infrared light. The glass comes in a variety of colors, and laser-cutting technology creates customizable designs that are adapted to construction standards. Glass is available in several standard sizes and can be customized as well. As a result, a larger amount of the building can easily contain photovoltaic cells, resulting in greater energy production.
Efficiency of these building integrated PV products varies between 9 and 15 percent with amorphous silicon and crystalline technology.
Pictured above: Onyx Solar Efficiency: 9 to 15%
Warranty: 5 years (product); 10 years (power production guarantee) Manufacturing Location: Spain www.onyxsolar.com
A unique feature is the ability to access some power during an extended power outage, a particularly attractive feature where the power grid is less reliable. "The Sunny Boy TL-US is capable of providing up to 1,500 watts of daytime opportunity power to a dedicated power outlet during prolonged power outages, without using batteries, thanks to its unique Secure Power Supply functionality," explains Dore. "As long as the sun is out and shining, there is access to a portion of the power. It is a groundbreaking feature that has been met with immense enthusiasm, and it is the only inverter on the U.S. residential market with this functionality."
The Sunny Boy TL-US with Secure Power Supply is 97.6 percent efficient and is able to accept a wide input voltage range, making solar systems easier to design. Unlike older models of the Sunny Boy, these inverters are now transformerless, reducing the weight of the unit and making it easier to install.
THE FIRST NAME IN MICROINVERTERS
Although the microinverter concept has been around for decades, the name Enphase is nearly synonymous with microinverters. "There is an appetite in the [solar] market for squeezing every ounce of production that you can out of the system," explains Mark Fritts, director of product marketing for Enphase. "Enphase brought that combination of efficiency, simplicity and scale that nobody else was able to do previously, at an attractive price."
The company has sold 7 million microinverters that work in partnership with Enphase Enlighten, a popular web-based monitoring system for homeowners and installers to view individual panel and array performance data. "Something microinverters brought to the table is the ability to monitor and really understand what your system is doing and producing," explains Fritts. "I think the relationship [between the homeowner and the solar system] has absolutely changed."
The microinverters have voltage and current limits, thus the Enphase website provides compatibility information. While the upfront equipment cost can be greater, so is the energy production. Replacing the use of a string inverter, microinverters are installed with each panel.
"From an installer's perspective, it's fast and safe to install, all AC plug-and-play cabling, and the 25-year warranty really speaks to the durability of the product," says Fritts. "Architects love that the microinverters are tucked under the modules on the roof."
OPTIMIZING PERFORMANCE
SolarEdge, a module-level electronics manufacturer, produces add-on power optimizers with maximum power point tracking that work with the company's lightweight inverter. This enables greater production from each panel by allowing them to operate independently of other panels in the module while using the SolarEdge inverter. This removes design constraints, allowing panels to be oriented in different directions or at different angles or enabling the use of different panel types.
These DC/DC converters monitor and communicate the output of each panel, reporting useful maintenance information to a portal if a panel is underperforming. Optimizers are attached to the mounting rail system on the back of each panel or embedded in the panels by module manufacturers (replacing the junction box) and can be added to existing systems or incorporated in new systems.
This company, headquartered in Israel, is already popular in Europe and has growing sales in the U.S. SolarCity is one of SolarEdge's largest customers and likes the value the optimizers provide, often at a lower cost per watt than microinverters.
SOLAR LEASING
Most of the first solar PV system owners were motivated by environmental concerns or a desire to be energy independent. A combination of the falling price of solar and third party-owned systems has made the technology affordable to more people. Typically, a solar leasing company provides the array at a low-to-no upfront cost. The leaser is guaranteed a fixed monthly rate for the term of the lease (often 20 years); in addition, the leasing company provides all maintenance of the array and often enables web-based monitoring of the system. Some companies offer a power purchase agreement instead of or in addition to a straight lease. In this arrangement, the customer pays for the energy produced by the panels, at a fixed and predetermined rate.
Some of the major players in the solar leasing game are SolarCity, SunPower, SunRun, Sungevity and Real Goods Solar.
TRANSFORMING THE INDUSTRY
SolarCity has been a leader in leased systems and power purchase agreements with homeowners, allowing installed residential solar capacity to soar in the last few years. The company installs one out of three solar systems in the U.S.
Currently operating in 17 states, the company moves into new territory when it can offer solar electricity at a discount to utility power. Homeowners can lease solar systems or enter a power purchase agreement with a locked rate for as little as no money down, lowering or eliminating the upfront cost of solar which had previously scared off many potential buyers.
"The optionality is important to customers because it is a key distinction between what they are getting from the utility," says Jonathan Bass, vice president of communications for SolarCity. "From the utility, the payment is likely to go up in the future but they don't know how much. The customer particularly likes the flexibility that we are offering them and the various options."
SolarCity recently introduced the MyPower loan program, which offers lower rates and longer terms than were commonly available previously by banks and other programs. In many cases, the energy savings are greater than the loan payments.
SunPower, which is headquartered in San Jose, Calif., offers a leasing program in several states, where the company contracts with local certified installers. Customers can choose from lease, loan and purchase options in some markets. The company manufactures its own solar panels, for which it claims the highest efficiency and performance available in the industry today. They are backed with a 25-year warranty.
"Under normal use, our products are expected to exceed their warranty period and perform for another 15 years, bringing their expected usable life to 40 years," says Marty Neese, SunPower's chief operating officer. "After their 25-year warranty period, SunPower customers may elect to participate in our worldwide program that pays for the recycling of these systems, provided that warranty conditions are met."
TO LEASE OR TO OWN?
Is it better for a homeowner to lease or purchase a solar system? This often depends on the tax appetite of the homeowner. If they are unable to take advantage of the federal tax credit (see sidebar on page 55) then a third party-owned system is typically preferable, as a company such as SolarCity can utilize the tax credit and pass the savings on to the customer. Leased solar systems also include a 20-year protection plan.
SolarCity routinely works on community purchase initiatives and new construction projects. "We do work with builders and we have over 100 builder partners across the country," says Bass. "We'll do all solar communities, where the builder includes solar as a feature on all of the homes, or where it is a feature that the homeowner can choose. We've done the zero electricity bill home, where they include a number of energy efficiency features and then add solar to eliminate the utility bill."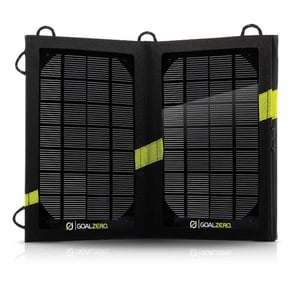 Empowering Consumers
Power provider NRG offers several ways to choose renewable energy.
NRG is in the unique position of being able to provide renewable energy to residential customers through multiple avenues. Electric vehicle drivers can participate in the power provider's EVgo "ecosystem" of charging stations and solutions. Customers in California and in several states along the East Coast can enter a solar lease through NRG Home Solar for as little as zero down (for a 20-year lease period). Individuals wanting to break into renewable energy can order "personal power products" (a portable solar charger, for example) through the Goal Zero website.
"We have not decided that 'solar plus back-up battery' is the solution," says Kelcy Pegler, Jr., president of NRG Home Solar. "Our strategy is solutions-based, not product-based."
NRG owns diverse power-generating facilities and operates in all 50 states. Its holdings include large solar projects such as a 45 MW solar generating facility near Bakersfield, Calif., which it owns jointly with Eurus Energy America. NRG purchases electricity from a number of sources and bundles them into plans, which customers in select East Coast markets can choose from. All of the plans guarantee a portion of electricity from renewable sources.
This phenomenon of burgeoning options is the new face of energy, says Pegler, who adds that NRG Home Solar is also breaking into community and shared solar. "For decades, there was no choice," he says. "We want NRG to be the company of choice for the customers we serve. It's a powerful moment in time." Learn more at
www.nrg.com