It's time to rethink the short life cycle of modern windows. Composite frames and triple-panes are great, but 20 years of viability is not good enough.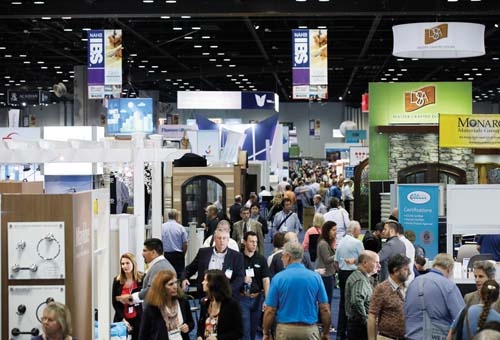 AS PART OF MY RESEARCH in selecting our "Hot 50" green products this year, I attended the Design & Construction Week exhibition in Orlando. The experience left me optimistic. After attending this show for 24 years, I can ignore the "let's go back to the golden age of the 1950s" politics of NAHB executives, and look at how the industry has progressed in many ways from what it was 25 years ago. The business of building homes as a whole is a lot classier. The show floor looks a lot less like a Vegas strip club and more like an upscale model home. The food is better, and while diversity is still limited, the gender gap is beginning to close at the executive level.
This year at the show, I began to clearly see opportunities for "white space" that the industry is ignoring. I think what changed is that the industry in many ways has plateaued with regard to sustainability. It has tweaked and upgraded about as far as it can go. It can only raise the bar through innovation.
In the aftermath of the show, I compiled not only the preliminary list of top green products, but also uncovered some gaping areas of sustainability opportunity. This isn't meant entirely as a criticism. It's meant as a call to action, and a "heads up" to some new market opportunities.
Let's start with a big missing link in building life cycle: windows.
Window seal failure: Recycling is not good enough
Insulated glass of any kind—whether low-E, argon filled or simply air filled—has a limited lifespan. In fact, I'd go as far as to say it's unacceptably short. While the U.S. does not impose prescribed, expected lifespans for its buildings, the figure that's generally thrown around is 50 years. That's because few products have a warranty exceeding that tenure, and window seals are especially short-lived.
Now consider this: An old single-pane wood window, with a separate single-pane storm glass glazing, could easily survive a century or more with minimal maintenance. The glass might need to be recaulked, but that's a task a handy homeowner could undertake on a weekend. In a crude sense, you could say that traditional wood windows were "designed for disassembly." This is one of the catchphrases of green product design that you hear at places like the Rhode Island School of Design (RISD).
Modern insulated glass (IG), two or more pieces of glass sealed together with a spacer, occupies frames that do not require big, heavy counterweights in big, empty holes in the wall. As a result, IG performs much more efficiently than old windows in u-value and removing air infiltration opportunities around the installed window.
But there's a huge catch. Most modern windows come with a split warranty: one part that covers the frame, the other that covers the glass. Even Pella's "Lifetime Limited" warranty on its Impervia products includes only a 20-year warranty against glass failure.
By glass failure, what window companies really mean is the seal between the panes. Glass itself doesn't fail, unless it breaks.
Which leads to the question: Why have we accepted this rapid obsolescence of such a major feature in every new building? Are there no solutions other than smashing out the glass and recycling it? I'll answer that question shortly.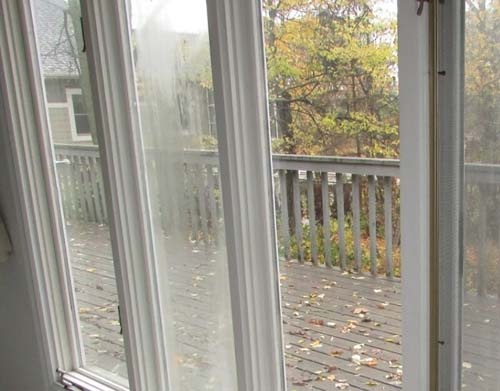 When IG fails, as it inevitably will, most windows end up in the landfill or at best, recycled. Few are repaired.
Destined for failure?
How long do the seals last? According to Wikipedia, "IG units typically last from 10 to 25 years, with windows facing the equator often lasting less than 12 years. IGUs typically carry a warranty for 10 to 20 years depending upon the manufacturer." According to the window experts at Marvin, with whom I spoke at the show, seal technology is much better. And alternatives to aluminum have made possible better window performance. But for the most part, glazing warranties haven't budged. Seals are better yes, but still short lived.
Failure of IG happens in different ways. A gas-filled unit may over time lose all of its argon gas, resulting in a much lower performance. Homeowners may not even notice this failure at first, but wonder why their heating bills have increased, or why condensation is forming on the living space surface of the glass during winter months. The gap between panes isn't insulating enough to keep the inner pane from getting cold enough to condense indoor moisture.
In more obvious failures, the seals actually develop a leak that allows moist air to become trapped between the sheets of glass. This can result in foggy, frozen and streaked windows that can't be cleaned.
To my knowledge, no major window makers offer a "takeback" or repair program for failed insulated glass seals that are beyond their warranty. This is a major blind spot in the industry, and a huge opportunity for manufacturers to improve their CO2 footprint.
How big is the Window Failure Footprint?
Let's look at the numbers. First, don't assume that every failed window is recycled. According to a 2015 EPA report, only 23 percent of new glass is made with recycled content. Manufacturers produce about 0.6 pounds of CO2 to generate a pound of glass from virgin materials. Recycled material cuts that pollution down by about 30 percent, to about 0.4 pounds of CO2 per pound of glass.
Let's model a standard 30-inch-wide, double-hung, insulated glass window. Window glass 0.125 inches thick weighs 1.64 pounds per square foot. The total glass weight would equal about 25 square feet x 1.64 pounds, or 41 pounds of glass per window. Multiply 41 x 0.4 pounds of CO2, and the glass that is recycled from each window is adding only 16 pounds of CO2 to the environment.
Forget the fact that the frames and aluminum or poly-based spacers may not be recycled at all. Even small homes from the 1940s had about eight windows, and modern homes are about 80 percent larger than homes from the 1940s. With a projected lifespan of less than 20 years, window glazings from 1970 have already failed, and ones from 1990 are probably on the verge.
In a good year, U.S. builders pull more than 1 million new housing permits. Assuming insulated glazings fail as expected, 8 million windows (eight windows or more per unit) per year are headed for the landfill or recycling. Simply recycling 23 percent of them will create 29 million pounds of CO2 pollution. Producing the other 77 percent with virgin glass will produce about 25 lbs of CO2 per window (glass only), or 154 million lbs of CO2 pollution. Total environmental cost: 183 million pounds of CO2 per year.
That's 90,000 tons, or as much pollution as 15,000 cars each year for the glass alone, not including production of new frames and spacers, transport and resource extraction.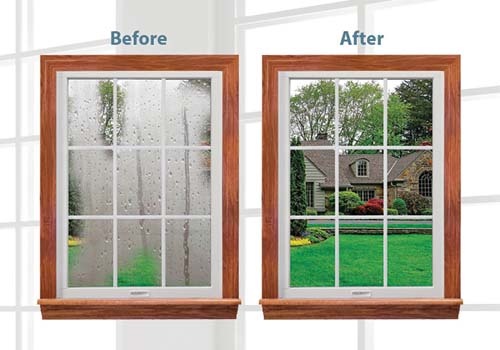 The Glass Guru company franchises its technology around the country to contractors interested in getting into the window restoration business.
Time to close the loop
Clearly, this can't go on. It's wasteful, and I'd be willing to bet that most homeowners with aging windows have no idea that their windows are designed to fall in about the time it takes to raise a kid to college age. Also, think about the poor first-time buyer who's excited about the deal he's getting on his 20-year-old ranch. Little does he know he may be shelling out thousands more over the next few years to replace windows.
The repair and reconditioning of failing IG windows is possible and within easy reach for big companies. It's time for them to stop thinking of their products as throwaway commodities, and close the life cycle.
There is at least one U.S. company (not a window maker) that offers IG glass repairs. It's called The Glass Guru, based in Roseville, Calif. At present, they have "restored" about 75,000 windows. They add a 10-year warranty to the glass after the repair. Clearly, there's plenty more room in this niche. In fact, it's not a niche—it's more like an abyss of opportunity.
The founders of The Glass Guru picked up the idea from Canadian firms that were drilling the glass in IG units to release condensation. The Glass Guru drills a small hole through the glass at the top and bottom of the unit, then inserts a tiny sprayer and flushes the glass with a half-dozen different liquid cleaners in sequence. The company owners claim that with this process, they can often repair a window for 10 percent of the cost of replacing the whole unit (with frame). The company has about 60 franchises, but there are still many regions nationally where the service is not available.
Window Orientation Should Dictate Composition
One of the building industry practices that's all too common is the use of the same window frame and glazing spacer type for every elevation of a home. The problem with this approach, from a building science perspective, is that it ignores the effects of UV and heating; the sun is unkind to certain plastics, particularly vinyl window frames and uPVC-based spacers.
UV stabilizers have improved, but PVC's coefficient of elasticity, combined with the effects of extreme heating cycles simply shorten the life of these products. Again, here's where window manufacturers could step up their game and offer window specifications aimed at durability. For example, why not put aluminum-clad wood frames or composites on the south and west face, some nice-looking darker colors of vinyl or composites on the north, and leave the east side of the home to builder discretion?
---
SOURCES/LINKS
2015 EPA Report: www3.epa.gov/warm/pdfs/Glass.pdf
The Glass Guru: www.theglassguru.com