When it comes to energy efficiency products, it's not just about the price tag anymore.
When we founded Green Builder® Media in 2005, energy efficiency was just emerging on the scene as a curiosity for progressive builders who wanted to differentiate themselves. While the topic was an elephant in the room for some builders who didn't want to be forced into constructing higher-performance structures, innovative professionals understood that energy efficiency could provide enhanced value to customers in the form of comfort and cost savings.
And then the recession hit, and massive changes to the 2009 energy code—including enhanced performance requirements—reflected a changing socio-economic zeitgeist. There were a number of issues that brought the urgent need for efficiency to the forefront, including economic conditions, volatile energy prices, advances in high-performance products and technologies, and increased consumer demand.
Despite much foot-dragging and resistance to higher-efficiency standards, energy efficiency has become a baseline, woven into the very fabric of the built environment.
Today, energy efficiency is a major driving force in the marketplace. Cognition Smart Data, Green Builder® Media's AI-based suite of data services, offers key insights into the underlying dynamics of the energy efficiency sector and important trends that can help professionals and consumers alike understand how to best leverage the growing market momentum.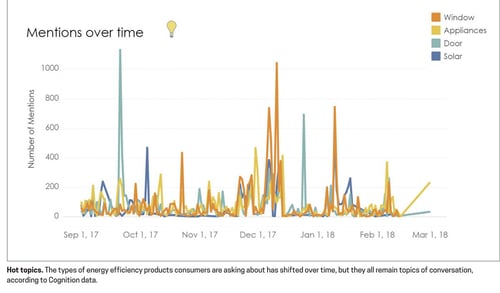 Cognition data reveals that across the country, consumer expectations, as well as codes, will continue to ratchet until we cross the threshold of net-zero energy and shift to net-positive energy (where homes and buildings produce more energy than they use). Not surprisingly, California is leading the charge in this area with its recently approved code change that, beginning in January 2020, will require all new homes to achieve net-zero electricity. This will be accomplished through a blend of solar and high-performance insulation, roofing, windows, doors, building envelope systems, appliances, lighting and mechanical systems.
Cognition market intelligence indicates that, from coast to coast, energy efficiency is a top decision-making factor when purchasing a home. In many markets, a growing number of consumers claim that they won't even consider buying a home if it doesn't have energy-efficient products. In fact, they say that efficiency has become as important a purchase consideration as location.
While insulation, windows, HVAC, lighting, appliances and thermostats are the top efficiency categories that consumers look for, the definition of energy efficiency is expanding, and consumers now correlate efficiency with other key market drivers. For example, solar is a growing factor in the energy efficiency conversation, as early-adopter and first-mover consumers connect energy usage and production. Consumers are also now linking resiliency with efficiency.
Cognition research shows that quality and performance are the top purchase drivers for energy-efficient products, followed by price and warranty. Considerations such as appearance/aesthetics, innovative design and brand awareness fall farther down the list.
While cost is a significant decision-driver, it is considered less important by consumers who understand that efficient products may require a larger upfront investment but will yield monthly dividends (in the form of cost savings) on an ongoing basis. In this respect, consumers comprehend that first cost is not full cost. This is an important transformation in the building industry that has been held hostage for too long by a flawed price-per-square-foot metric that does not include performance considerations or long-term operating costs in the valuation equation.
Cognition data reveals that, like with most things, effective messaging about energy efficiency depends on the audience profile. Early-adopter and first-mover consumers have a positive sentiment towards energy efficiency and want straight talk about the spectrum of benefits that are delivered by efficient products (environmental impact, cost benefits, durability and so forth).
Mainstream consumers need a little more storytelling—they resonate better with terms like comfort, saving money and enhanced resale value.
Energy efficiency-related brands that rank the highest in Cognition's positioning analysis include Bosch, Trane, Rheem, Andersen, Nest, Philips and Owens Corning.
It's a good thing that these major brands and many others continue to strengthen their energy efficiency offerings and messages, because there is no way that we can tackle climate change and carbon emissions without a robust spectrum of solutions that address efficiency in the built environment.
---

For more information, visit www.greenbuildermedia.com/cognition. To learn more about how our market intelligence services can help your business, email Sara Gutterman.