A short time ago, Hurricane Florence bore down on North Carolina. Coincidentally, the North Carolina Home Builders Association's conference had just started—but builders left the conference early to prepare their job sites and businesses for the deluge.
A Bloomberg report cited Metrostudy data that indicates builders in the Raleigh-Durham region have about 7,500 new homes in their inventory, approximately 600 of which are under construction in coastal Wilmington.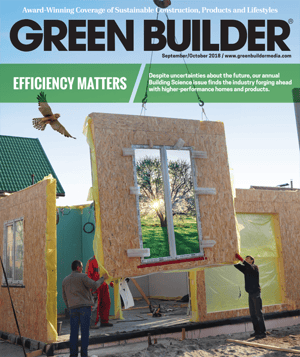 Flash back six years: The same builder association helped bankroll conservative state Rep. Pat McElraft, who put forward a bill rejecting predictions about the state's vulnerability to massive flooding and damage—made more dire by climate change.
Gov. Bev Perdue, a Democrat, let the legislation quietly become law by doing nothing. Bad policymaking is not always partisan.
Mountains of data were shoved under the dunes. In the years since, thousands of new homes have been built in the same vulnerable locations, using the same old inadequate building science. Resilience be damned.
Let's assume, for the sake of argument, that the tiny minority view of climate change deniers is right, and that monster storms like Florence are just part of a natural cycle of nature's fury.
Does it make sense, even given this premise, to build to the bare minimum of wind and flood compliance? Does it make sense to lobby against standards that would increase the strength and resilience of coastal homes?
These are questions that thousands of upset homeowners may be asking after the fact, as storms such as Florence lay waste to their investments.
The worst injustice of these losses is that they don't have to happen. The latest building science of disaster-proofing homes rests on decades of post-mortem analysis of storm effects. Florida is a prime example, with its new, much stricter building codes. The last couple of major hurricanes have done almost no damage to homes built to the new code.
Raising an existing home from a foundation onto piers can cost $30,000 to $100,000. Instead, building "above code" on piers with new construction can cost considerably less. But builders need to get on board with the urgency of preparing homes for the worst. Science shows that the storms of the future will not follow predictable patterns. So-called "1,000-year" storm events, with sea level surging far above current flood maps, may be the new normal.
If you were building a home for yourself on the outer banks of North Carolina, wouldn't you apply the best building science available to make sure the home would survive all but the worst storm events? As construction professionals, your clients trust you. Do them and the industry at large a favor, and take a proactive role with regard to building science. Make your homes tougher, more efficient and more resilient than the climate change skeptics think they need to be. I guarantee you that when the flood waters subside, and the home you built is the only one standing on the beach, you'll have more business than you can handle—while your competitors battle lawsuits from devastated former clients.
---
Can you please add at the bottom of Matt's blog: For more information about the latest advances in building science, check out the September/October issue of Green Builder magazine!