Next time you eat out, think about saying no to the plastic utensils and doing this instead.
HOW MANY OF US HAVE A DRAWER AT HOME that contains random plastic utensils from various to-go orders? Or maybe you just toss them in the garbage? When you're traveling or just on-the-go plastic utensils seem to make sense but by making a simple lifestyle change you can do your part in being more environmentally responsible.
Stop With the One Use Wonder
Worldcentric.org estimates about 40 billion plastic utensils are used each year in just the United States. Most of those utensils are only used once, if at all.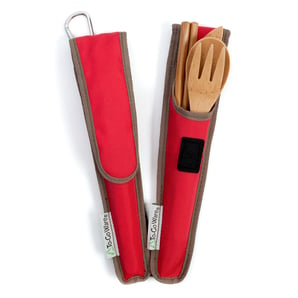 TO-GO Ware®, a company out of Emeryville, California, created a product I love - the RePEaT Utensil Set. A fork, spoon, knife and set of chopsticks that come in a colorful holder and are designed to be resused over and over and over again.
The actual holder is made from recycled PET plastic so the product gives plastic bottles a second life. The utensil set is made of bamboo - one of the fastest growing plants on Earth - making it a great sustainable material. Bamboo is also non-petroleum based and very durable.
The utensils are heat and stain resistant, won't absorb flavors, and are finished with a top grade natural, food-safe wood oil.
I have had my set of RePEaT utensils for over three years now. They live in my purse and go with me everywhere, even when I travel. And for those of you wondering, I personally have never had any issues taking the "knife" through security at the airport (honestly, it's not what I would call "sharp").
I find they are really easy to clean as well. If washing right away is not possible you can simply wipe them off, store in the holder and then wash when you can. I have never had any issues with food being hard to get off (even when I've forgotten to clean after a few days).
My friends used to make fun of me when I'd pull these out and use them but now they realize I'm the person who always has utensils when they forget one. And some of my friends have even purchased their own sets.
Sometimes just doing a simple thing and being an example can help others see how easy it is. The next time you're getting food to-go at a restaurant, food truck or grocery store remember to say no to the plastic utensils, and help keep our landfills a little cleaner.