When people stay at home, energy efficiency is a must. Builder Wayne Turett came to that conclusion several years ago.
You wouldn't think there would be much of a link between COVID-19 and the way a house is built. But spend a couple of months inside a home with an outdated ventilation system or decaying windows and you might change your mind—both in terms of comfort, as the weather warms, and finances, when you get your power bills.
Coronavirus, meet Net Zero. A well-planned, energy-efficient house can make the next stay-at-home scenario (and it will happen again, one day or another) tolerable. Maybe even fun.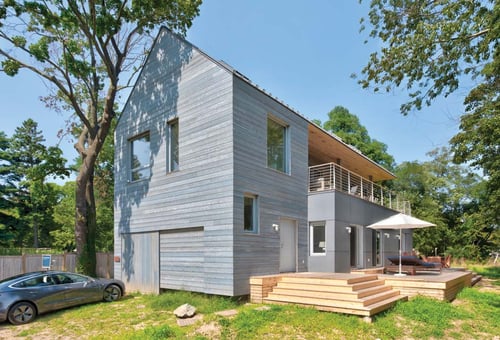 That brings us to architect Wayne Turett, principal of the Turett Collaborative, a New York City-based residential architecture and interior design firm. Concerned about overconsumption in the post-industrial modern world and how it affects our ability to maintain a healthy planet, Turett wanted not only to design, but to experience for himself just how well energy-efficient technologies could work.
"A few years ago I started to see more information on Passive Houses in a number of architectural journals," Turett says on his website. "The concept was simple: design a house that was very well insulated and sealed, allowing very little infiltration that would reduce the demand for heating and cooling. That was the way I understood it. Perhaps I oversimplified it in my mind. Unlike LEED, which takes many other factors in consideration, Passive House was a much more simple recipe for a very efficient house."
After three years of researching, sketching and planning, he decided to embark upon creating and living in a passive home of his own. His dream was realized in 2018 as a carbon neutral design that fuses his modern aesthetic with a historical, barn-style exterior, more in keeping with the village of Greenport, N.Y., on the North Fork of Long Island.
As is true to the Passive House standards, this modern home with interior spaces that recall urban loft living seeks to maintain comfortable temperatures year-round while requiring minimal energy and expenditure for heating or air conditioning.
Air coming into the passive home is filtered, allowing all of it coming into the home to be clean—free of pollens and particulates. In addition, a Passive House consumes about 90 percent less heating energy than existing buildings and 75 percent less energy than average new construction.
"Greenport is more than just an oasis for my family," he explains. "It is a living model for clients and meant to inspire others."
More Than Meets the Eye
Despite costing a little more to build, the results of living in a Passive House will more than pay for itself in reduced energy consumption (and therefore savings) and helping the environment, Turett notes. Additionally, the air quality inside is a very high standard of luxury.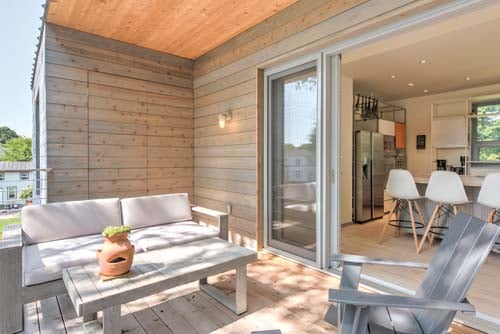 Roof overhangs and directional positioning keep the deck and living room from getting too much sun—and threfore be too hot—during summer.
As noted, Turett spent time deciding exactly what he wanted in a passive home. It's advice he readily gives to others. "We all know that it is typical to think of energy-efficient houses as being somewhat dark, and stuffy, but it doesn't have to be that way," he notes on his website. "With proper care taken during the design phase, your Passive House can be as light-filled and airy as a conventional contemporary house, with the added benefit of no expensive heating and cooling bills."
He's living in his proof. While to the casual observer Turett's Passive House doesn't look different from any other well-designed contemporary house, there's a difference in the way it is built and performs. A recent Home Energy Rating System (HERS) analysis of the 2,400-plus-square-foot Greenport house confirms an estimated annual heating and cooling cost of just over $1,700 a year.
To put this into perspective, a 900-square-foot NYC apartment costs about $1,400 a year just to cool and use the lights. The high performance Greenport Passive House is not only more efficient than the HERS reference home, but has an annual savings of $3,645 over the HERS reference home numbers.
With sustainable, lower energy requirements, the Passive House approach makes possible the construction of net-zero energy buildings that rely little or not at all on fossil energy sources.
Have It Your Way
According to Turett, there were three key elements to consider when conceiving of his Passive House:
The envelope, which had to be completely sealed so that there was no leakage of air.
The insulation to ensure that heat would not escape nor cold air would enter
Added elements, such as roof overhangs, that protect the house from receiving too much sunlight in the summer.
The house also has exhaust ducts in the kitchen and bathroom, triple-glazed windows, and energy-recovery-ventilation, which brings in and takes out air. The exterior is ship-lapped gray cedar and cement, and the roof is aluminum. Inside, Turett kept the walls white, and the furnishings clean-lined and contemporary, with a neutral color scheme, light woods and white upholstery.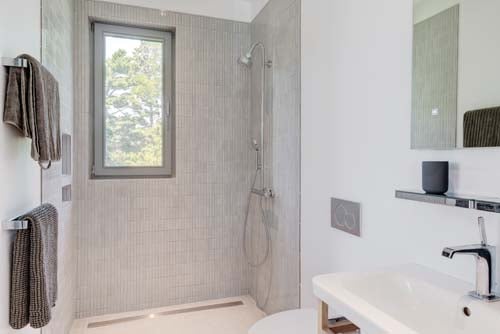 Triple-paned windows in the bathrooms and elsewhere help stabilize temperature without using excess energy.
Turett also acted as his own general contractor. While the investment costs required for construction exceeded the traditional building costs, the results of creating an all-electric home which is heated and cooled with a ductless mini-split system and aided by an ERV, allows the home to operate with very little energy for heating or cooling—thus resulting in lower monthly energy bills.
The high quality of insulation, in combination with a proprietary sheathing taped to form the air barrier, allow for an airtight building envelope. Even the metal roof plays a role in the efficiency of the structure—in winter, natural elements such as snow actually contribute to keeping the home insulated.
The entire design of this two-story home was thoughtfully created to not only be energy efficient, but to make the most of interior and exterior spaces. The main living spaces—the combined kitchen, dining, living rooms and porch—were intentionally located upstairs to soak up water views, while cathedral ceilings in the great room contribute to an open and airy feeling reminiscent of a more modern and urban loft-like experience.
Downstairs, an outdoor shower helps smooth the transition from the sandy shore to the three-bedroom, two-bath space on the ground floor.
Turett notes that the popularity of Passive House buildings, which have been on the market since the 1990s, is on the rise. That's a good thing, given how much time people are now spending at home, for work or other reasons.
"[Homes] don't have to be big, leaky and energy inefficient," Turett told The Southampton Press. "They can be very efficient and very comfortable. They can save a lot of energy. They can save a lot of the environment."