This is not the first time unexplained, dangerous accidents have challenged U.S. government nuclear storage protocol and viability.
Back in 2014, for example, at the Waste Isolation Pilot Plant, "radioactive materials leaked from a damaged storage drum. Analysis of several accidents, by DOE, have shown lack of a "safety culture" at the facility," according to Wikipedia (photo shown).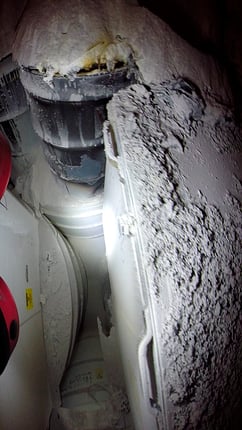 According to the LA Times, in this latest incident, which happened in February of this year, the experts still have not determined whty the waste became unstable.
"A 55-gallon drum of nuclear waste buried 2150 ft. below the earth essentially "erupted," into a foaming mass, sending plutonium-laced airborne particles up a ventilation shaft and poisoning 21 workers.
The accident contaminated the nation's only dump for nuclear weapons waste — previously a focus of pride for the Energy Department — and gave the nation's elite ranks of nuclear chemists a mystery they still cannot unravel.Six months after the accident, the exact chemical reaction that caused the drum to burst is still not understood. Indeed, the Energy Department has been unable to precisely identify the chemical composition of the waste in the drum, a serious error in a handling process that requires careful documentation and approval of every substance packaged for a nuclear dump." (full article).
The article goes on to note that:
"The accident at the facility near Carlsbad, N.M., known as the Waste Isolation Pilot Plant, or WIPP, is likely to cause at least an 18-month shutdown and possibly a closure that could last several years. Waste shipments have already backed up at nuclear cleanup projects across the country, which even before the accident were years behind schedule.
A preliminary Energy Department investigation found more than 30 safety lapses at the plant, including technical shortcomings and failures in the overall approach to safety. Only nine days before the radiation release, a giant salt-hauling truck caught fire underground and burned for hours before anybody discovered it."
Problems with nuclear waste disposal are not an "I told you so" event, however. They're a serious concern for all of us, even if we take a cleaner path toward solar, wind, and other clean renewables.The DOE and the Defense Dept. still have untold tons of radioactive waste from outdated nuclear weapons and power plants that will need to be stored somewhere for thousands of years, if such a feat is even possible.And as we've written before, as nice as it would be to have a "clean" nuclear energy source, scientists are a long way from the fusion technology that would be required. While we're stuck dealing with the waste of the past decades of imperfect nuclear power and cold-war missiles, the nuclear fission experiment should end now. All nuclear projects require high-level management and "nuclear nannying" for centuries. Why mess with ANY new nuclear projects, when solar is now less expensive as an energy source than fossil fuel? —GBM
ews
n