KNOW THE LINGO
Deck: The substrate over which roofing is applied—usually plywood, wood boards or planks.
Drip Edge: An installed lip that keeps shingles up off the deck at edges and extends shingles out over eaves and gutters to prevent water from wicking up and under the shingles.
Exposure: The area on any roofing material that is left exposed to the elements.
Flashing: Materials used to waterproof a roof around any projections.
Granules: Crushed rock that is coated with a ceramic coating and fired, used as top surface on shingles.
Ice Dam: Formed when snow melts on a roof and re-freezes at the eave areas. Ice dams force water to "back up" under shingles and cause leakage.
Laminated Shingles: Asphalt-based shingles made from two separate pieces that are laminated together. Also called dimensional shingles or architectural shingles.
Soffit Ventilation: Intake ventilation installed under
the eaves or at the roof edge.
Steep-Slope Roofing: Refers to slopes steeper than a 4" rise for every 12" of length (expressed as 4:12).
Tear-Off: Removal of existing roofing materials down to the roof deck.
Valleys: Areas where two adjoining sloped roof planes intersect on a roof, creating a "V"-shaped depression.
Source: GAF Materials Corp.
It wasn't long ago that roofing wasn't much more than an afterthought—chosen for a house mostly for economic and occasionally for aesthetic reasons, if you could afford it.
But lately, roofing is recognized among the materials that can make a significant difference in a home's energy and resource efficiency, spurring debate (and propaganda) about issues ranging from recycled content and recyclability to reflective values and durability—all of which work into a thoughtful consideration of which roofing material makes the most sense for your house.
Asphalt
Cool Roof Shingles
Commanding an 83 percent share of the residential roofing market is no accident. Asphalt composition roofing (right), includes conventional three-tab and newer, thicker fiberglass and
laminated types. These products offer affordable options generally designed to last a maximum of about 25 years.
Asphalt's biggest environmental bugaboo is that it's derived from petroleum processing, feeding fossil fuel demand. It's also tough to recycle. But the industry has responded to the call for better eco-performance with colors and granular formations that better reflect the sun's heat, reducing the amount that is absorbed into the roof and attic or living spaces below and lessening demand on the home's heating system—and therefore the energy it consumes.
Recent "cool roof" asphalt composition shingle offerings, in fact, have achieved federal Energy Star status for their reflective values, helping reduce peak cooling demand by up to 15 percent. At the same time,cooler shingles last longer, so they've increased their likely service life.
Metal
Decades of Performance
Set aside any visions of cheap tin roofs. Today's metal roofing—most of it made from recycled steel—is a lot tougher and aesthetically appealing than the corrugated sections that shelter shacks and barns.
That said, metal roofing still makes a distinct fashion statement. Long rows of sleek metal, separated by slight ridges (called standing seam) are a departure from tiles and shingles. Metal's market share in single-family housing has more than tripled (to 7 percent) since 2004.
That's partly because metal roofing has a strong environmental story, when you consider the amount of recycled steel it contains, its durability (usually 50 years or longer), and the fact that the material can be 100 percent recycled at end of life.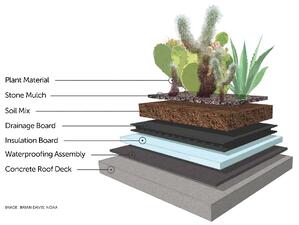 You've probably heard of green roofs. In the past couple of years these multi-layered systems have begun to be taken seriously, particularly in urban settings. Especially suited for buildings with flat roofs, such as multifamily apartments, they create welcoming spaces far above the street, reduce heating and cooling costs in a building and can be used to grow edibles, as well. If you're interested in a green roof, consult a local company that specializes in their construction. They can assess your building's structural suitability and make recommendations. For general Information, try www.greenroofs.org.
More recently, the metal roofing industry has introduced cool roof finishes that reflect the sun's infrared light to reduce heat absorption into the structure by as much as 36 percent; some manufacturers have also partnered with thin-film solar electric suppliers to create integrated solar arrays within the panel channels, to generate renewable energy.
The industry has also expanded its styling, forming and coloring panels to simulate curved clay tiles or individual shingle shapes, for a broader range of housing styles.
Wood
Natural, to a Point
Wood shingles and shakes are the only roofing material that can claim to come from a renewable resource (trees), although it's important to find out how and where that timber is harvested. A wood roof can easily last 50 years if installed and maintained properly. Wood shingles applied over a vented roof deck will remain cooler, dry out faster and generally last longer.
Wood's only serious drawback is its inherent flammability and susceptibility to moisture-related damage over the years. Because of these qualities, fire- and rot-resistant chemical finishes are often applied—and may need to be re-applied in later years.
Clay/Concrete
Almost Forever
Clay or concrete roof tiles would appear to have it all: good looks, fire resistance and extreme durability. Recent innovations also address issues of stormwater management, and enable cool roof capability. But the high cost of buying and installing masonry tile roofing has relegated its use to regional styles and high-end housing. Since 2004, its share of the residential roofing market has plummeted by more than half, to about 7 percent.
Nonetheless, a quality tile roof that is installed over a heavy-duty underlayment and screwed to the roof deck (not just mortared) should last for decades—if not a century or two—before it's time to remove them, replace the underlayment and put the tiles back on.