With the goal of redefining the global zeitgeist, Rio tackles the issue of climate change head-on at opening ceremony for the 2016 Olympics.
In some ways, it's ironic that Rio tackled climate change head-on during its colorful opening ceremony for the 2016 Olympic Games. While riddled with massive environmental challenges, the Brazilians decided to take a stand for climate action in a way that larger countries with more to lose (yes, like the U.S.) might never have done.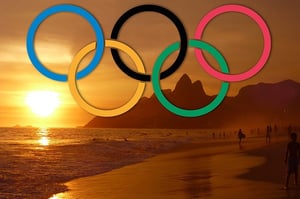 Approximately 3.3 billion people worldwide witnessed the bold statement about rising temperatures, melting polar ice caps, carbon emissions, and the urgent need for unified climate action on a global scale. The message was clear—no one is exempt from the effects of climate change, and no one can sit on the sidelines.
The missive, meant to be a unifying, rallying call to action, caught the attention of viewers around the world and sparked important international dialogue.
Some Americans were dismayed, others delighted. But, as social media erupted with responses during and after the ceremony, it became abundantly clear that, in the world beyond the United States of America, climate change isn't a controversial issue, it's a tangible reality.
Critics were quick to point out not only that Brazil has a long history of environmental injustice, including deforestation in the Amazon (considered by scientists to be "the lungs of the planet"), toxic water, massive pollution, and out of control waste, but also that the country didn't follow through with the sustainability commitments it made when submitting its bid to host the Olympics in 2009.
It's been widely reported that the health of some 1,400 athletes is at risk due to dismal water quality, with super-bacteria, pathogens, viruses, and pollutants reaching levels up to 1.7 million times higher than what is considered to be acceptable in the U.S. Rowing and sailing athletes have been advised to keep their mouths closed and to cover open wounds while engaging in water sports to mitigate the risk of contracting an infection from the polluted water.
The Olympic golf course has also created a major stir. Built in an environmentally sensitive coastal area, experts say that it has destroyed critical habitat and harmed many native plants and animals, some of which are endangered. Biologist and environmental activist Marcello Mello said that the course's encroachment on the Marapendi reserve, home to rare and indigenous butterflies, pines and other species, is an "environmental crime."
Between its environmental issues, Zika outbreak, transportation issues, shoddy construction, organized crime, displacement of impoverished favela residents, political turmoil, and economic uncertainty, Rio has certainly faced an uphill battle to make a favorable impression and enhance its image on the global stage.
But, Rio Mayor Eduardo Paes does deserve some credit for the improvements that he has facilitated since his election in 2008, including expanding the city's public transit systems (more than 60% of city residents now use public transportation, including new light rail and subway systems and bike paths); revitalization of the Porto Maravilha (which has made the city's historic birthplace more pedestrian friendly); improved waste, emergency response, and traffic management infrastructure; and the development of a wastewater treatment plant that will prevent millions of liters of raw sewage from being dumped into Guanabara Bay (even though this was only one of eight wastewater treatment plants that were supposed to be built before the 2016 Olympics.)
While still a long way from remediating its once pristine environment, Brazil certainly demands respect for a successful attempt to bring the pressing need for climate action to the forefront of international dialogue. I hope that more countries have the courage and take the initiative do to the same when given a similar opportunity.
What do you think about Brazil's environmental statement at the Olympics? Write to me at sara.gutterman@greenbuildermedia.com or follow me on Twitter or Facebook.
For more information about green building and sustainable living, visit Green Builder Media at www.greenbuildermedia.com, like us on Facebook, and follow us on Twitter for regular updates and breaking news.