Recent world events are bringing greater awareness to the need for resilient housing.
The devastation from the recent earthquake in Nepal extends far beyond the region's boundaries—the geological event has shaken the very core of the global community. In its aftermath, this disaster—one in a string of increasingly frequent nature-based tragedies—has brought to light how essential resiliency is to survivability, and how vulnerable and fundamentally unprepared we are for nature's seemingly endless calamities.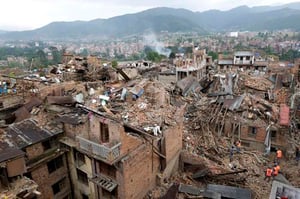 Image courtesy of NBC News
Earlier this week, I spoke with a friend who spent several years in Nepal as an aid worker. Like most of us, she was devastated by the recent earthquake, heartbroken over the loss of precious lives, ancient structures, and priceless relics. She lamented for the country, so rich on spirituality and humanity but so poor in currency, wondering if they'd ever recover.
"When I first moved to Kathmandu," she said, "the first thing I was given was earthquake evacuation instructions. They've known for decades that the 'big quake' was going to happen, it was just a matter of when. The projections actually painted an even worse scenario, and many of my colleagues are grateful that the damage wasn't worse." Fortunately, the quake happened on a Saturday, Nepal's national day of rest, which likely prevented thousands of more casualties since kids were out of school and people were outside rather than at home or work.
When I asked her how she thought Nepal was going to rebound from this disaster, she said, "Nepal is an impoverished country with a complex political system and a superstitious culture. They don't have not enough resources to develop widespread preparedness plans, and cities are so dense that it's difficult to get to open spaces. Many people there rely on hope and prayer."
Another friend, who spent eight years living in Nepal working with the government to create sustainable development and forestry practices, said, "right now, I'm more worried about the ensuing sanitation issues, disease, and landslides as I am about aftershocks. I'm also worried about assistance for the people—the Nepalese government is so divided, that often aid money coming into the country for things like disaster preparedness disappears before its put to good use. Hopefully the earthquake will galvanize country and aid community to work better together."
No doubt, dealing with the aftermath of the earthquake in Nepal will require endless political energy, administrative competence, and international assistance. After decades of instability resulting from a devastating civil war, the massacre of its royal family, and a government in constant flux, perhaps the country can use this tragedy as a way to heal its broken political system, turning its focus to the rescue, relief, reconstruction, and revival of the nation's economy—as well as its spirit.
Nepal is just one example of a nation suffering from geological catastrophe, but there are countless others around the world that are dealing with similar nature-based devastation. And in the wake of the disaster, I'm overwhelmed with questions that have only opaque answers.
To begin with, how does a country like Nepal, with its complex geo-political and socio-economic realities, recover after disaster? Located in one of the most seismically active regions in the world and plagued by an inefficient (some claim corrupt) government, can Nepal rebuild its communities, schools, offices, and places of prayer with resiliency in mind, or will it be too consumed by its short-term survival needs, including saving lives and providing urgent medical care and shelter? Durability and resiliency are great concepts, but they take long-term planning and a coordinated effort to successfully implement. It's hard to imagine that a real resilient rebuilding strategy could be crafted by a broken government.
According to the U.S. humanitarian disaster management agency, "The rapid growth along with limited disaster awareness and education and poor disaster response capacity leaves Nepal particularly vulnerable." With that in mind, how does a city like Kathmandu, Nepal's densely populated capital that is experiencing an average annual growth rate of 6.5%, realistically reduce its vulnerability when the majority of its structures don't even comply with 1994 National Building Codes (which were created to improve resistance to seismic events), and its disaster response plan is guided by an even more outdated 1982 Natural Calamites Relief Act?
Furthermore, in the face of catastrophe, sustainability isn't usually top of mind—the nexus of human survival instinct and emergency response manifest something very different. But, if we've learned nothing else from the barrage of constant disaster that our planet has endured over the past decade, it's that resiliency and sustainability are imperative to survivability.
In that light, how can the global community effectively assist Nepal and other ravaged nations—not just through short term emergency management, but also through meaningful, long-term support? How can democratically inspired, long-lasting development and holistic solutions be implemented that deliver relief for the present and prevention for the future?
And just what is the role of the global community at such moments of disaster—simply to provide relief, or to educate local communities and empower them with the knowledge and resources to plan for and recover from catastrophic events as well as the ensuing social and economic shocks?
With crisis as the new normal, how can our global community approach resiliency planning and investment in a way that it revitalizes communities, as opposed to just rebuilding them?
In Nepal, almost $5 billion annually is sent into the country by Nepalese migrants working abroad supporting their families. A recent survey indicated that 60% of the households who receive such remittances are planning to build a new home in the next two to five years. Let's hope that the country seizes the opportunity to serve as a beacon for the rest of the world, rebuilding with disaster risk mitigation in mind.
On a global scale, it's time to shift from disaster recovery to readiness. We can't prevent disruption and crisis, but we can do a better job of scenario planning and fortifying for foreseeable events so that we can reduce impact and recovery time. The dividends will not just be recognized at the moment of crisis, but also during the slow burn of social, economic, and emotional recovery.
Clearly, I'm long on questions but short on answers. How do you think we can augment our resiliency planning to ensure greater survivability? Write to me at sara.gutterman@greenbuildermedia.com or follow me on Twitter or Facebook.
For more information about green building and sustainable living, visit Green Builder Media at www.greenbuildermedia.com, like us on Facebook, and follow us on Twitter for regular updates and breaking news.