Resiliency and Sustainability go Hand in Hand with Cross Laminated Timber
Cross Laminated Timber (CLT) has been used in Europe for a couple decades now, and has proven to be a startlingly green and resilient alternative to traditional "industrial age" building materials.
When it comes to structural innovation, many popular "building blocks" have come with a rising cost for our planet's precious resources. Typical structural building components like masonry, concrete, and steel have large carbon footprints as they require great amounts energy to produce. The way forward means re-examining our go-to for resilient, sustainable construction materials. The best solution, though, may come from a return to our construction roots.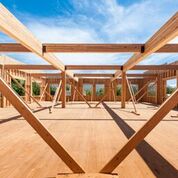 Cross Laminated Timber (CLT) has been used in Europe for a couple decades now, and has proven to be a startlingly green alternative to traditional "industrial age" building materials. This engineered wood building system is made from several layers of solid lumber boards, stacked crosswise and bonded together, providing dimensional stability, strength and rigidity.
Unlike other products that deplete the earth's resources, wood is the only major building material that grows naturally, is renewable, and requires less energy to produce. In fact, wood is the ONLY renewable building material. Using CLT in place of the old standards like steel or concrete is one way to reduce the environmental impact of your structure without compromising on the advances we've made in modern structural integrity. Some features that prove it's a solution for the future include:
Durability: With proper design and maintenance, wood structures can provide long and useful service lives equivalent to other building materials. The key is careful planning and understanding of environmental loads and other external factors likely to impact a building over its lifetime.
Strength and Stability: CLT panels form a robust, structurally strong building system that outperforms anything currently available in the USA. Cross lamination provides for superior dimensional stability and offers significant shear strength performance at a very unique weight to strength ratio compared to other common structural materials.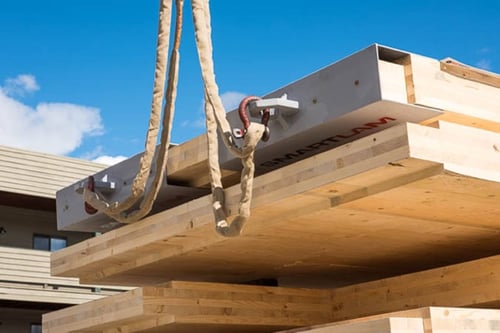 Seismic Resilience: Because of their dimensional stability and rigidity, CLT panels create an effective lateral load resisting system. Researchers have conducted extensive seismic testing on CLT and found panels to perform exceptionally well with no residual deformation, particularly in multi-story applications. In Japan, for example, a seven-story CLT building was tested on the world's largest shake table. It survived 14 consecutive seismic events with almost no damage. With properly designed connections, CLT also offers good ductile behavior and energy dissipation.
Fire Resistance: CLT's thick cross-section provides valuable and superior fire resistance. Due to its mass, CLT panels char slowly. Once charred, combustion slows and eventually stops as the oxygen source is removed. CLT assemblies also have fewer concealed spaces, which reduces a fire's ability to spread undetected. CLT structures suffer less degradation than concrete and steel structures in a catastrophic fire event.
Environmental: CLT has a lighter carbon footprint as wood products continue to store carbon absorbed by the trees while growing, and engineered wood manufacturing requires significantly less energy to produce than concrete and steel. This represents a significant reduction in greenhouse gas emissions.
Life Cycle Analysis: The longevity of CLT components ensures that the future value of any structure remains high. CLT buildings are easily altered and remodeled and are also fully recyclable once they reach the end of their useful life. With the utilities located to the interior of the building, not enmeshed with structural and insulating systems, buildings can be easily remodeled.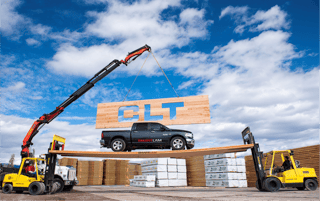 Cost Effectiveness: Comparing the cost of CLT versus certain concrete, masonry and steel building types and including the advantages of faster construction time and lower foundation costs, the estimated total costs of CLT structures can be very competitive.
Design Flexibility: CLT has unique structural properties that allow architects and designers increased flexibility of design allowing for distinctive and innovative projects. Due to wood's inherent ductility and unique strength to weight ratio, wood offers many advantages over the other common structural materials such as masonry, concrete, and steel.
Speed of Build: From one-person builders to large construction companies, CLT structural systems will arrive on-site ready to assemble, saving time and money with a swift and accurate building process.
Reduced Waste: CLT panels are manufactured for specific end-use applications, which results in little to no job site waste. Plus, manufacturers can reuse fabrication scraps for stairs and other architectural elements. SmartLam is a "zero waste" facility and utilizes all of our residuals either through re-purposing, as wood product constituents, or bio-fuel.
A resilient, sustainable building future is rooted in our construction technology past, proving that sometimes the simpler solutions are better. CLT marries the best of new and old in a way no other manufactured building material can.