IF YOU SUBSCRIBE to the American Dream, the word conjures images of an uninspired dwelling space, a temporary peg to hang your hat until fortunes change and you can afford digs that come with a deed. On the other end of the spectrum, there's the glamorous penthouse in the clouds, out of reach except to those with six-figure incomes.
Both the perception and the reality are changing. Rental vacancies are at historic low rates, and there are some indicators this is no temporary trend. The movement away from the suburbs and back toward urban cores is fueling a flowering of multi-family developments in every region of the country.
In general, more renters than homeowners get by without cars, and fewer people own cars in both low-income areas and dense urban settings with access to well-established public transportation.
The bias toward city centers is certainly evident in Portland, Oregon. Since the recession of 2008, most development has occurred in the city, as opposed to outlying suburbs, says Tom Armstrong, supervising planner with Portland's Bureau of Planning and Sustainability. The majority of that development—75 percent—is happening in so-called "complete neighborhoods:" those with services, bikeways, sidewalks and good access to public transit.
The movement into cities isn't restricted by region or race, but two groups—the Baby Boomers and the Millennials—are driving the trend.
The Trend-Makers
A report called America in 2013, published by the Urban Land Institute, shows that Millennials want a mix of housing options, with a distinct urban flavor. In particular, they want their housing to be close to services: restaurants, shops and public transportation. Size is secondary. If your apartment is close to the gym, good restaurants, cafés and other places to socialize, why do it in your living room? A majority (75 percent) value walkability, which underscores another phenomenon: Millennials are delaying that once-so-important adult rite of passage—acquiring a driver's license. A recent AAA study shows just over half of young adults acquired their licenses before turning 18.
The surge in Millennials signing lease agreements could be a sign of a recovering economy. As a recent NAHB report points out, renting is the first step toward home-buying, and many young people couldn't rent their own places during the Recession, opting instead to live with Mom and Dad until they could find jobs or pay down their student loans a bit. Uncertainty over the economy promotes a bias toward renting over owning. And many homeowners became renters after they lost their houses. But there are other signs that the game has changed permanently.
"Since the recession, the attitude towards owning a home has changed," says Mark Yanda, vice president of development at AvalonBay Communities, Inc. "There are more renters by choice."
Home ownership may not look as attractive to younger people, or they may seek a different experience other than the house in the 'burbs with the picket fence. Incidentally, median home prices have risen along with rents, even as incomes have dropped, which puts renters in a tough position.
According to the U.S. Census Bureau, the proportion of one-person households increased from 17 to 27 percent between 1970 and 2012.
Bookending Gen X-ers on the other end are the Baby Boomers. Many, on the verge of retiring, are poised to downsize. The America in 2013 report shows Boomers share preferences for smaller homes and shorter commutes with the Millennials. Downsizing hasn't shown up as a major trend yet, but it could be that the Recession simply stalled the inevitable. Some Boomers have delayed retirement because they can't sell their homes. According to the Conference Board's 2012 Consumer Confidence Survey, a relatively small percentage of retirees plans to move in the next five years, but over half of them plan to downsize. Even a small percentage of downsizing, urban-bound Boomers could affect the market overall, simply because there are so many of them.
Amenities, Yes; Mortgages, Not So Much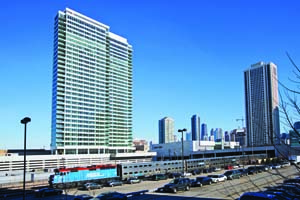 Promoting Transit Alternatives K2 is located right on the Blue Line of Chicago's famous El Train system, and a block away from a street with protected bike lanes.

K2 Apartments, a new high-rise development in a trendy Chicago neighborhood, caters to people who want the perks of a luxury lifestyle without the hassle of owning them. The average age of K2's residents is 32, but the "sweet spot" target demographic is between 25 and 35, says Alan Schachtman, executive vice president of Fifield Companies, which developed the project. "In my experience of the psyche of twenty-somethings today, saving for a down payment is not even on the radar," says Schachtman. The 496 units range from studios to three-bedroom penthouses, and rank on the high end of market rate. The ground floor includes a playground of amenities: a residents' lounge, 24-seat theatre, a state-of-the-art fitness center, massage room, basketball court (which doubles as a yoga studio) and the sorts of services tech-savvy youth love, including a mail tracking system that sends residents an email or text when a package arrives. To encourage biking, K2 has ample bike storage, plus a "bike kitchen" with a workstation and vending machine stocked with parts. Designed by Pappageorge/Haymes Architects and built by McHugh Construction, K2 is one of several projects Fifield has brought to the neighborhood. Once a railroad right-of-way, today the neighborhood, just adjacent to Chicago's Central Business District is now a thriving residential-retail haven near a mecca of new restaurants. Oh, to be young and mortgage-free.
The Loneliest Number?
There's another mega-trend shaping the rental market: the rise of single-person households. According to a 2012 article in Forbes, the percentage of U.S. households consisting of just one person is 28 percent—the highest it's ever been. The article cites several cities with single-person household percentages hovering near 40 percent, including Atlanta, St. Louis, Denver and Seattle.
"Singletons play an essential yet unappreciated role in revitalizing cities and animating public spaces," writes Eric Kinenburg, who authored Going Solo: The Extraordinary Rise and Surprising Appeal of Living Alone. Single people go out more and crave environments stocked with amenities and amusements more than the couple content to stay home for a night of TV.
So who are these "singletons," as Kinenburg dubbed them? Many are 65 and older (35 percent, to be exact), and over half are women. The Boomers' share of single households will only increase as they age. But plenty of younger men and women live alone, too. Census Bureau data shows that people are delaying marriage, or not marrying at all. In addition, people are living longer, increasing the likelihood of losing a spouse to death or divorce. Back to the Millennials: the 18-to-34 demographic may comprise the smallest percentage of singles living on their own, but it's also growing the fastest. And no matter what their age, singles tend to be renters.
A Landlord's Market
According to the latest NAHB report, rental vacancy rates remain at lows not seen since 2001. Obeying the simple law of supply and demand, rents nationwide have spiked. Places like Austin, Miami and San Francisco may be good places to be a landlord, but many renters are being driven out those hotspots. Others are being forced to choose between long commutes or moving back in with their parents.
Ironically, some of the cities with the most aggressive sustainability programs are also among the most expensive in which to live—think San Francisco and New York. Cities with bustling economies attract more residents: vacancy drops, and rents go up. Of course, sometimes the cycle reverses when eager developers overbuild: supply goes up, and rents drop. In San Francisco, for example, one of several California cities at the top of the rent growth curve (see Chart), housing supply hasn't come anywhere close to keeping up with demand.
San Francisco was blessed with 400,000 new jobs in the last four years, says Sarah Karlinsky, deputy director for SPUR, a member-supported organization that advocates Smart Growth in Bay Area cities. By contrast, only 1,500 units have been added to the supply annually during the last 20 years. (Things were even grimmer during the recession; in 2011, only 269 new units came online.) Though a flurry of new construction activity should alleviate the problem somewhat, annual rents are still expected to climb. As of May of 2013, the average price for an apartment in San Francisco was $3,096.
"There's a need at all levels, but low-income people are burdened the most," says Karlinksky. Some have been forced out, as the last neighborhoods gentrify. Some San Francisco residents blame well-paid techies, who prefer to live in the hip city but hop on private shuttles to campuses south of the city.
"There's a huge kerfuffle over the Google buses," says Karlinsky. But Google and Facebook aren't the only culprits, and just as there's more than one cause to the housing crunch, there's more than one solution. Amending the city's legendary planning process would make it easier to develop some projects. (According to Karlinsky, even San Francisco's planning director admits his city's code is "the longest in the country.") As of now, every permit is discretionary, and any building permit decision can be appealed and possibly trigger an environmental review under the California Environmental Quality Act (CEQA). Another challenge is overcoming NIMBY-ism. People like the idea of high-quality, affordable housing, just not in their neighborhoods, fearing gentrification, parking scarcity (as if it doesn't exist already), traffic congestion and undesirable building heights. Sometimes the extreme right and the extreme left will form coalitions over the issue, making it difficult, if not impossible to plan projects in certain neighborhoods.
Rents are also rising in Portland, albeit at a more modest rate. Employment has almost recovered to pre-Recession levels, but the picture is more complicated than it may appear, says Armstrong. While there are plenty of low-wage service jobs (someone has to serve all that good coffee) and lots of high-income positions for people with advanced degrees, what's lacking are middle-wage jobs. Typically, the new high-density developments, many marketed as green, are aimed at the upper end of the market.
"The premiums are coming from location and luxury materials, not the projects' sustainable features," says Alisa Kane, Portland's green building and development manager. As in San Francisco, some people are leaving these newly hip neighborhoods for lower rent areas outside the core.
The Affordability Crisis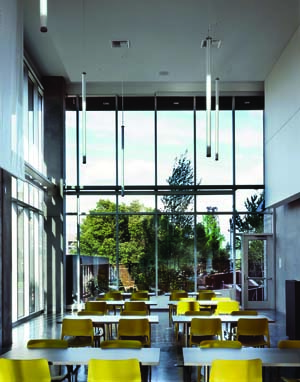 Collaborating for a Cause Bud Clark Commons, an affordable housing development for people transitioning out of homelessness, was a joint effort between the Portland Housing Bureau, Home Forward, Transition Projects, Inc., and Multnomah County.

Photo Credit: Sally Schoolmaster
Affordable housing is at risk across the country. According to a recent report published by Harvard University, the shortfall for extremely low-income renters is acute, rising from 1.9 million units in 2001 to 4.9 million in 2011. Even as the demand for affordable housing grows, older buildings are deteriorating. Developing new housing is often too expensive to sustain with rents meeting affordable criteria—30 percent of income or less. Incentives and programs that help pay for energy retrofits for older apartment buildings can help preserve some of this important housing stock (see Sidebar). Micro-units and accessory dwelling units (ADUs) are also answering some of this demand, and cities are relaxing regulations to allow more of these types of rentals to come online. For instance, the City of Portland currently waives systems development fees for ADU projects. However, as Kane point out, ADUs don't necessarily translate into cheap rent—at least not in Portland—although they do benefit homeowners who use the extra income to help pay their mortgages.
As of 2010, more than half of all renters spend more than 30 percent of their income on rent.
Source: America's Rental Housing: Evolving Markets and Needs
Without assistance, low-income renters face losing options. They tend to live in older, draftier buildings with inefficient appliances, and spend a greater share of their income on energy. If they're forced out of high-rent areas, they often end up spending more on transportation to and from work. When it comes to a family's budget, transportation is the second-largest piece of pie. This is why, when developing a report on how to increase affordable housing in San Francisco, SPUR included investing in transportation infrastructure as one of their recommendations.
Portland is seeing some micro-housing and affordable developments, including Bud Clark Commons, a LEED Platinum project aimed at people transitioning out of homelessness.
In addition to the high-quality materials, efficient design and solar panels, the Commons includes a day shelter, community room, a workshop to wrench on bicycles and even a place to keep pets.
"This is what green building is about," says Kane. "It's truly a monument to dignity."
Another hopeful example is San Francisco's Richardson Apartments, designed by David Baker Architects. The five-story infill project includes 120 partially furnished studios for formerly homeless residents, ground-level retail and a medical clinic.
The project is part of a larger neighborhood plan, the goal of which is to create a dense, pedestrian- and bike-friendly neighborhood. The building features a green roof and solar PV array, but no parking spaces for vehicles.
There's no one-sentence solution for the affordability crisis, of course, but as these projects show, it's about more than simple shelter. Combining sustainable construction with thoughtful, community-centered design can achieve multiple, overlapping benefits. Energy-efficient buildings with small but well-designed units, close to services and good transportation, should by definition cost less to operate, cost less to rent, reduce traffic, pollution and energy consumption and help make cities more livable—for everyone.