Since last summer, the price of a barrel of oil has decreased by more than 50%, from approximately $90 to $45. In the U.S., drivers are rejoicing, saving a total of $630 million per day, but oil producing states like Louisiana are panicked by slumping economies and an uncertain future.
Globally, production heavy countries like Nigeria and Venezuela, with economies that depend on high oil prices, are nearing a breaking point. Without the lubrication of oil money to keep the military happy, countries like Liberia are experiencing regular government coops and ongoing civil disruption.
Experts claim that oil prices are intentionally being held down by the rich OPEC countries, who have agreed not to scale back production (ensuring low prices), to put pressure on the global market, and more specifically, to cripple the Russian economy and force Putin to abandon his support of Syria.
Oil and gas make up more than half of Russia's national budget. Low oil prices, in conjunction with western sanctions placed on Russia because of their actions in Ukraine, has the Ruble in turmoil. Despite the Russian government's best efforts, the nation's economy is in freefall, which may force Putin to rethink his relationships with Syria and Ukraine.
In the U.S., producers have increased overall supply, but the diminished price of crude oil has changed the fundamental economics of the industry, making high-cost extraction methods like fracking substantially less profitable.
Not to mention the mixed messages that the American oil industry is receiving from Washington. After protecting Alaska's Bristol Bay from oil and gas exploration, President Obama made a surprise decision last week to approve drilling along a wide swath of the densely populated, environmentally vibrant Atlantic Coast—a risky proposition given the increasing frequency of powerful hurricanes and extreme weather events. If a super storm can demolish entire communities, just think of what it could do to one oil rig. And if we use BP's Deepwater Horizon disaster as a reference point, we know the widespread and catastrophic damage that a spill from one rig can cause.
And, making political waters even murkier, there is the ongoing heated debate over the Keystone KL Pipeline, which may have received its deathblow this week in the form of a statement released by the U.S. Environmental Protection Agency that linked the expansion of the Canadian tar sands to a significant increase in greenhouse gas emissions. It's expected that the EPA's recommendation, based on a Department of State analysis that established a connection between the development of oil sands crude and exacerbated carbon emissions, will be the deciding factor that convinces President's Obama to veto the pipeline once and for all.
In contrast to the financially volatile and politically explosive oil and gas industry, renewables look like a walk in the park. Renewables are experiencing solid and sustained growth, offering a viable, cost-effective solution to dirty fossil fuels and contributing to substantial job creation.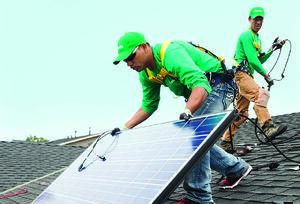 According to the National Solar Jobs Census 2014, the renewables industry "continues to exceed growth expectations, adding workers at a rate nearly 20 times faster than the overall economy and accounting for 1.3% of all jobs created in the U.S. over the past year. Our long-term research shows that solar industry employment has grown by 86% in the past five years, resulting in nearly 80,000 domestic living-wage jobs. As of November 2014, the solar industry employs 173,807 solar workers, representing a growth rate of 21.8% since November 2013. Over the next 12 months, employers surveyed expect to see total employment in the solar industry increase by 20.9% to 210,060 solar workers."
Representing one out of every 78 jobs currently created in the US, the solar industry is flying high, blowing past the shrinking coal industry, which currently employs 93,185 Americans. And, the solar industry's annual 31,000 new jobs trumps the entire oil and gas pipeline construction and extraction sector, which only added 19,217 jobs in 2014.
The solar industry is proving to be an essential engine of economic growth and job creation in our country. The industry attracts ethnically diverse, highly skilled, and well-paid professionals that are placing their bets on a sustainable future powered by clean energy.
Even with these potent proof points, states like Ohio are still fighting against renewables, freezing renewable energy standards and net-metering policies that make solar arrays affordable for homeowners. Despite these short-sighted setbacks, the solar industry's growth trajectory will undoubtedly continue to soar, with experts forecasting another year of over 20% growth in 2015. And fortunately, in states like California, solar has achieved scale and price parity, so that homeowners can afford to purchase solar systems or leases without needing any state or federal incentives.
"Solar exists at the critical intersection between energy, the economy, and the environment," said Robert Reich, former U.S. Secretary of Labor and Professor of Public Policy at the University of California at Berkeley. "As the nation's fastest growing energy source, solar is adding thousands of new jobs each year. Its growth will almost surely continue to be robust in coming years."
Counterintuitively, as oil prices are decreasing, so are solar company stocks. Even though solar and oil don't directly compete—solar is used mostly for electricity and oil primarily for transportation fuel (in fact, solar is so efficient for electricity production that it's less expensive to make electricity from solar even when oil is a t $30 per barrel)—the market doesn't seem to know it, making investments in solar companies even more attractive today.
Other renewable energy solutions like wind and geothermal are also experiencing record growth. In fact, while it still holds only a small portion of marketshare (only 5 GW of installed capacity), onshore wind has become the most competitive form of electricity generation (renewable or fossil fuel based.)
The financial evidence, in conjunction with increasing public demand for clean, environmentally appropriate energy sources, is making further investments in fossil fuels questionable at best, futile at worst. With its history of environmental destruction as well as record profits that continue to grow year after year, there is no reason why the oil industry should still be receiving $4 billion in guaranteed annual federal subsidies. Imagine how quickly the renewables sector could grow with even a fraction of those dollars invested in research and development.
From a long-term perspective, renewables are a winning proposition. Unlike fossil fuels, they don't have diminishing supply. Sun, wind, and ground-sourced heat is limitless, and while fossil fuels will continue to get more expensive as supplies decrease, renewables, with their infinite lifetime, offer the promise of continued growth and price stability.
The two main things holding back the growth of renewables now is advancement in storage and delivery technology and political will. Technology is constantly improving, and with substantial investments in lithium ion batteries (namely, Elon Musk's $5 billion investment in to develop a battery "gigafactory"), it's likely that we'll overcome technology obstacles soon. Now, it's time to put pressure on our elected officials to make the right long-term decisions for our country, our environment, and our world.
Ultimately, these leaders on both sides of the aisle say that they want a healthy economy and strong job creation. No one wants polluted air, water, and soil. So we must insist that they begin making better choices to ensure a healthy, abundant future. The answer is right in front of our face—clean, innovative, renewable technologies.
What do you think should be done to encourage the further development of renewables? Write to me at sara.gutterman@greenbuildermedia.com or follow me on Twitter or Facebook.
For more information about green building and sustainable living, visit Green Builder Media at www.greenbuildermedia.com, like us on Facebook, and follow us on Twitter for regular updates and breaking news.
---