Remodeling Rises as Industry Stalwarts Rally
Interest in remodeling is protecting the shelter industry from COVID-19's worst outcomes. Meanwhile, a few manufacturers are getting serious about reducing CO2 impacts for future resilience.
If you're like me, you've done a lot of deferred maintenance over the weeks and months of COVID-19 lockdowns—replacing appliances, putting in new ventilation, fixing broken faucets and addressing nagging issues with how space is organized and used.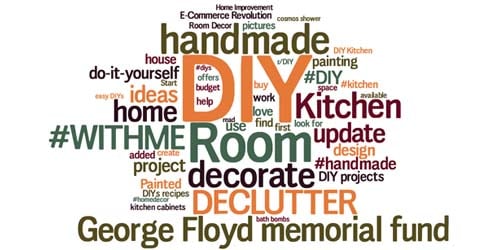 As the word cloud shows, according to COGNITION Smart Data, Green Builder Media's market intelligence division, do-it-yourself projects have increased by up to 75 percent in some markets since the onset of the pandemic—even with high levels of concern about spending.
And I'm not alone. Interest in remodeling and do-it-yourself (DIY) will probably remain strong, unless things get much, much worse. So far, sales at DIY stores and interest in remodeling project have surged. We know this thanks to our data research tool, COGNITION Smart Data, which weighs sentiment and other metrics in markets all over the United States.
Where's the money going? Redefining workspaces, upgrading kitchens and replacing appliances, creating special space for exercise and Zoom conferencing, increasing storage and pantry spaces, and adding or upgrading bedrooms.
The new housing market, also, has so far stayed ahead of crippling coronavirus damage. According to Census data, privately owned housing completions in June were at a seasonally adjusted annual rate of 1,225,000. This is 4.3 percent above the revised May estimate of 1,174,000 and is 5.1 percent above the June 2019 rate of 1,166,000.
The long-term outlook for new housing, however, remains a mixed bag. Many builders have furloughed or laid off workers. The pandemic is far from over, and it's premature to predict where we'll be in six months.
Meanwhile, a few building product manufacturers have not been idle. They've taken note of the pandemic's chilling insight into how quickly a Climate Change disaster might unfold in the United States.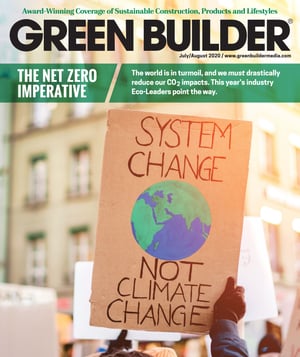 That's what makes this year's list of Eco-Leaders different. We used as criteria companies that have integrated "net zero" goals into their planning and operations. They're taking positive steps to reduce their greenhouse gas footprint, and increase the resilience of their brands and services.
We're not out of the woods with COVID-19—not even close. But in the inevitable list of "silver linings" that could be recorded years from now, once the mobile morgues and heart-rending stories of family tragedy fade into history, perhaps one footnote will be that certain corporations began to take the existential threat of Climate Change seriously. And their leadership created a new wave of change. They showed the way to redemption and renewal.
Matt Power is an expert on building science and has covered construction practices for nearly 30 years, winning dozens of awards for editorial excellence. As Green Builder's Editor-in-Chief for nearly 10 years, he continues to urge builders and homeowners to new levels of performance and innovation.