The energy cost savings from professionally installed window film make it easy to go green.
In today's world, being environmentally consciousness and incorporating green initiatives when remodeling is a high priority for many building owners. It not only benefits commercial building operators and their tenants but also the planet. Knowing this, builders can incorporate professionally installed window film as an economical means to advance their green initiatives.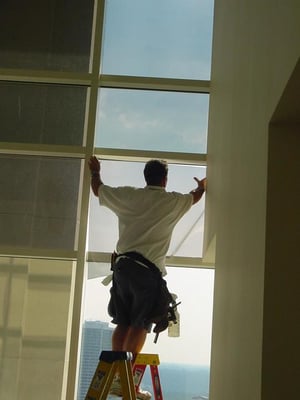 According to the US Department of Energy (DOE), between 25-35 percent of wasted building energy is blamed on inefficient windows, and many older commercial buildings still have less efficient single pane glass windows. With professionally installed energy control window film, a building operator can go from having windows that allow 90 percent of the solar energy into the building, to windows that allow in less than 25 percent of solar energy. Once installed, window film may offer year-round savings of about 5 to 10 percent of the total energy bill – for cooling alone the savings may reach 30 percent.
The uneven glare coming in through older windows can cause hot spots and damage from UV exposure. Instead of having to replace structurally sound windows, a simple, yet cost-effective solution is to apply a thin layer of window film which will help regulate the temperatures within the building, minimize cooling costs and make the environment more comfortable.
By retrofitting existing windows building operators can save on the cost of replacing windows that are structurally sound and upgrade to today's energy and safety standards. Roughly 258 million tons of municipal solid waste is generated each year. By installing window film on older inefficient windows, instead of discarding them, the amount of landfill waste can also be reduced.
Window film is rated by the NFRC (National Fenestration Rating Council), as are new windows and doors, so property managers and their tenants can be sure of the benefits. The window film industry has grown tremendously in recent decades, and developments like nanotechnology and advanced coatings have taken the benefits to new heights. The most common types of window film are solar control film, spectrally selective film, decorative film, safety/security film, and low‐e film.
Window film is a sheet of one or more layers of polyester substrate, each of which has been scientifically coated with microscopically thin layers of metals and chemicals and laminated together. A scratch resistant coating is then applied on one side; a mounting adhesive layer and a protective release liner is applied on the other side. When the release liner is removed, that side of the film with the adhesive is professionally applied to the interior surface of the glass. Window film is available in a range of shades from visually clear to darker shades of grey and bronze and works with any size or shape window. Introduced over 40 years ago, window film has now been engineered using today's advanced technology to deliver energy savings similar to those found in low-e windows, yet at a fraction of what replacement windows cost.
It's important that a professional install it to ensure a proper fit, that the product performs to its best ability, and lives up to or beyond its warranty.
By offering seven times the energy savings per dollar spent when compared with full window replacement, window film is an eco-friendly option that is affordable while still making the needed improvement to a commercial building's windows.

The benefits of professionally installed window film extend beyond a building's walls as well. It blocks 99 percent of UV rays, reducing the risk of skin cancer, and also reduces glare and fading of floors and interior furnishings, making it a wise investment to enlist a professional installer in building remodeling projects.