Remaking the "Rancho"
"The shoemaker's children go barefoot."
WHEN WE LAST pulled out of Mariposa Meadows—right after a pair of snowmobiles roared up to the doorstep, confirming our instincts that the time had indeed arrived for us to shut down for the winter—we knew it would be months before we could resume work up there. And though we haven't been able to resist hiking in over the closed, snow-covered forest road a couple of times since then, most recently back in April, no actual work has occurred there since last November.
Fortunately for us, we were able to immediately shift our efforts to the remodel at our second, more accessible mountain project, called the Rancho La Garita—which is being introduced to everyone in the pages of our May issue through an article by Christina Farnsworth.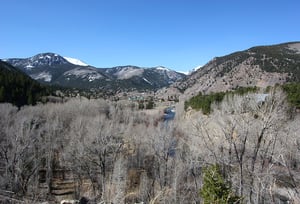 A view from the ReVISION House Rancho La Garita overlooking the town of Lake City and into the San Juan Mountains. ( Photo by Heather Wallace)
We like to refer to the Rancho as our "base camp," because even though it rests on a fairly large tract of mountain property at an elevation exceeding 8,700 feet, it is nevertheless connected to the electrical grid and, with a periodic assist from the snowplow, can be driven to all year round. As it turned out, we had plenty to keep us occupied through the weeks and months from late fall through early spring.
Since the building envelope and roof didn't require our immediate attention, and given the winter weather typical of a location like this, we turned our focus indoors to the 25-year-old kitchen and baths. It didn't take long before I was reminded why I always specialized in new home construction rather than remodeling. In a nutshell, remodeling is just a heck of a lot tougher, especially when you're trying to live and work in the same space!
There has been no shortage of surprises, like discovering that the kitchen range hood was not actually vented to the outdoors and then understanding why that might be the case; the penetration had to be executed through the exterior log wall of the kitchen, requiring hours of drilling, chiseling and sawing through several inches of solid timber that—oh by the way—is "D" log, so it retains the naturally curved shape of the logs on the outside. Not exactly the most inviting surface for mounting the vent cap.
That discovery led us to check on the bathroom exhaust fans and, sure enough, not only were they not vented to the outdoors, they had actually been intentionally plugged with scraps of fiberglass insulation, leaving us only to scratch our heads in disbelief. But at least it was clear why the old fan units seemed to make a lot of extra noise while not really pulling any air out of the rooms.
We dug into a variety of jury-rigged plumbing and electrical puzzles in the process of replacing lighting, appliances and fixtures, managing to bring several deficiencies up to code and making the residence safer and more resource efficient along the way as we were modernizing, beautifying and adding comfort. Hats off to all those hardy remodelers out there; we understand completely if you don't get around to updates in your own homes!
The Rancho will continue to be a "project" for years to come, and we'll keep everyone apprised of our progress. If things go our way, we hope to be reporting about our new adventures at Mariposa Meadows again in our June issue.