We all use electronic devices, but how are we disposing of them?
We're fortunate to live in a time when an increasing number of people recognize the importance of protecting the environment. While there's certainly a long way to go, both on a broad, government-level scale and in our day-to-day lives, the point is being emphasized around the world that green efforts are absolutely necessary for the sustainability of healthy life on Earth. And for a lot of us, it begins with recycling at home.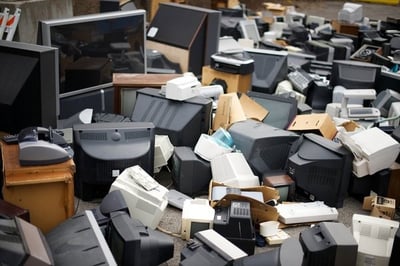 The only problem is, home recycling is something a lot of people misunderstand, or at least address incomplete. Most are aware that certain everyday products—glass bottles, plastic cartons, cardboard boxes, and the like—belong in the recycling bin. However, when it comes to many other waste products, they end up in the trash instead of being recycled carefully. Electronic products are often at the top of the list of household items that fall into this category.

One reason for this is that a lot of people simply aren't aware of the serious need to recycle such products. And in other cases, people just aren't sure how to go about doing it. So here's a bit of information to address both issues.
Why Recycle Electronic Products?
The easy answer to this is that electronic products are recyclable, and thus you may as well do it. Not every sort of household item or everyday product can be reused or broken down for more responsible disposal, but for those that can, it's our responsibility to make it happen. However, there are also specific reasons that electronic products in particular are important to keep out of landfills—and most actually directly concern human health, as opposed to simply environmental concerns.

Specifically, Green Citizen lists "a plethora of toxic components" that commonly exist in electronic items ready for disposal, including mercury, lead, cadmium, lithium, and a few others. These sorts of chemicals can cause a number of horrific problems in humans who come into excessive contact with them, including brain, heart, liver, and kidney defects, as well as issues with the nervous and reproductive systems. In short, simply dumping used electronics into landfills, or burning them off (as happens in some countries), allows potentially dangerous chemicals to become part of the environment.


How To Recycle Electronic Products
Fortunately, the above listed dangers and effects are only problematic as long as we are disposing of used electronics in unsafe ways, meaning there is something we can do to avoid issues.

And contrary to what many believe, recycling electronic products does not necessarily mean putting together a car full of old junk and driving it to a particular recycling center built to handle electronics (though this is certainly one option). In fact, there are numerous ways that people avoid throwing away their electronics, either repurposing them or disposing of them in productive ways. A lot of the process simply demands some creativity. In this regard, Make Use Of has some fun and handy tips, including unexpected ideas like turning an old computer monitor into a cat house, or using an old hard drive as external memory storage. Then again, there are also more traditional ideas such as donating or gifting used electronics.

The same article also mentions the increasingly popular option of trading in electronic devices for upgrades or rewards with select retailers. Verizon's recycle incentive program has more information on what exactly happens when you decide to take this route. It reveals that, at least in that company's case, the primary focus of the company is to make the devices suitable for reuse or resale. This effectively means you're donating a device back to the company it came from, and in cases in which the device cannot be refurbished appropriately, it is recycled according to policy against harmful e-waste. Through a program like this, you can fairly easily trust a company to do the bulk of the work. Depending on the company, you may even receive some sort of points or rewards for doing so.

Really, recycling electronic devices is primarily about making a little bit of extra effort, as well as learning to recognize the dangers of e-waste. Just like with other products, it's easy enough to adopt the attitude that one little old cell phone thrown in the garbage won't make a difference. But recognizing the extreme health risks associated with the materials that make up such devices reveals the true danger of e-waste. When you consider the ease with which you can recycle them—through all the methods mentioned above—it's very important to contribute to efforts against e-waste!
About the Author: Tim is just your average guy looking to spread the word about e-waste and importance of electronic device recycling. tmphelps@outlook.com